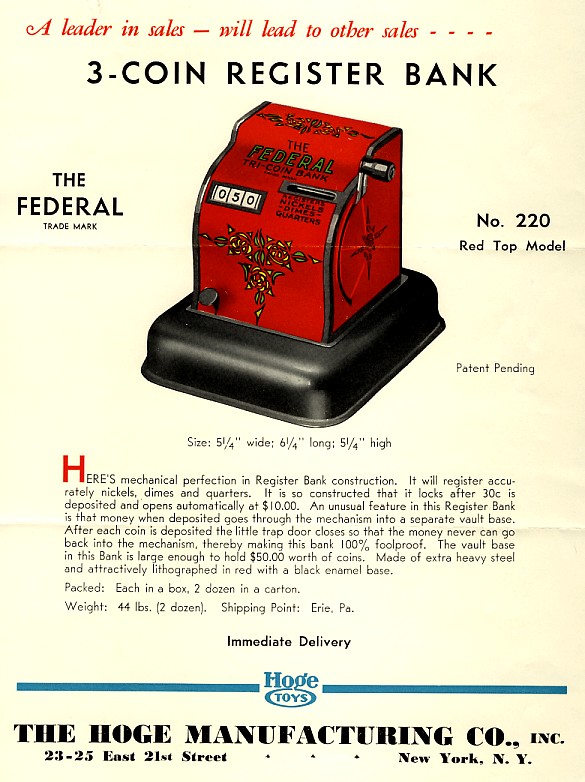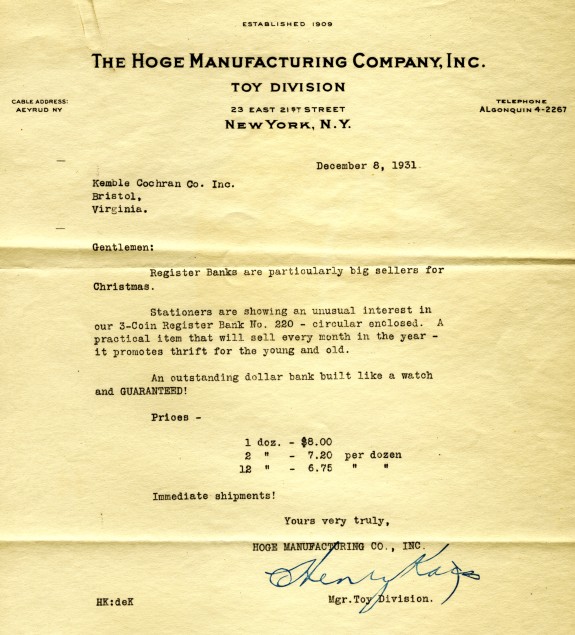 3-COIN REGISTER BANK
THE FEDERAL - Trade Mark
No. 220 - Red Top Model
Size: 5-1/4" wide; 6-1/3" long; 5-1/4" high

HERE'S mechanical perfection in Register Bank Construction. It will register accurately nickels, dimes and quarters. It is so constructed that it locks after 30c is deposited and opens automatically at $10.00. An unusual feature in this Register Bank it that money deposited goes through the mechanism into a separate vault base. After each coin is deposited the little trap door closes so that the money never can go back into the mechanism, thereby making this bank 100% foolproof. The vault base in this bank is large enough to hold $50.00 worth of coins. Made of extra heavy steel and attractively lithographed in red with a black enamel base.

Packed: Each in a box, 2 dozen in a carton.
Weight: 44 lbs. (2 dozen). Shopping Point: Erie, Pa.

HOGE TOYS
THE HOGE MANUFACTURING CO., INC.
23-25 21st Street --- New York, N. Y.
---
ESTABLISHED 1909
THE HOGE MANUFACTURING CO., INC.
TOY DEVISION
23 EAST 21st STREET
NEW YORK, N.Y.

CABLE ADDRESS: AEYRUD NY
TELEPHONE: ALGONQUIN 4-2267

December 8, 1931

Kemble Cochran Co. Inc.
Bristol,
Virginia.

Gentleman:
Register Banks are particularly big sellers for Christmas
Stationers are showing an unusual interest in our 3-Coin Register Bank No. 220 - circular enclosed. A practical item that will sell every month in the year - it promotes thrift for the young and old.
An outstanding dollar bank built like a watch and GUARANTEED!

Prices - 1 doz. - $8.00
2 " - 7.20 per dozen
12 " - 6.75 per dozen

Immediate shipments!
Yours very truly,
HOGE MANUFACTURING CO., INC.
Mgr. Toy Division
HK:deK
---