HOBBIES — The Magazine for Collectors — Volume 38, Number 2, APRIL 1933
Specimens from the Large Collection of
Antique Banks Belonging to Elmer
Rand Jacobs of New York.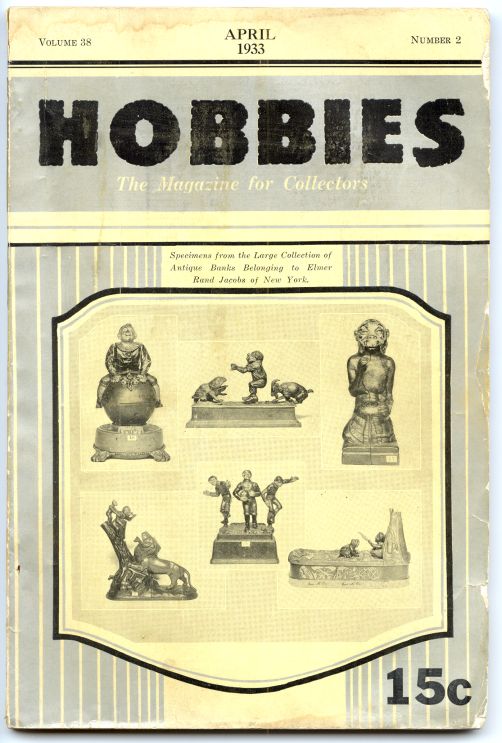 THE MART
Five cents per word, 1 time; 4c per word, 3 times; 3c per word,
6 times; 2c per word, 12 times. (Cash in advance.) Please write
your copy plainly, otherwise we cannot be held responsible for errors.
WANTED — All types of old mechanical toy banks used years ago. Please give complete de- scription and price when cor- responding. — Ralph W. Crane,
50 Glenbrook Rd., Stamford, Conn. ap34p
SWAPPERS' PAGE
Any one reported offering for sale any article advertised under this heading
will henceforth be refused the use of this department. Our readers will confer
a favor on us by reporting any instances of bad faith, Ads offering for trade
must state what they want in exchange,
1c per word for one time; or 3 times for the price of two insertions;
or 12 times for the price of six insertions.
(Cash must accompany order. No checking copies furnished on this service)

WANTED — Old iron mechanical
banks. Have to exchange antique
glassware, china, lamps, cup plates,
etc. List sent. — Waldo Luick,
2122 Dorset Road, Ann Arbor,
Mich. o12611
---