The New York Times Magazine, August 2, 1936
THE PENNY BANK IS NOW A COLLECTOR'S ITEM
Mere Container or Mechanical Toy Reflecting
The National Scene, It Becomes Americana
By WALTER RENDELL STORRY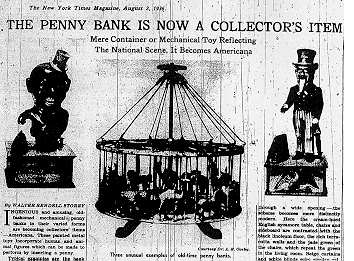 INGENIOUS and amusing, old-fashioned mechanical penny banks in their varied forms are becoming collectors' items—Americana. These painted metal toys incorporate human and animal figures which can be made to perform by inserting a penny.

Typical examples are the bank with a clown, who can stand on his head, or the one in the form of William Tell, who shoots a coin into a hollow tree, just missing his son's head.

In spite of the newness of the vogue, a few collectors have accumulated a large number of these nineteenth-century aids to saving. One of the largest collections, if not the largest, is that of Dr. A. E. Corby of this city, who has over 2,500 penny banks of all kinds. Besides the mechanical ones, his collection includes the non-mechanical types in a great variety of styles and materials.

Dating these imaginative devices is not always easy, but the subjects in many cases suggest a period of about fifty years ago. A few undoubtedly date back to Civil War days. The earliest dated bank known, according to Norman Sherwood, who has also a large collection, was patented in 1869. There are indications, however, that mechanical banks were made earlier. One of Mr. Sherwood's rarest items is a manufacturer's circular describing a "Freedman's Bank," featuring a Negro, which suggests the days immediately following the Civil War.

Of the true mechanical banks, as distinguished from the simple containers for pennies, about 250 different types are known thus far. and a new style still occasionally turns up to lengthen the list. Rarities have brought as much as $250: less rare examples sell at from $7 to $8. As with other antiques, perfect condition is often essential.

Although the banks were obviously intended for the younger generation, the subjects they embody often suggest a greater appear to the elders. Political references are found, such as a seated rotund figure of a man labeled "Tammany Bank" of 1873, and several different examples commemorating the strenuous hunting adventures of the late Theodore Roosevelt. The figures on this type of bank were obviously copied from the cartoonists' drawings of the day.

In "Uncle San" banks a figure in a tall hat and striped trousers wags its goatee as it drops a penny into a capacious carpet bag. One of the rarest and at the same time most elaborate mechanical banks in Dr. Corby's collection is a merry-go-round in which each animal serves as a container for pennies. Painted in gay, if not always artistic, colors are smaller carousels elephants that move their trunks and children playing at games.

The non-mechanical toys show an even greater variety of subject and material. There is the cast-iron, red-painted, old-fashioned mansion with a cupola, and the red slipware pottery pig which often had to be broken to retrieve the coins. Among Dr. Corby's banks are containers made of beautiful glass in the shape of houses or in the form of Independence Hall, Philadelphia.