AVOCATIONS — A Magazine of Hobbies and Leisure, June 1938

RECOVERED PENNY BANKS


by Norman Sherwood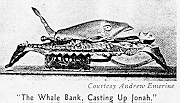 T

REASURE trove recovered from the old foundries or from the men who worked in, or who at one time owned these places will generally fall under the heading of:—Broken Parts and Castings, Broken Banks or Imperfect Ones which were thrown aside and are usually unpainted or unfinished, Pattern Banks, Trial Castings and sometimes (not often enough however to satisfy my craving for such irregularities) the early experimental banks which were changes around and often later altered to a startling degree to remedy some real or fancied objection or defect before being put into circulation.

Just the other day my esteemed young friend Floyd Griffith who is continually challenging any claim to a monopoly of expert knowledge in the Bank field, paid me a visit and with that eagle eye of his, discerned that a repaired specimen of the Elephant and Three Clowns Bank in my possession has both faces looking in the opposite direction from the conventional specimens. The Bank is a Master Pattern, one which was retrieved some time ago from a Foundry, but even that fact would not explain the reversal of these two clowns' faces. Patterns and banks are not in reverse to each other, but are to all intents and purposes identical in design. Patterns are however usually made of bronze or some other composition of metal whereas practically all banks are of Cast Iron with a few of Brass (also some small parts of Iron Banks such as the arm of the small monkey of the Lion and Two Monkeys Bank) were made of Brass for some practical Foundryman's reason, giving rise to the early opinion among pseudo experts that all small monkeys were replacements, since replacements are nearly always made of brass instead of iron, being easier to recast and file into shape where imperfect. Not until a specimen of this Bank in proof condition turned up with the little monkey or at least his arm still of brass did we discover that sometimes brass was used where the part had to be worked over and malleability was desired. As I recall one variety of Artillery Bank (where the Soldier shoots the coin from a mortar into a Block House) is composed in part of Brass. The painted specimen of this Bank however made by Stevens and with the round coin trap, is wholly of cast iron.

The most amusing part of the episode of the Elephant and Three Clown Bank is that it has been posing on my table for three months, that I has not the faintest idea that it was a rare and valuable, if not a completely unique variety and that previously it had passed through the hands, for repairs, of the greatest expert of all, (at whose feet I sit as far as Bank Knowledge is concerned) I refer to Dr. Corby, and I assure you that I have no shame in missing something which "slips by" Dr. Corby. I guess we will have to award the palm for acuteness of observation to Mr. Griffith, perhaps it wasn't Dr. Corby and myself who slipped up on this after all but "a couple of other fellows."

Recovered Penny Banks give a variety of interest to the general run of collecting.