THE BUILDING-LOAN JOURNAL, June 1939
The "Acorns from Which
OUR NATIONAL THRIFT
Has Grown
By
FREDERIC SEABRANCH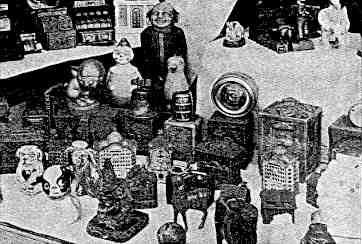 A PENNY saved is a penny earned."
That venerable copy book maxim has been quoted by parents for many generations in admonishing the young to think of the future and "save for a rainy day."
Old-fashioned as these quaint bits of advice might appear in print, they may nevertheless be credited with playing a considerable part in cultivating our national thrift consciousness. Physical expression of the thrift theme became a widespread vogue in the United States just prior to the Civil War with the appearance of ingenious home savings banks popularly known then as now, as "penny banks."
Inventive genius collaborated with sculptural art in creating mechanical, semi-mechanical and purely ornamental devices for the hoarding of pennies and other small coins. To call them toys was to apply a misnomer, for the proud owners of these miniature depositories took them very seriously, and no Christmas shopping list was complete without at least one coin bank for some junior or missy.
During the late 90's and just after the turn of the century, the home bank enjoyed the apex of its popularity. Every home had at least one. and it was quite proper to show the latest saving "gadget," just as it was to play the latest red seal record, or display the newest species of dahlia. Indeed, a visiting uncle or aunt would be guilty of a serious breach of etiquette if he or she did not come well primed with pennies, nickles or dimes according to their real or reputed affluence, and then ask for little Willie's bank in order to amuse themselves and their hosts and delight Willie himself by feeding the coins to porcelain pigs, cast iron castles and all manner of catapulting contrivances which shared a common efficiency in depositing the monetary missles inside formidable chambers constructed to defeat the most violent efforts at premature extraction.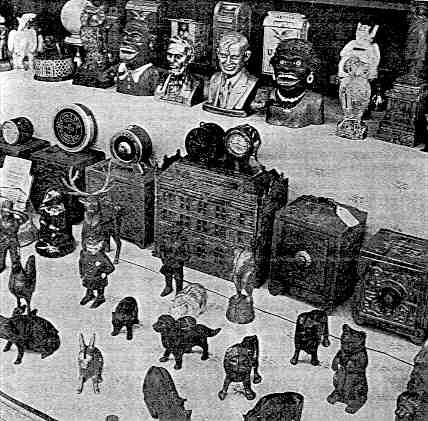 But thrift education advanced, and junior learned about interest and com- pound interest- His allowances out- grew mere pennies. Where he formerly trotted a half mile to the store for a neighbor's reward of a penny or two he rode his bike a few blocks for a dime. He later cranked his stripped down Model "T" to skid to a squealing stop a half block away and expected a quarter for his streamlined errand. With the shrinking purchasing power of the penny, nickle and dime has come a more mature method of saving with those who would perpetuate the habit of thrift so generally promoted by the "penny banks" of yesteryear. And so the penny banks, instead of collecting coins for their owners, have become rarities owned by collectors; a new type of Americana.
So extinct has become the mechanized home bank that collectors of these examples of the metal moulders' art offer as muc4 as fifty and a hundred dollars for banks which in their heydey of popularity were sold at the corner notion store with the tinkling door signal for as little as a quarter or fifty cents.

Currently,. the coin bank is still popular in a dignified form. Many savings and building-loan institutions promote new accounts by offering home banks as a preliminary step to the purchase of their investment certificates or shares. But the modern version is usually a sleek, streamlined miniature vault differing so greatly in appearance from the curious designs illustrated on these pages as does the modern automobile contract the horseless carriage.

Sensing the public interest in any form of Americana, and taking advantage of the appropriateness of home banks as applied to thrift and savings, J. Arthur Younger of the Citizens' Federal Savings and Loan Association, San Francisco, used the collection of "penny banks" owned by H. A. Muir of that city as a window display feature. It created wide attention; stopped sidewalk crowds and produced business. Strangely enough, the display indicated a public interest in the home bank idea as more than an historical flash-back. It vindicated the action on the part of many present day thrift institutions which offer coin banks in the development of new savings and investment accounts.
The San Francisco display is shown on the two photographs reproduced on these pages. Many readers will recognize some of the quaint designs included in this collection.
The history of the coin bank is colorful. As nearly as can be determined, the idea of manufacturing small household banks of ornamental design does not date back further than 1840. The first made in the United States appeared in that year as the product of a metal processing concern in Durham, Conn., and were of tin. A little later , cast iron was employed, and the popular design was that of a conventional floor safe. Soon they appeared with a real combination locks.
Another firm in Cromwell, Conn., entered the field with a line of about 20 types of mechanical banks, and revolutionized the infant industry by introducing a wide variety of gravity or hand actuated means of depositing the coins in sturdy, extraction-proof compartments. This all happened before 1850.
The vogue enjoyed its highest popularity during the last three decades of the nineteenth century, when manufacturers vied with each other for unusual mechanical actions that would provide the most dramatic handling of the coin to be deposited for safe keeping.
The first non-mechanical banks were replicas of safes, buildings and animals. The buildings were usually models of edifices resembling the popular conception of large banks, with impressive pillars and grand facades. Animals were used as symbols; owls for wisdom, squirrels for thrift, and so on.
Psychology entered the scene with the development of banks that provided brief entertainment with the depositing of each coin- Coins were shot at targets, only to disappear in the slot and fill the hollow tree trunk. Mules kicked coins into houses. Scotchmen tucked pennies into their middles. Dolls danced when deposits were made. In all, some 200 different types of mechanical action banks were introduced, according to authorities on the subject.
Collecting coin banks has become a hobby with many well known men, among them Walter P. Chrysler, the motor manufacturer. And while a revival of the general popularity of mechanical banks is not a possibility in this age of highly developed entertainment, the small home bank is by no means obsolete as a constant reminder that "a penny saved is a penny earned."
---