HOBBIES ó The Magazine for Collectors, March, 1940
Secor's Mechanical "Freedman's Bank"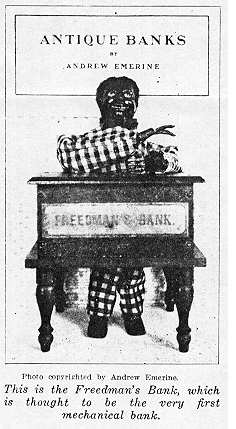 The Freedmanís Bank was advertised and sold by Ives Blakslee and Company, of New York City in 1865, and priced at $4.50 each.
The construction of the cabinet is of cherry wood and the body of the darkey is of cast metal with "clock works" inside the body.
This early toy bank shows the cockish freedman in all his glory at the close of the Civil War, and when put into action the left hand draws in the coin, while the right arm raises with thumb to nose and all four fingers give the proper movement and the head with broad smile moves from side to side, after which the arm drops to repose and the smile continues.
This is thought to be the very first mechanical toy bank and is highly treasured by any collector who is fortunate enough to own one.
The bank illustrated here is from the collection of Andrew Emerine, Ohio, who has an outstanding collection.