The Magazine of OLD GLASS

,

April, 1940
TWO GLASS BANKS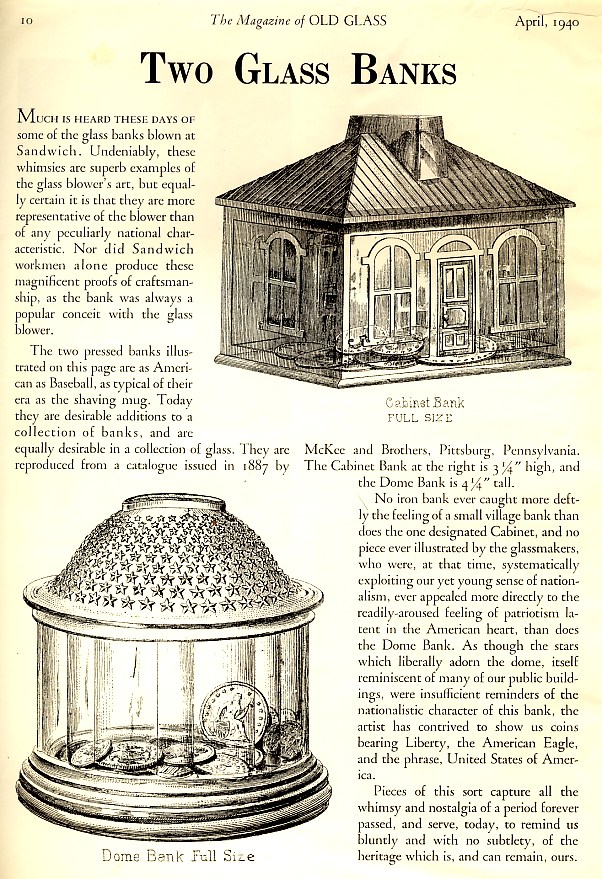 The Magazine of OLD GLASS
April, 1940

TWO GLASS BANKS

MUCH IS HEARD THESE DAYS OF some of the glass banks blown at Sandwich. Undeniably, these whimsies are superb examples of the glass blowers art, but equally certain is it that they are more representative of the blower than any peculiarly national characteristic. Nor did Sandwich workmen alone produce these magnificent proofs of craftsmanship, as the bank was always a popular conceit with the glass blower.
The two pressed banks illustrated on this page are as American as Baseball, as typical of their era as the shaving mug. Today they are desirable additions to a collection of banks, and are equally desirable in a collection of glass. They are reproduced from a catalog issued in 1887 by McKee and Brothers, Pittsburg, Pennsylvania. The Cabinet Bank at the right is 3-1/4" high and the Dome Bank is 4-1/4" tall.
No iron bank ever caught more deftly the feeling of a small village bank than does one designated Cabinet, and no piece ever illustrated by the glassmakers, who were, at the time, systematically exploiting our yet young sense of nationalism, ever appealed more directly to the readily-aroused feeling of patriotism latent in the American heart, than does the Dome Bank. As though the stars which liberally adorn the dome, itself reminiscent of many of our public buildings, were insufficient reminders of the nationalistic character of this bank, the artist has contrived to show us coins bearing Liberty, the American Eagle and the phrase, United States of America.
Pieces of this sort capture all the whimsy and nostalgia of a period forever passed, and serve, today, to remind us bluntly and with no subtlety, of the heritage which is, and can remain ours.
---