H. Blair Hull, October, 1942
H. Blair Hull, Widely-Known Engineer, Dead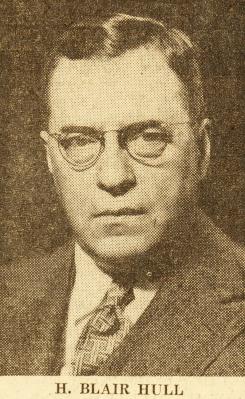 H. Blair Hull, 51, widely-known inventor and research engineer for Frigidaire division of General Motors Corp., died Wednesday at 7:30 a. m. at his residence, 1454 Glendale av. Born in St. Clairsville, Pa., Mr. Hull had been a resident of Dayton for 23 years. He was a graduate of Cornell university, the class of 1913.
A World War veteran, Mr. Hull spent three years following the war in France where he was in charge of refrigeration plans for the Frigidaire division of General Motors Corp. In 1921 he came to Dayton as research engineer for Frigidaire.
Mr. Hull held a hundred patents, which he received for his inventions. He received the Modern Pioneer Award in 1939 for distinguished achievement in the field of science. He perfected the air cooling system for fever cabinets and has also done extensive research work for the iron lung, blood bank and Pavex machine. He was the author of "Household Refrigeration," which is the only book of its kind published and is used as a textbook in colleges today. Mr. Hull was credited with having the fourth largest collection of mechanical banks in the United States.
He held membership in the Engineers club, the Dayton Art Institute, the First Lutheran church, the American Society of Refrigeration Engineers and was a 22nd degree Mason.
Surviving is his widow, Fay Houston Hull. Funeral services will be held Friday at 2 p. m. at Whitmer Brothers funeral home, 239 N. Ludlow st. Burial will be in Memorial Park cemetery. Friends may call at the funeral home after noon Thursday.
————●————
H. Blair Hull resides at Dayton Ohio. He is a Cornell University graduate, and has been actively engaged for the past twenty years in research engineering work for General Motors. Mr. Hull is an inventor with well over one hundred issued patents to his credit. He received the Modern Pioneer Award in 1939 for distinguished achievement in the field of science. Thus he is well equipped for distinguished service in another field — collecting data on mechanical banks. He writes, "Mechanical banks have offered an interesting subject of study, as both their mechanism and the wealth of material in the hundreds of old patents covering the early banks."
Mr. Hull is in the course of his investigations has examined most of the large collections of mechanical banks throughout the country.
---