THE BLUE STAR, March 1944

VICE-PRES. SODEN COLLECTS —
AND COLLECTS
Our Vice-President, Fred H. Soden, has developed a hobby that takes little of his time and scarcely more of his guests' small change. As hobbies go this is an ideal hobby, as it brings in more than goes out, and is still legal.
Mr. Soden's little hobby is collecting children's banks. And incase the reader, like the writer, never stopped to consider the possibilities in collecting kids' banks, let's study Mr. Soden's hobby a minute.
Picture yourself as a guest of Mr. Soden. You accept liquid refreshment, and shortly you accept his invitation to inspect his collection of kids' banks. Here's the Barking Dog and the Black Elephant. There's the Eagle-and-Eaglets. Very interesting, you yawn. You accept another liquid refreshment.
"Over here," says Fred, "is an amusing little number called the Butting Goat. Drop a small coin in that slot and he starts to buck. Like to try it?" Finding a loose penny, you try it. Very amusing, you say.
"Along the same line," continues Fred, "is this little elephant that tosses dimes over his head into the slot. They make clumsy models that toss heavy nickels, but I haven't got one.
"Taking the cue you produce a dime and the elephant tosses it neatly over his head and into his spacious belly. Cute, you say, as Fred hands you another slug of hospitality.
"This Cat-and-Dog-Organ-Bank is kind of nifty," Fred goes on. "Every time you put a quarter in the slot the dog barks and the cat meows. But here's the tricky part — you put in four bits and they go into a swell fight. Do you like fights?"
About here you say you're tired and would like to rest, and Fred probably feels justified in asking why the hell you don't go home then. Which would be your loss, in a way, because you didn't wait to see the Dark - Town Battery, Dog-on-Turntable, ]olly-Nigger, Monkey-and-Organ-Grinder, Mule-Entering-Barn and 47 other select items that would brighten any bank collector's heart.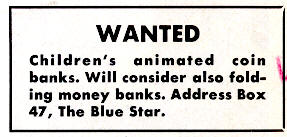 "MAIL CALL." is the big moment
for our boys overseas. Get addresses
from THE BLUE STAR and write those
you know — tonight!

---