RELICS - February, 1946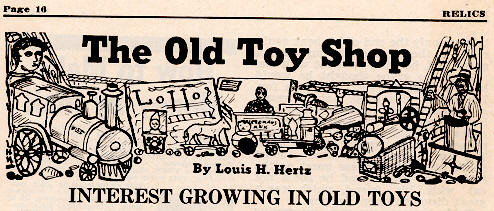 The Old Toy Shop


By Louis H. Hertz
INTEREST GROWING IN OLD TOYS


Reports from many widely separated sources indicate that there has been a tremendous growth of interest in old toys in this country during the past year. Just how much of this is merely casual interest, people acquiring a few old toys as oddities or even merely for decorative purposes, and how much is really serious, building up historical collections for permanent preservation and carefully studying toys and their history is difficult to determine.
It would, however, be impossible for so much interest to be aroused in toys without quite a few serious students of the subject. If our recent mail is any indication, this is exactly what is happening.
A number of readers have written to tell us of their activities, and we would really like to hear from many more, from all, in fact, who are interested in the subject, both as a guide in the selection of topics for future coverage in this department, and because we want very much to learn of every collector of old toys who is really interested in the subject and in its background. We want very much to hear from you, so we can keep track of growing interest in the topic, and perhaps some day find enough interest to warrant the formation of a national organization devoted to an interchange of information among toy collectors who are interested in toys other than dolls, which has been the chief subject of coverage by existing groups.
Many people writing in ask where there are existing public displays of old toys, as they would like to visit such exhibits if they are not too far away so as to see some of the actual toys themselves. Visits to such displays always serve as an added incentive to collectors to endeavor to search out still more interesting items for their own collections.
At some future date we would like to print a nationwide list of such displays here for the reference of readers, and we would appreciate hearing from those who are acquainted with local public or private collections of real interest. We hesitate to print a list of collections without such personal direct confirmation, as we have found in the past references have been made to various collections which, according to the report, were very extensive, only to find, upon visiting the collection, that it was actually extremely small, even virtually non-existent, or not on public display.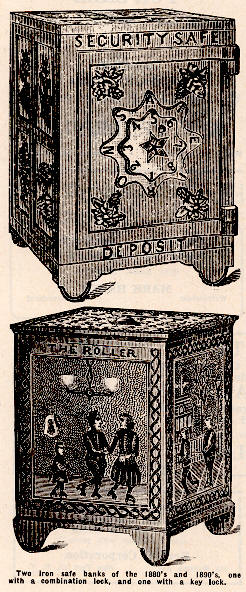 There are one or two collections to which we feel free in referring readers at this time as well worth seeing if they are ever in the vicinity. One notable collection, a fine example of what can be done in getting together a collection of real merit and value, and in arranging for its public display and suitable preservation in a permanent institution, is the collection of toy trains which may be seen at the Thomas Gilcrease Foundation, Osage and Ozark Roads. Route No. 4, Tulsa, Okla. This collection has been assembled by Burton Logan the superintendent of the Home for Indian Boys and Girls at the Foundation. An enlarged exhibit of representative toy trains from the 1880s on is on display there now, and an entire room will be devoted to the collection in the new museum building which is being constructed. We have seen photographs of the display, and it is well worth seeing. Anyone in or near Tulsa, who is at all interested in toys, and especially in toy trains, should call up Mr. Logan and arrange to go out to the Foundation and see the collection.
Another very fine collection of tops, this one general in scope and endeavoring to show examples of all types of toys, is to be found at the Museum of the City of New York at 103rd St. and Fifth Ave., in New York, N. Y. The collection was formerly housed in a few cases, and most of the items were in storage. A few years ago, however, in token of the growing interest in toys, a full room of the museum, formerly devoted to other displays, was taken over for the toys and lined with old glass fronted display cases from an old New York drug store to contain the toys. A very interesting and rather representative group of toys is shown on permanent exhibition. Of course, it is impossible to show more than one or two examples of each type of toy, but there is something there to interest specialists in almost every type of toy, and as a general collection of toy types, it excels.
There are, of course, but two examples, and we shall mention others in future articles. In the meantime, if you know of any interesting displays of toys, please drop us a line about them.
The illustrations this month are of two iron safe banks of the 1880's and 1830's, and represent two distinct types, the safe that opens with a key, and the combination lock safe. Safe banks of these general types were, of course, widely manufactured up until comparatively recent date.
Safe banks were made in various sizes, some extremely small, perhaps 1-1/2 inches high, and some quite large, but on the average most of them were around 4 inches high. The combination safes were extremely interesting and people who see them for the first time are often surprised by their simple yet ingenious construction and by the fact that even in a toy, a working combination safe could be manufactured to sell so cheaply. The particular example illustrated is of the double combination type, and uses both a numeral and a letter to open the safe. Most toy safe manufacturers were primarily concerned with devising some device to place inside the bank under the coin slot, usually in the form of a hinged or swinging plate, which would permit coins to be deposited easily, but which would prevent their being extracted through the slot once they were inside.
---
The weight of a big redwood tree has been estimated at 1700 tons.
---