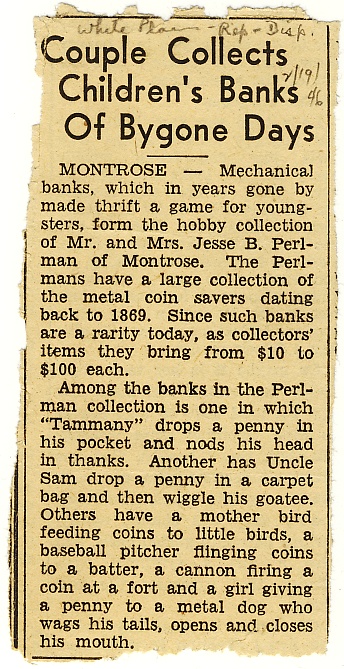 WHITE PLAINES REPUBLICAN DISPATCH
February 19, 1946



Couple Collects Children's Banks Of Bygone Days
MONTROSE — Mechanical banks, which in years gone by made thrift a game for youngsters, form the hobby collection of Mr. and Mrs. Jesse B. Perlman of Montrose. The Perlmans have a large collection of the metal coin savers dating back to 1869. Since such banks are a rarity today, as collectors' items they bring from $10 to $100 each.
Among the banks in the Perlman collection is one in which "Tammany" drops a penny in his pocket and nods his head in thanks. Another has Uncle Sam drop a penny in a carpet bag and then wiggle his goatee. Others have a mother bird feeding coins to little birds, a baseball pitcher flinging coins to a batter, a cannon firing a coin at a fort and a girl giving a penny to a metal dog who wags his tails, opens and closes his mouth.
---