REPORTER DISPATCH, White Plains, N.Y., Monday, August 4, 1947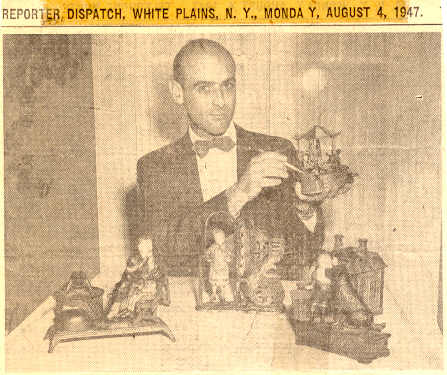 FINE POINTS of mechanical coin banks are described by Collector Richard
M. Lederer, Jr., of 35 Hearherbloom Road. A rare item is that Merry-Go-
Round Bank he holds. Also shown is the "Girl Skipping Rope" (center)
and a dentist pulling a patients pulling a patient's tooth (left foreground),

Coin-Grabbers Of 19th Century
Still Fascinate City Collector
By JOHN.F. GOLDSMITH
Cast iron mechanical banks were children's toys 25 years ago, and they rarely cost more than $1. Today they are collectors' items, worth as much as $500.
An authority on such mechanical banks is Richard M. Lederer, Jr., of 35 Heatherbloom Road, who owns one of the 10 best collections in the country.
Mr. Lederer started collecting seven years ago. He advertised in magazines, visited junk and antique shops and peered into dark, cobwebbed corners of friends' attics. Now he has 240 varied coin banks standing in rows in glass cases in his office at 285 Madison Avenue, New York. He's still advertising, visiting and peering.
A short, well-knit prematurely bald man of 30, Mr. Lederer is a former Military Police Police captain who works with his father in the investment management business. He is full of information about the history of banks — where, how and when they were made and who made them.
Most ingenious of all the contrivances, he thinks, is the "Girl Skipping Rope." James H. Bowen of Philadelphia, the designer, took two pictures and 2,000 words to describe his product to the U. S. Patent Office.
The bank will not take a coin until you push a lever, which releases a spring and permits an iron girl to skip rope while moving her head from side to side.
A sure collector of coins of the curious is a rifleman who shoots money into a slotted tree stump.
Then there's a dentist pulling a reluctant patient's tooth. Place a coin in the dentist's pocket. Then press a button. Out comes the tooth while the dentist falls one way, the patient topples over backward in his chair and the coin drops into a slot.
A coin's. weight motivates the "Boy on Trapeze." After a coin is put in a slot in his cap, the boy rotates on a bar. A penny turns him once, a nickel twice, a quarter three times and a 50-cent piece six times.
"One of my friends," said Mr. Lederer, "wants to try it with a $20 gold piece."
Not all toy banks are mechanical the White Plains collector pointed out. He named four general types — mechanical, semi-mechanical, registering and "stills." Registering banks show the amount of money deposited. "Stills" simply hold money.
The first popular mechanical bank, which appeared in 1869, was patented by John Hall of Watertown, Mass., and manufactured by the J. and E. Stevens Company of Cromwell, Conn.
A few banks were made of ,wood, but most were cast iron. Iron founders, who now manufacture cap pistols, turned out banks from 1869 until the late 1920s.
Leading, manufacturers were Stevens, the Shepard Hardware Company of Buffalo and Kyser arid Rex of Philadelphia. Production stopped when the cost of labor and materials became prohibitive.
Mr. Lederer explained those colorful banks with their eye-catching antics were primarily toys. Unlike modern coin banks, they were not boosted by banking firms to encourage thrift.
Such a bank's relative scarcity is a guide to what collectors will pay for it. In Wethersfield, Conn., said, said Mr. Lederer, Mark Haber, another collector, has refused $2,500 for the only known complete model of one bank.
When .Mr. Haber makes a deposit, a mechanical man sweeps a coin off a table and thumbs his nose.
Mr. Lederer gave two reasons why banks are rare today: Either their mechanism was so intricate that they were easily damaged or destroyed, or the mechanism was so simple that they were uninteresting, did not sell and were not produced in large quantities.
Professor Pug Frog's Great Bicycle Feat" is a typical complicated bank. Guided by an involved series of springs and release levers, Professor Pug Frog pivots and drops a coin into a slot.
So simple it never caught the public's fancy and is now a rarity is the "Barrel with Arms." You push the arms down to let a coin drop into the barrel.
Coin bank collectors have no official organization. They're gregarious people, however, and like to swap gossip about their hobby. In New Rochelle, William F. Ferguson, a vice president of New York's Bank for Savings, puts out a periodic chat sheet, which he sends to his fellow collectors.
Five-year-old Barbara Lederer approves of her father's banks — but casually.
"I think they're nice, " she says.
---