Cambridge Man Has Novel Collection of 1000 Toys
By ELIZABETH WATTS December 20, 1949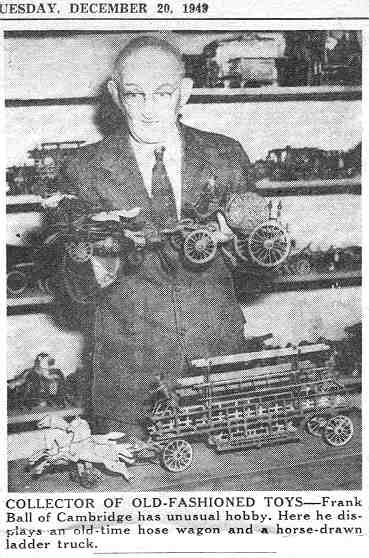 Do you think you could fit 1000 toys in a seven room house and still leave room for a family to live in it?
Genial 67-year-old Frank Ball of Cambridge has slightly more than 1000 old fashioned toys, trains, autos and mechanical banks at his home on Fresh Pond Lane, but few of his neighbors know anything about it. And, what's more, his pretty white-haired wife still has an uncluttered living room, dining room and kitchen.
The attic and the cellar of the Ball home provide paradise unlimited for Ball, retired president of the Malden Gas Co. and other public utilities firms elsewhere in New England. He's turned a 10 year hobby into a full time business that keeps him "more tied up than a steady job." There are shelves on shelves of wrought iron toys, tin toys and locomotives made of everything from tin to wood. Newest addition in his miniature collection, which includes the little model autos and cars that used to come in candy packages. Keeping track of what he has is a job in itself, Mr. Ball says.
"But you know," he says with great conviction, "if I had the time and money I'd like to start an institute to train businessmen for retirement. It would be wonderful if more older men could face the years ahead with something definite in mind to do. I know some men who just sit all day long and get in the women's way because they think there's nothing left ahead for them. There's no limit to what you can do."
Manufactured around the 1860's the banks do everything from popping a penny into a satchel carried by Uncle Sam (whose chin whiskers wag) to a William Tell operation complete with apple.
"It used to be a favorite Christmas gift for children," Ball explains. "The children would get these wrought iron banks and then show them to indulgent relatives, most of whom could be counted on to contribute a penny to see the bank work."
Ball has collected these banks from all over the country but he finds the richest harvest comes from Pennsylvania. "I guess the frugal Duchman used to put a good deal of stock in banks, even the home variety," he says, with a smile.
Taking a look at Ball's orderly shelves gives you an idea of what a child's Christmas present looked like almost 100 years ago. It's a cinch that the toys made a muscleman out of junior since wrought iron was one of the favorite metals. Hoisting a fire engine was definitely no task for a 4-year-old. Pull toys that had tiny concealed bells were as popular then as now and trains and carriages from cabooses to six wheelers are evidently the toys that lit Christmas sparklers in kids' eyes 100 years ago.
Now these antique toys, which work perfectly, are favorite presents for business men and collectors who cherish the reminders of the past. "I get letters from people all over the country asking if I've got a Jonah and the Whale bank or a little wrought iron toy stove.