Los Angeles Times — HOME MAGAZINE — September 25, 1949
Banks of Bygone Days
By John Noah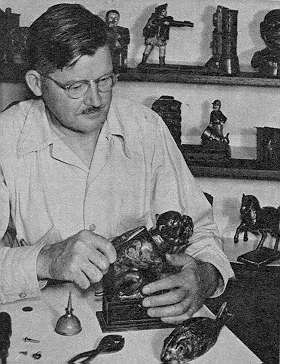 IT ISN'T necessary to be of Scotch descent to become a collector of old toy banks but it helps, according to H. B. McWilliams of Los Angeles.

An interest in early Americana plus his Scotch thrift motivated McWilliams, a chemist, to acquire the 130 toy banks in his collection. These ingenious banks which induced our forefathers in their youth to save were important contributors to the building of our nations prosperity.

One did not have to be a psychologist in those days to know that thrift could be encouraged by banks which actually performed for their pennies. When Junior could not be cajoled into a thrift alien to his nature his parents usually bought him a mechanical toy bank that incited him to save through sheer curiosity. It took a strong-willed child to resist the impulse to deposit a coin in a bank to make it become animated.

A particular favorite with McWilliams is the eagle bank which was responsible for widespread thrift in the 80s. When a coin is placed in the mother eagle's beak and a lever pressed she spreads her wings and leans forward as if to feed two eaglets who rise and actually emit a chirp. The coin drops into the nest and thence into the bank. Despite the Rube Goldberg mechanics of the bank it was manufactured to sell for approximately $1. Today it is worth many times more.

McWilliams' research has revealed that the mechanical toy bank was probably invented in 1793 when the first large U.S. copper 1-cent pieces were minted.

As the demand for the home savings bank increased inventors used a multitude of commonplace subjects of the contemporary scene as models for the animated portions of the banks. Animals, birds, fish, political personalities and many types of architecture served to beguile several generations of youngsters into saving their money.

The mechanical toy banks were once so much a part of the American scene that literature frequently made reference to them. Sunday school papers, McWilliams recalls told melodramatic stories of drunken fathers in the dead of the night stealing from the toy banks of their innocent, sleeping babies to buy more demon rum.

Such Fagin-like characters, McWilliams wryly observes, undoubtedly sobered themselves by the tedious job of tilting, twisting and shaking the banks to force the pennies through the slots as either a key or screwdriver was usually necessary to open them.

Although the toy banks were made of tin, wood and glass, iron was by far the most popular material as it could be cast inexpensively and was virtually indestructible.

Despite rough treatment many of McWilliams' old banks were found in perfect condition save for missing or faded paint. In the toy bank collecting fraternity, he explains, faded or colorless banks are never repainted as their worn appearance enhances their value as antiques.

In addition to his mechanical banks McWilliams owns a number of non-mechanical or "dumb" banks in a variety of patterns.

Decline in the popularity of both mechanical and "dumb" toy banks was due to several factors, McWilliams believes. The advent of the automobile facilitated trips to public banks while banking at school assured interest on deposits. Entertainment provided by the animated banks was also too tame in comparison with that of the motion picture and radio.

Memory undoubtedly plays a major role in the appeal of toy banks of yesteryear but even a modern day teen-ager should be able to appreciate, for instance, the William Tell bank which is filled by Tell shooting a coin against the apple on his son's head. The coin after achieving its aim falls into the tower and is banked. McWilliams must frequently empty this bank as visitors particularly delight in repeatedly supplying Tell with ammunition hoping that eventually he'll miss.
---