Savings Bank Executive Collects Mechanical Banks
HOBBIES — The Magazine for Collectors — May. 1951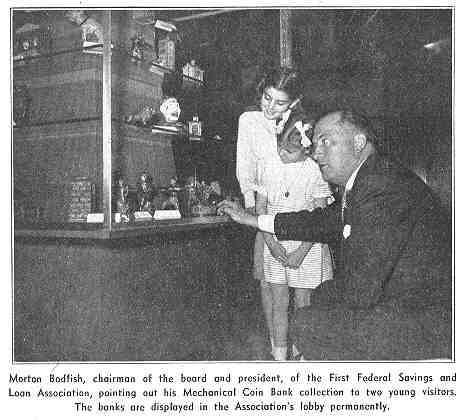 Many persons take up hobbies that are as far removed from their business life as possible. This is not the case with Morton Bodfish, board chairman and president of the First Federal Savings and Loan Association of Chicago. He is a bank collector — and his array of antique coin banks is one of the most complete and well known in these United States.
The coin banks in the Bodfish Collection come in all shapes, sizes and color — their only similarity being that they are all used for saving money. Each individual bank has a history of its own, many of them portraying some current event of the bank's era, and all of them reflecting the spirit of their time.
Bodfish's interest in these old-time coin banks stems back from his highly successful financial career, upon which he embarked after graduating from Ohio State University in 1926 with an M. A. degree. It was about this time that he first began collecting these banks.
In the course of establishing the collection, Bodfish has corresponded with other collectors in every corner of the globe, and some of his best specimens were collected during his frequent trips abroad.
The coin banks are permanently displayed in the lobby of the First Federal Savings and Loan Association of Chicago, where they are viewed daily by hundreds of customers and passers-by. In fact, the bank collection has proved a valuable asset in First Federal's savings program, and in its small way had aided the Association to become one of the largest savings institutions in the country.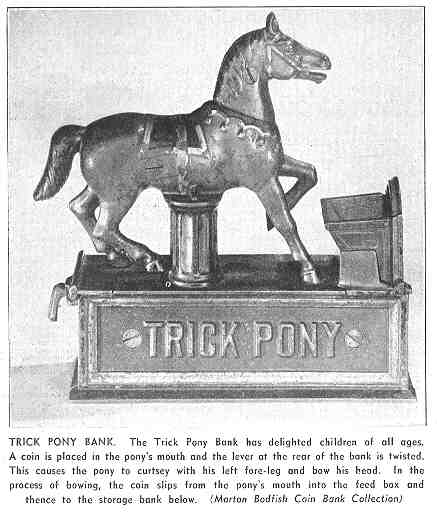 In the brief span of seventeen years since Bodfish and a group of associates organized First Federal, the Association has grown until today it ranks fifth among the nation's savings associations and cooperative banks with assets totaling more than $76,000,000.
Together with his administration of First Federal, Bodfish has figured prominently, not only in Chicago, but also nationally and internationally in the fields of thrift, housing and home-financing for the past two decades.
Since 1929, he has acted as chief executive of the United States Savings and Loan League, trade organization for more than 3700 savings associations and cooperative banks. His post is now Chairman of the Executive Committee, where he carries on various legislative and administrative duties for the League.
A member of the original Federal Home Loan Bank Board appointed by former President Hoover, Bodfish was instrumental in the formulation of policies which surrounded the establishment of the Federal Home Loan Bank System and the authorization of federally-chartered savings associations. Prior to this, only states had been able to grant charters.