SYRACUSE HERALD-AMERICAN, Sunday, February 1, 1953, page 50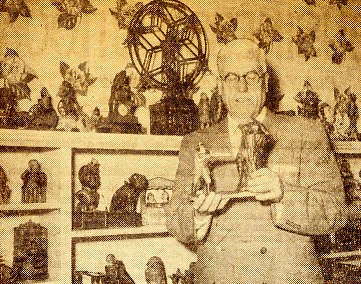 TOY BANK FANCIER. Laurence A. Johnson inspects
"Teddy and the Bear," one of the banks in his collection.
Banks Come to Life
On Johnson's Shelves

By PEG CRAM

ANTIQUE MECHANICAL BANKS are the hobby of Laurence A. Johnson, 1202 Broad St.
Keenly interested in Americana, Johnson finds his collection "as American as corn on the cob."
The den of his ranch-style home forms an interesting display of the money-preserving curios. The banks line pale pink shelves which match pink flowered wallpaper in the room.
Central figure in the display is a Ferris wheel bank, commemorative of the Chicago World's Fair of 1892-93, where the Ferris wheel was first introduced in an amusement area.
ALSO SHINING from the shelves are a banjo player, sad faced clowns, organ grinders, Punch and Judy, athletes, various caricatures of people, Oriental heads and dancers.
A miniature zoo of animals adorn some of the banks, including elephants, a monkey, mules, dogs, a lion, a milking cow, frogs and birds.
With a bit of winding here, and the insertion of a coin there, the quiet orderly den can rapidly be transformed into a scene of action with the little figures on the shelves coming to life like doll dancers in a magic toyshop.
AN ATHLETE decorating an iron bank suddenly swings a baseball bat; a mule kicks, a bird pecks down into her nest, Punch and Judy come to life, a girl skips rope, a bulldog opens his mouth. Following each movement, money jingles into its proper resting place in an intricately designed mechanical bank.
You could spend a day viewing Johnson's fascinating display.
One of the hobbyist's most prized curios is called "Teddy and the Bear Bank." It is operated in this way: A miniature figure representing the late Theodore Roosevelt points a gun at a bear seeking cover in a hollow tree trunk, patterned after an actual experience of the late President. A coin is placed in the gun and when a lever is pressed, Teddy shoots the coin into a hole in the tree trunk and the head of the bear springs up.
LECTURING ON banks at a club in town, Johnson narrated the following story:
"On one of Roosevelt's hunting expeditions in Mississippi, he indignantly refused to shoot a bear cub. A cartoonist, the late Clifford Berryman, was present and the next day in a drawing coined the expression, 'Teddy Bear.' The idea was popular with the public and hence the Teddy Bears came into Vogue as toys."
He has witnessed an astounding rise in costs of the tricky little money containers. For example, banks which used to sell for $.62 today might bring anywhere from $100 to $125. It is not uncommon for others to be worth $2,500 at present.
Johnson has traced the progress of toy banks, which were first made from tin and wood, to milk glass, pottery, porcelain and cast iron.
Interested in mechanical banks since he was a child, Johnson has enjoyed reading about them and making a study of them.
---