By CONNIE BARTON

FOSTORIA — While friends of Andrew Emerine gathered Wednesday evening in his office above the First National Bank building in Fostoria to watch the spooks and goblins of the annual Halloween parade, a much older and stranger collection of ghosts of the past peered out of cases lining the walls of the office.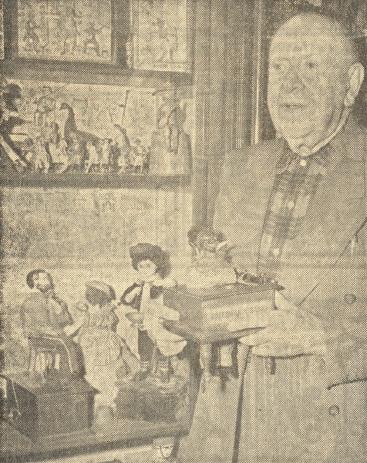 Andrew Emerine, retired banker, is shown exhibiting
one of his most valuable banks, the "Freedman's Bank."
On the top shelf of the case are two old sand toys, and
two other animated toys are pictured on the middle shelf.
Mr. Emerine entertained at an open house during the parade in a suite of rooms which is hardly the usual type of office for a banking executive. Daily this prominent Fostorian plays host in his offices to any visitors interested in viewing one of the most famous collections of mechanical coin banks and mechanical toys in the United States.

"When I began collecting banks, 35 years ago, I got a lot of pleasure out of acquiring these rare objects," said Mr. Emerine. "Now my pleasure is showing them."

The heyday of the mechanical bank was in the late 1800's. At that time most of the banks, all made of cast iron, sold for about 30 cents or a dollar. "My sister, the late Mrs. Cora Criswell, suggested I collect banks, since I had been in banking all my life," Mr. Emerine recalled. Mr Emerine's father, Andrew Emerine Sr., founded the Fostoria First National Bank and served as its president from 1882 to 1923. Then Mr. Emerine took over as president and held that position until 1952.

At the present time, Eldren E. Layton, Mr. Emerine's son-in-law, is bank president with Mr. Emerine still holding the position of chairman of the board. "I have time to really enjoy my collection now." said Mr. Emerine. In addition to the mechanical banks and toys, the Fostoria banker has several music boxes, one which plays 28 tunes; a very valuable collection of 80 old guns, and a group of children's paper cap firing devices with novel methods of discharging the cap.

"There are very few of these articles on the market now," said Mr. Emerine. "When I began collecting, I advertised in collector's magazines. Then about one person out of four had a toy stuffed away in the attic. I'd get five or six banks every week through the mail. I paid anywhere from three to eight dollars for each bank."

Up to $1,200
Mr. Emerine showed a book listing the banks in the collection of the late Walter P. Chrysler. This collection was broken up and sold two years ago. Prices on his banks ranged from $200 to $1,200. "See this bank?" said Mr. Emerine, holding up a bank attached to a girl and skipping rope. When wound the rope goes around and the girl skips.

"My daughter, Mrs. Layton, bought this bank for me in Boston. She paid $18 for it. Later, I was offered a second bank for $35 and I turned it down. I thought that it was too much to pay. An exact duplicate of this bank in the Chrysler collection sold for $800."

Several of Mr. Emerine's banks reflect the political temperature of the times. One rare bank is called "The Breadwinner." A figure labeled "honest man" toiling for a loaf of bread, hits a figure representing the interests of management, sending him high in the air.

The rare bank in the collection is the "Freedman's Bank," another toy with a political background. The freed slave is standing at the gambling table. As a penny is placed in the bank, which is the table, the slave scoops it up and gestures vividly with his hand and waggling fingers. There are only four of these in existence. Mr. Emerine secured the bank at a price of $7, from a dealer in Mexico City. Today it is one of the most valuable banks and carries one of the highest price tags.

Another retired banker and bank collector, John D. Meyer of Tyrone, Pa., has written a book of Old Mechanical Penny Banks." He mentions Mr. Emerine several times, calling him the "Old Wheel Horse" of bank collectors.

Has English Banks
Other subjects for banks are Biblical, historical, comical, sports, fairy tales, and well known personalities. Mr. Emerine has five English banks, including a John Bull bank complete with a bulldog and John himself. Another English bank, the "Wimbledon" features a rifleman who shoots a coin into the bank.

"Banks are like coins." Mr. Emerine explained. "Where only 40 or 50 of a certain type were made, they are rarer and more valuable now. If many banks of a type were manufactured, they are not as expensive now, for more collectors have them."

In 1947, Mr. Emerine was featured in an article in the Saturday Evening Post called, "The Sorcerer of Fostoria." The story included pictures of Mr. Emerine's banks and of the Fostoria collector in his workshop, where he repaired banks and toys and worked with wood, refinishing antique furniture, and devising wooden toys. "I've dismantled my workshop now," he said.

Probably the oldest mechanical toy is the sand toy, which works by inverting the box, causing the sand to collect at the top of the container. As the sand trickles down it runs over a wheel similar to a water wheel, causing the figures in the box, jointed for realistic movement, to dance or play an instrument. Mr. Emerine has four of these toys, which he estimates to be about 200 years old.

One Puffs Cigarette
Other unusual toys are a figure of Ulysses S. Grant, which actually inhales and puffs on a lighted cigarette, a boy who blows real soap bubbles and a bird in a gilded cage which moves and sings quite realistic bird calls.

"I'd say I have about 450 banks," said Mr. Emerine. "I rarely get an addition to my collection now. After the article about me appeared in the Saturday Evening Post I got a letter from a woman in Philadelphia telling me about a giant bank which she had, and I was able to purchase that one. Today there is a great interest in these mechanical banks. Many are being copied in plastic."

In addition to the inexpensive copies, one firm is manufacturing banks, using the antique toys as models, in cast iron. These are clearly marked "copy" on the bottom and are sold to individuals or to banking firms who use them for display purposes.

Each bank has a name,such as "Jonah and the Whale," "The Dentist," "Milking Cow," "Paddy and the Pig," "Teddy Roosevelt and the Bear," "William Tell," "Bad Accident," "Red Riding Hood," "Uncle Sam," "The Forty Niner."

Two of the rooms of Mr. Emerine's office are a real museum, with cases displaying all the unusual banks, the guns, music boxes, mechanical toys, cap pistols and some interesting examples of U.S. counterfeit currency and paper money issued by the Fostoria National Bank when individual banks were authorized to print their own currency. This money is redeemable, since the capital deposited with the government still covers it.

Mr. and Mrs. Emerine have one daughter, Mrs. Layton. The Emerine collection will be left to their two granddaughters, and will be kept on display in the museum as long as the First National Bank building is intact.

"I am usually here in my office during banking hours, and I'm always glad to show visitors my collection." said Mr. Emerine. "I've had a great many groups come here from a long way off to see it, and people often stop who pass through Fostoria on vacations. One of the best things about having a collection is sharing it."
---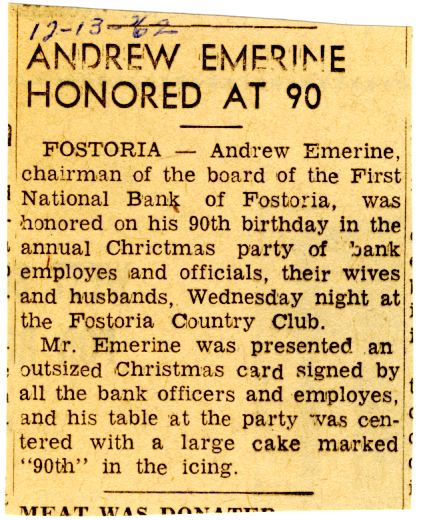 ---
http://www.mechanicalbanks.org/scrapbook/1960s/pages/1967_emerine_claimed.htm
---