THE SPINNING WHEEL for May 1961, cover & page 14 (images below)

An Antique Dealer Collects...
Mechanical Banks

Such is the attraction of mechanical banks that the window of Harry Hartman's antique shop in Mount Vernon, New York, in which his personal collection is permanently displayed outdraws walk-by interest ten to one against his antiques "for sale" windows.
Mr. Hartman himself succumbed to their lure some three years ago and began to build a serious collection. It has grown slowly, for mechanical banks can represent a large investment, but Mr. Hartman feels that all his purchases will increase in value with the years.
Since there are nearly three hundred known banks, ranging in price from $15 to over $2,000, their appeal crosses all economic strata of collectors. Mr. Hartman advises the beginning collector to visit antiques shows and shops, to study carefully all mechanical bank lists and catalogs, and to scan advertisements as may appear in antiques magazines. Most dealers, he finds, are happy to "talk shop" by mail. His own correspondence buying, which is considerable since his time for tripping is limited, has been most satisfactory. Frequently he has found dealers willing to open a "budget" account, accepting payment for the more costly banks on a monthly basis. Such budget buying has made available to him banks he might not otherwise have been able to purchase,
When a bank involves a fairly large sum, he checks catalogs carefully and seeks advise from experienced collectors, learning all he can about it before his purchase. The Bread Winner (cover) was such a bank. Made in the late 1880s, probably by J. & E. Stevens Company of Cromwell, Connecticut, it represents political propaganda of the time. A coin is placed on the end of the club, hammer raised. When the lever is pressed, the hammer strikes the club, called "Monopoly," sending the coin into the loaf of bread marked "Honest Labor," and popping a banker's head out of a money bag labeled "Boodle Steal — Bribery." These banks, when new, sold at $8.50 a dozen. In 1952, John D. Meyer in A Handbook of Old Mechanical Banks listed them at $300 each. In his 1955 catalog, New York antiques dealer David Hollander offered a Bread Winner acquired from the Walter P. Chrysler collection, in an "as is" condition at $400. In 1960 Mr. E. T. Richards, president of the Mechanical Bank Collectors of America wrote Mr. Hartman, "...a good Bread Winner is today worth approximately $800."
The only bank Mr. Hartman ever found among his thousands of antique purchases from homes and estates was an Uncle Sam (cover). This bank, recently featured on the cover of American Weekly was valued there at $125, Less than ten years ago, it could have been purchased for around $30.
New collectors may wonder about twenty-six reproduction banks currently being issued by a foundry in Pennsylvania, which retail from $10.95 to $25. In the four or five years Mr. Hartman has been scrutinizing bank price lists, there has been a constant rise in values, indicating that reproductions are having no discernible effect on the sale and value for antique banks. Once a new bank has been examined, it is almost impossible to be taken in by one. The natural wear of the old banks cannot be duplicated, nor can the pigmentation of the old paints. The foundry impresses on the bottom plate that the banks are reproductions, Though some unscrupulous dealer might try to change the name plate, the signs of wear and old paint would still be lacking.
Collectors disagree as to the value of these reproductions — some would willingly consign them all to the ashcan. Mr. Hartman, for his part, has purchased them as they appeared, to be used as such banks were originally intended — as amusements items for his children. As to their future value, he feels it as presumptuous to say they will never be valuable as to assume they will eventually appear in collector handbooks.
Since banks are so well documented and so many price lists and catalogs appear, new collectors may feel that bargains are no longer available. Admittedly they are harder to find then in some other fields of collecting. However, Mr. Hartman recently purchased from one dealer, at $62.50, a mint bank for which another was asking $158. Such variations in price admit of occasional bargains or good buys, and are due solely, he feels, to the intangibles always present in buying and selling antiques. Overhead varies from dealer to dealer; buying opportunities are never constant; personal factors enter the picture. Lists, he feels, should be used only as a guide, never as the ultimate ruling element.
Since mechanical banks were made to appeal to children, the subject matter is varied and of a youthful nature. One broad classification is the shooting group, in which the coin is shot into a receptacle. The William Tell bank (cover), a Stevens product of 1896, is typical.
Many distinct and amusing banks depict animals. The Chimpanzee bank (above) by Kyser & Rex, 1880, shows Mr. Chimp as a bank cashier who nods and writes in a ledger when coin is deposited. A bell rings, too. The Organ bank (cover), where monkey tips hat and deposits coin, is one of many monkey banks of varying sizes and designs. This is still listed under $50. Eagle and Eaglet bank (cover) shows mother feeding coin to eaglets who chirp (from a bellows). This bank has risen from $30 to close to $60 in less than three years. Mr. Meyer's 1952 average price was $22.
The Elephant and Three Clowns (above) is typical of the circus group. Its action depends on the elephant's trunk knocking a coin through a hoop held by a clown. In Dog on Turntable (cover), by Judd Manufacturing Company, the dog carries a coin on tray into the house, deposits it and returns. Both are in the "under $50" price range.
Banks were made to teach children saving as well as to amuse, and many lend themselves to the basic saving theme. The "Magic" Bank (cover) made in the late 1870s, spotlights a bank teller, as do many in this category.
Darktown Battery (cover) belongs in the appealing Americana group. Here a baseball pitcher tosses a coin, batter strikes, catcher misses, coin disappears between his knees. Mr. Meyers listed this bank in 1952 at $50, and noted its 1939 price at $10. Mr. Hartman has seen it increase to $70, and finds it listed in a 1961 catalog at $135.
---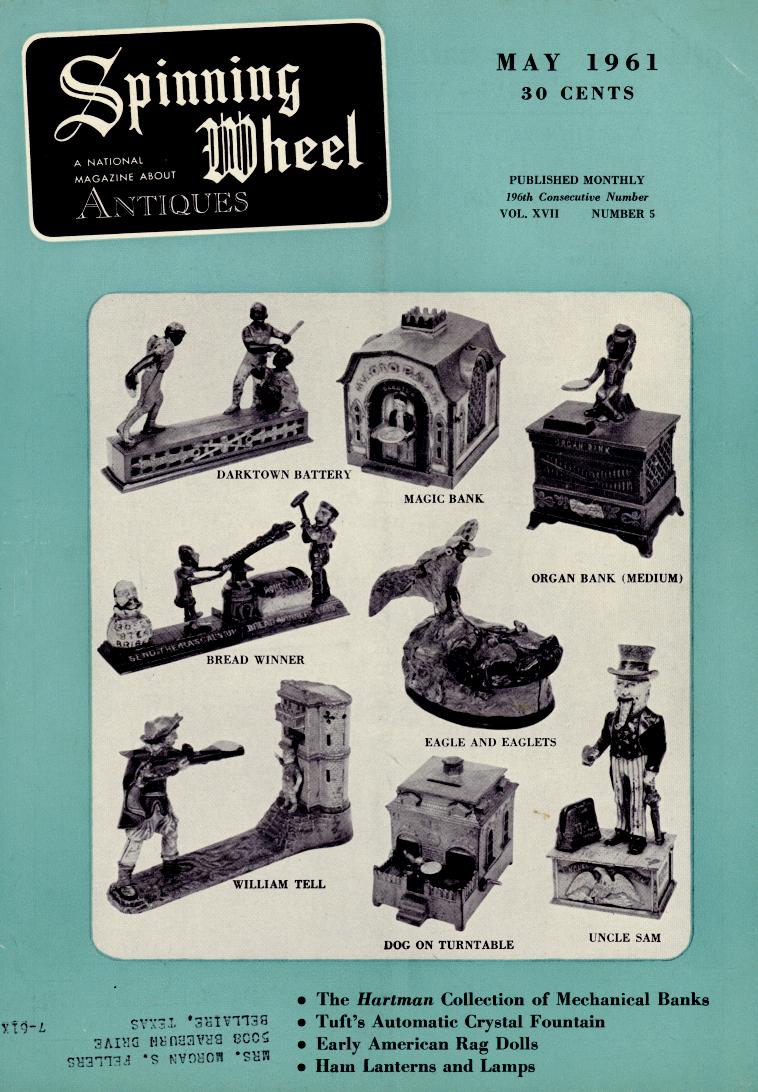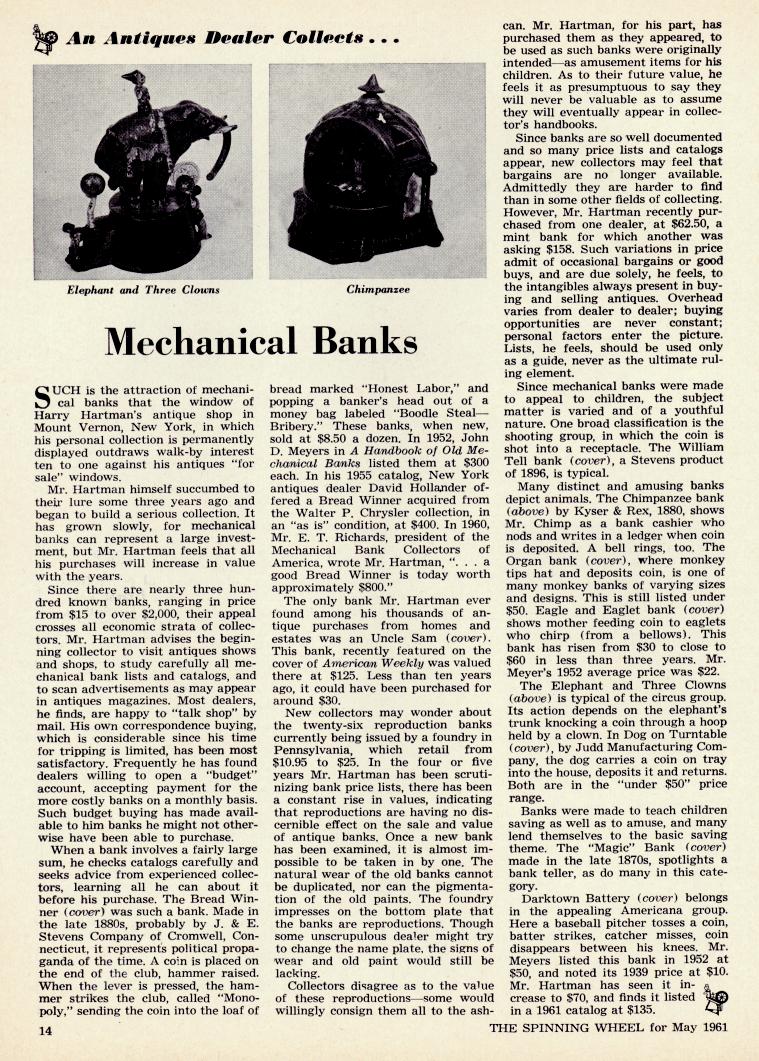 ---