THE AMERICAN HOME, November 1961




YOU CAN ENJOY THE FASCINATING FUN
OF OLD-TIME PENNY BANKS

Penny-pinching was fun in Victorian days. As a reward for saving,
kids could watch a bunny's ears flop, a clown do handsprings on a
globe, smiling Uncle Sam load his carpetbag, a "speaking dog"
wag his tail. These 19th century mechanical banks and "still" banks
make marvelous decorating accessories today. You might display
a sweeping collection of banks, along with old patent papers,
catalogue pages, and the like, against a colorful burlap background.
You might set just two or three eye-catchers on a mantel or a shelf
in a child's room. Patented originals can still be found in secondhand
and antique shops or at auction sales. The average price is $35 —
less, if you're lucky; as high as $1000 for rare banks. Reproductions
cast from original molds sell for $15 or so.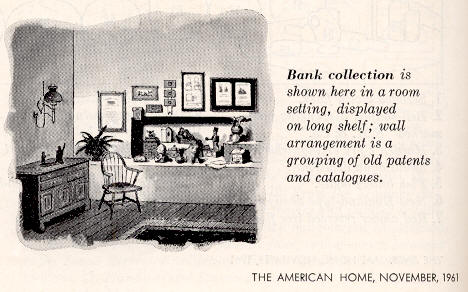 ---
The above article courtesy of Deborah Davidson.