SPINNING WHEEL MAGAZINE, August 1963 — by Harry W. Hartman
Most animated of mechanical banks, much desired by collectors,
yet a financial failure in its own time, is the spectacular . . .
"Girl Skipping Rope"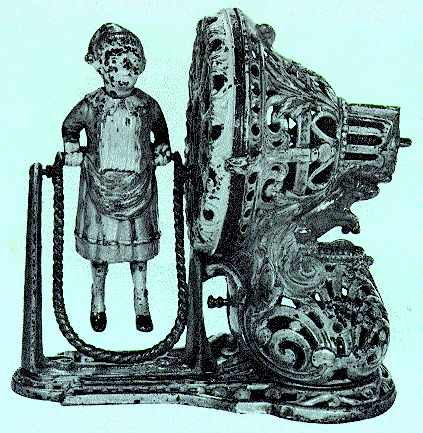 IF collectors, weighing the merits of one mechanical bank against another, judged their selections on action alone, there could be no question but "Girl Skipping Rope," the most animated of all mechanical banks, would win, hands down.
While "Clown, Harlequin and Columbine" is a much rarer bank than the "Girl," its action (Columbine alone spins around) is limited to a few seconds, as it is with other fine, animated banks like "Dog Snapping," "Calamity," and "Horse Race."
But "Girl Skipping Rope" — ah! A half-turn of the winding key sets her skipping, head and legs in rhythm; press a lever releasing a penny, and away she really goes, this energetic one, to skip rope some 41 times, a performance lasting a full minute and a quarter!
So beguiling a child, skipping with such abandon, makes this bank a joy to the fortunate collector who owns one. But to its inventor, J. H. Bowen of Philadelphia, who had many successful banks to his credit, and to its producer, the J. E. Stevens Company of Cromwell, Connecticut, the "Jumping Rope Bank" (so named in its patent) was a dismal failure.
Its production presented unexpected problems from pattern making to casting and assembly. The intricate 2-piece casting for the operation mechanism had many ornate perforations and was difficult to cast; when the two parts did not fit, away they went to the scrap iron heap, and new castings were tried. All in all, its production was long drawn-out and expensive.
At last on the market, its sales lagged. Without doubt the $2 retail price was too much for buyers in 1890 when the average weekly wage was $6 to $10, and most mechanical banks were selling from 25c to 85c.
According to Mark Haber, pioneer dealer and collector of mechanical banks, who has the actual Stevens Company records in his possession, each "Girl" cost 70c to produce, and was sold to the jobber at $1.12½. The company's profit was legitimate, but never were enough banks sold to overcome the original costs. Only 1524 banks were listed as sold when the company stopped production.
This was specifically a little girl's toy. Presumably it received gentler treatment than did the shooting variety designed for boys, for despite the few produced, the number of "Girls" surviving is higher, relatively, than some of the more commonly produced banks. All are in better than average condition. Mr. Haber estimates there are now between 15 and 20 "Girl Skipping Rope" banks in collectors' hands.