THE SPINNING WHEEL for January-February 1963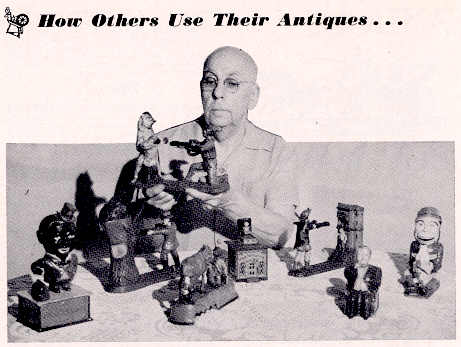 A Banker Shares His Banks
by MARTIN H. MILLER

For sixty-two years, Clarence T. Simmons has been collecting coin banks. Now a vice-president at the Iowa State Bank in Des Moines, he numbers in his collection some 9,500 examples. With few exceptions, all have been gifts from other bankers throughout the world. His oldest bank is Hall's Excelsior, 1869; his latest, a space-age rocket.
The tremendous collection is far too large to be exhibited in its entirety. However, selected portions, including some of the antiques, are always on display in three cases at the Iowa State Bank. Sometimes old mechanical banks are shown alone - Mr. Simmons owns about fifty; sometimes, banks
which have come to him from a particular state or from some of the seventy- five foreign countries represented in his collection are displayed. Whatever the approach, it's all a part of Mr. Simmons' policy of sharing his interest with appreciative people of all ages and tastes.
Sentimentally Mr. Simmons prizes most the bank that started it all - an Indian-Shooting-Bear, given him as a boy. He holds it in the two pictures below. Other mechanicals on the table before him include Stump Speaker, Teddy and the Bear; 'Spise Dat Mule, Hall's Excelsior, William Tell, Tammany, and Paddy and Pig.
A rarity of more modern times is a curly birch bank from Finland which won first prize in a contest during World War II for a bank made without metal, and which was purchased by a financial house in Norway for distribution to its customers - the first coin savings bank ever to be so distributed in that country. Recently a Norwegian banker recognized it from its markings as the very one which had been displayed at an Oslo bank.