TUESDAY, SEPTEMBER 29, 1964

His Big Ideas Are on Small Scale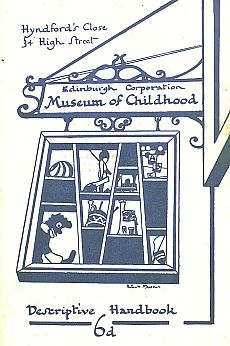 By Meryle Secrest


No one needs to fear that likely examples of ray guns, Junior satellites or Barbie dolls will be lost to Posterity.
Patrick Murray is salting them away in a cupboard.
Murray is curator of a unique Museum of Childhood in Edinburgh, Scotland.
Among other things, the museum catalogs toys that children have played with since the beginning of time.
Murray, making his first trip to the United States, is spending every spare moment in an exhaustive scrutiny of the Smithsonian's collection of childhood memorabilia on the fourth floor of the new museum of History and Technology.
"Fantastic! Nothing like it anywhere in England," he says.
Among other things, he believes American toys are much more interesting than European.
Murray looks like a retired Army colonel, rather than a curator and scholar. Behind his surface reserve, is the natural ebullience of a man who loves what he is doing and hugely enjoys the vagaries of human nature.
Take the matter of his own museum, for instance. He invented it.
"People have made museums out of everything under the sun, but never one based on childhood.
"I've wanted a museum ever since I had one in the gardener's shed (I think it was soldiers, guns and things). This was my chance."
As chairman of the Corporation of Edinburgh library and Museums Committee, he was in the right spot to push his idea. Seven years after it opened, the museum is now attracting visitors from all over the world, including many Americans.
"I get people from China and Peru who have heard about it."
His idea was to study childhood from the adult point of view, putting the child into an historical context.
"I started from the rear dot and worked upwards.
"My oldest toy is 4000 years old — it's an Egyptian grave doll. I work on the principle that there is no such thing as kid stuff. It's all adult stuff, scaled down. to child size. I wish people who have studied child care would study child history. It's an extremely valuable way to find out what makes children tick."
He feels there are some perfectly fabulous collections of toys in this country and that they are far more interesting than the European.
"The American will collect in bulk, whereas the European tends to collect only the very unusual toy.
"You have to be perfectly prepared to start a museum with a rusty soup tin as the first item. It's the humanity that counts, not the artistic value."
In fact, Murray wishes more Americans had the courage of their convictions. The story of American childhood is almost unknown in Europe, and he puts it all down to the lingering inferiority complex of the United States. "It's a country that doesn't know when it's right."
Not surprisingly, antique toys are rare anywhere in the world. So are children's clothes.
"Children's clothes were used much more than one would realize. A hat could be passed down from father to son, and worn for a hundred years. For one thing, clothes were expensive, and they had to be well used.
"An interesting thing about them is that they are almost unwearable today; they are too small. I have a suit which fitted a 12-year-old 100 years ago. Do you know how old the boy was who modeled it for me? Four."
Apart from his natural collector's interest, he thinks toys today are better than ever and getting more elaborate all the time.
That's because for the first time in history, children are doing their own buying, and many children want intricate toys.
He also believes adults don't lose their love for toys; they're just culturally conditioned to give them up.
His own award for the worst museum in the world goes to the British Museum. "The whole thing looks like a mausoleum and if anything goes into the collection, it may or may not ever be seen again.
"I saw a wonderful criticism of it. At the end of a long line of complaints, all perfectly valid today, was the date when the criticism had been written: it was 1861."

---