Providence Evening Bulletin, Wed., Jan. 15, 1964

Edward T. Richards Funeral Saturday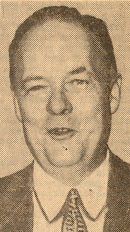 A funeral service for Edward Thayer Richards, 58, prominent Rhode Island attorney who died unexpectedly yesterday in a Pompano Beach, Fla., hospital, will be held Saturday at noon in St. Martin's Church, Orchard Avenue, Providence.
A partner in the law firm of Edwards & Angell in Providence, Mr. Richards was engaged partly in trial work and partly in corporation and estate work.
He was graduated from Blair Academy, Blairstown, N.J., in 1923, from Brown University with an A. B. degree in 1927, and from Harvard Law School with an LL. B. degree in 1930. He was admitted to the Rhode Island bar in 1931, and had been with the firm of Edwards & Angell since 1930. He became a partner in that firm in 1940.
He attended St. Paul's School, Garden City, L.I., N.Y., and New York Military Academy. He was a trustee of Blair Academy.
Mr. Richards had lived at Hedgerow, Peace Dale, for the last 18 years. Previously he had lived in Providence.
He was born in Waterloo, Iowa, July 25, 1905, a son of Julian and Lucinda Francis (Pierce) Richards. He was the husband of Grace Helen (Beaumont) Richards.
Mr. Richards had wide business connections. He was a director of the Robbins Co. of Attleboro, Stephenson Robbins Co., Inc., of Montreal, Canada; Kay's-Newport, Inc., and Kay's Boston, Inc.
Mr. Richards was a member of the American Bar Association, the Harvard Law School Association, Agawam Hunt, a director of the Dunes Club, and a past president of the Brown Club of Rhode Island.
At Brown University he was elected to Phi Beta Kappa in his junior year and was editor0in-chief of the Brown Daily Herald in his senior year. For several years he served on the governing board of his college fraternity, Psi Upsilon, and also as national vice president. Mr. Richards was graduated magna cum laude from Brown.
He was a past president of the Parents' League of Providence and the Psi Upsilon Foundation, treasurer of the Psi Upsilon Club of Providence, and past secretary of the executive council of Psi Upsilon. He was also a director of the Little Rest Readers of South County.
One of Mr. Richards' hobbies was collecting antique mechanical banks. He was reported to have one of the best collections in the country. He has served as president of the Mechanical Bank Collectors of America.
He was a member of the pollution abatement committee of the state planning board during the administration of former Gov. J. Howard McGrath. He was a member for several years of the Planning Board of South Kingstown.
Besides his widow, he leaves two sons, Edward Thayer Richards of Mt. Holly, N.J., and Donald Warren Richards of Gardena, Calif., and nine grandchildren.
---