ARTS & ANTIQUES, Vol. 1, Number 4, February, 1966
THE SMITH COLLECTION
OF ANTIQUE TOYS
AT THE HALLMARK GALLERY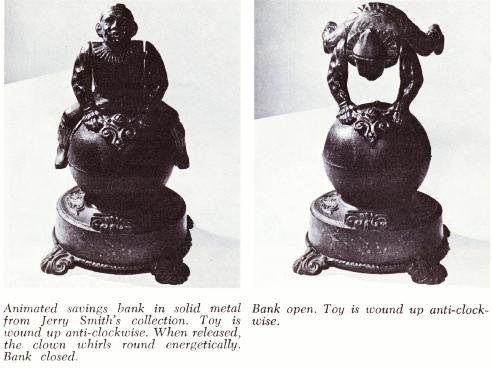 The fascination of antique toys cannot be explained wholly by nostalgia for the past or by the fun of collecting, said one zealot recently. "The eternal youngster in all of us has only to glimpse a certain toy to start dreaming of Indians and castles, daring rescues and demonic speeds."
Toys of the American past which, between 1850 and 1920, surpassed the world in originality and craftsmanship, in themselves compose a history of the era itself and of a huge and unique American toy industry. And that is more than a hint of the character they helped impart to the children who delighted in them.
In the cap pistols an cannons, the fiddling bears, the flaming fire-fighting equipment, the circus wagons and merry-go-rounds, the dolls and doll houses, the tinkling musical instruments, and the unending stream of startling realistic trains, automobiles, boats, motorcycles and horse-drawn vehicles there emerged the most powerful stimulant to childish imaginations ever to come from a nation's technology.
More than five hundred examples of these playthings have been mounted in settings appropriate to their era at the Hallmark Gallery on New York's Fifth Avenue at 56th Street.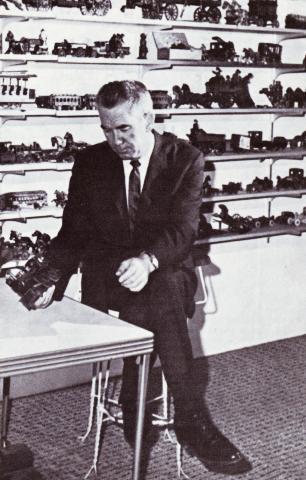 Jerry Smith of Kansas City, Missouri, with part of his collection
of over 2,000 toys collected over the past 12 years.

Jerry Smith Collection
These antique toys, on loan from one of the largest private collections in the world, are only a small sampling of the total Jerry Smith of Kansas City, Mo. has gathered since the collecting "bug" bit him one day in 1954. Now 48 and a successful automobile dealer, Smith is the possessor of what is probably the most valuable private collection and one which ranks with those of the New York Historical Society and the Henry Ford Museum.
Admittedly "hopelessly lost" to collecting today, he recalls that his first acquisition in the early 1950's, was an act typical of the toy lover: He set out to find a small iron tractor like the one he had received as a six-year-old. That was a year when money was scarce for the Smiths' large Kansas farm family and although young Jerry had "ordered a long list of toys from Santa, his sole gift was the toy farm tractor. The much-loved toy became a symbol for him later in life.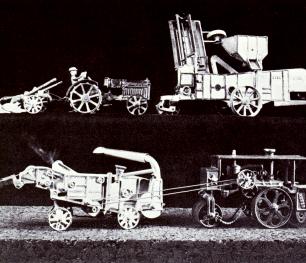 Old-time tractors and farm machinery

To his surprise, Smith's sister-in-law found no less than four cast iron toys and presented them to him. Noting that several of these bore the brand of McCormic-Deering, he concluded there might be other models in a series, and began to hunt. There were. He found them, and the Smith collection was launched.
High On Iron
Smith's special interests are the iron and tin toys. But his collection embraces not only iron and tin, but wooden toys, electric, steam and clockwork toys, musical toys, games, toy household equipment, pull toys, and many fine example of European toys. His oldest pieces date back to about 1850.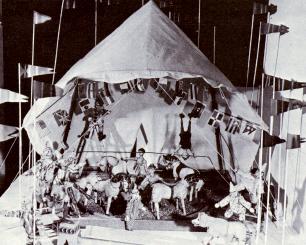 Circus scene by Schoenhut, popular in the early 20th Century.

For the Hallmark Gallery he was able to mobilize more than 100 vintage passenger cars, trucks and taxis in graduated sizes so that when installed in the exhibition the effect is of a mile-long stream of traffic typical of a New York street scene shortly after the turn of the century. Some 50 pieces of the fire-fighting equipment, also of various sizes, are similarly shown converging on the scene of a blaze in the exhibition.
Despite the fact that Smith is the father of three teen-age daughters (who sometimes present him with toys, reversing the usual father-child gift procedure), he has only a few dolls in his collection. But he does possess a host of other toys that intrigued the little girls of the nineteenth century. He has tiny sewing machines whose parts move smoothly and professionally, doll carriages, choice pieces of iron furniture, little iron stoves that are exact replicas of the real ones, clothes irons, pianos and other musical toys. There is a rare model kitchen complete with stove, pots and pans and a working water pump.
Knows His Horses
Horse-drawn vehicles are of special interest to Smith, perhaps because he loves riding, owns nine head of riding stock and an acreage adjacent to an eight-mile-long bridle path through a timbered tract at the edge of Kansas City. A good judge of real livestock, he applies the same standards to his judgment of toy horses.
"That's a great horse; note how straight his back is," he says, pointing out a tiny gray mare between the shafts of a tiny racing cart. Or, "Look at the manes of those fire horses; they're exactly right." He spent two years searching for a rare tallyho coach drawn by four prancing horses — and found it.
But he is no less perceptive and knowledgeable about other toys and can identify the period, maker and relative value of any toy at a glance. "That's a work of art," he will say in reference to a particular train, for example, or "there is a classic design," of an iron hansom cab.
But to Jerry Smith, and perhaps to all toy lovers and collectors, it is the trains and their locomotives that hold a special enhancement. Smith has 100 or more trains — he isn't sure of the exact number — ranging from a tin model of the Union Pacific's "Lightning" through iron models of early Pennsylvania and New York, New Haven and Hartford locomotives to later clockwork, friction, steam and electric models that even youngsters of today would hunger for.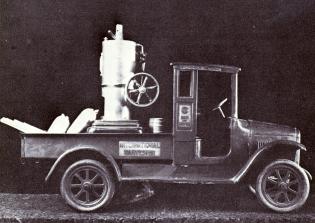 Toy model of an International Harvester truck from the early 1920s.

Toys Trace History
"You can almost follow the development of this country through its toys," he said. "After the first hand made playthings, you can trace the point where people broke away from making things at home and started to accept manufactured goods. You can pinpoint the development of the steamboat, firearms, telephone, the transcontinental train, and all later forms of transportation, the introduction of electricity, and of course the space age."
But toys, to Smith, are more than history. They must be fun, too. He grins.
---
Page 66
ARTS & ANTIQUES, Volume 1, Number 4, 75¢

A list of mechanical banks currently available from the world famous
toy shop of F. A. O. SCHWARZ, 745 Fifth Ave., New York City.

MECHANICAL BANKS

CODE

DESCRIPTION

MEYER #

PRICE

5-604
5-605
5-606
5-157
5-611
3A215
5-155
5-618
4-882
5-127
5-648
6-646
5-158
5-559
5-109
5-606
5-650
5-701
5-702
5-123
5-705
5-613
5-738
5-622
5-644
5-640
5-614

5-706
4-862
5-658
5-661
5-315
4-174
3A429
Artillery
Always Spise Mule
Always Spise Mule


Acrobat




Bad Accident




Bear Paws




Bill E. Grin




Boy on Trapeze




Building (8 sided)


Cabin
Cat & Mouse
Chief Big Moon
Chimpanzee
Clown on Globe
Creedmore
Darktown Battery
Dentist
Dinah
Dog on Base
Dog on Turntable
Dog Speaking
Dog Trick
Dog Modern
Eagle & Eaglettes
Elephant
Elephant w. Clown
Frog (two)
Frog on Rock
Frog Lattice
Frog on Stump
Globe on Stand
Globe on Arc
Hall Excelsior
Home Tin Bank
Horse Race
6
4


5




1




9




12


15
23


28


33
39
42
43
49
53
56
57
58
63
67
69
71
72
75
80
88
99
101
102
103
110
111
118
125
126
$225.00
105.00


105.00




500.00




185.00




65.00




375.00




325

.00
75.00
145.00
225.00
195.00
225.00
225.00
105.00
135.00
495.00
225.00
170.00
125.00
90.00
105.00
105.00
125.00
90.00
225.00
235.00
85.00
75.00
95.00
75.00
75.00
75.00
35.00
400.00
5-620
5-660
5-750
5-645
5-654
4-183
5-744
5-741
5-610
5-659
5-642
5-162
5-617
5-313
5-631
5-634
5-641
5-647
4-203
4-866
5-608
5-638

5-628
5-623
5-633
5-120
5-625
5-602
5-714
5-715
5-600
5-632
5-652
Humpty Dumpty
Independence
Jolly Nigger
Jonah & Whale
Leap Frog
Lilliput
Lion & Monkey
Magician
Mason Hod Carrier
Merry Go Round
Mule Entering Barn
Monkey Modern
Novelty
Organ Boy & Girl
Sm. Organ w. Monkey
Owl
Paddy & Pig
Pelican
Pig in High Chair
Presto
Punch & Judy
Sm. Rabbit
Lg. Rabbit
Rooster
Santa Claus
Stump Speaker
Tabby
Tammany
Teddy Bear
Uncle Sam
Uncle Tom
William Tell
World's Fair
Zoo
127
128
132
138
143
146
147
154
156
158
169
164
176
178
179
182
185
189
194
199
203
204
205
212
214
222
223
224
226
231
235
237
244
245
145.00
75.00
50.00
175.00
175.00
65.00
225.00
225.00
175.00
125.00
105.00
105.00
150.00
125.00
90.00
125.00
185.00
145.00
105.00
75.00
135.00
50.00
125.00
95.00
125.00
195.00
85.00
50.00
135.00
200.00
200.00
105.00
125.00
150.00

ALL BANKS SUBJECT TO PRIOR SALE
---