SPINNING WHEEL
A National Magazine about ANTIQUES
DECEMBER 1967

The Monkey and
Coconut Bank


by EMMA STILES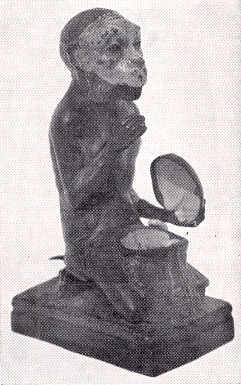 THE MONKEY and the Coconut Bank was first made by the J. and E. Stevens Company of Crownwell, Connecticut, in 1885. It is eight inches high and weighs three pounds.

An article in the Philadelphia Times, printed in 1885, tells of a toy craftsman working on this bank who told the reporter that he had made the Creedmoor bank, the Kicking Mule bank, a Bull Dog bank and many others; he also said he was working on a more complicated bank in the shape of a monkey and coconut.

In spite of its seeming simplicity, 20 separate parts were required to make this cast iron bank. The side of the body, head and base were cast in two upright sections. The sections were joined vertically with front and back seams centered, except for the chest part which swerved right to the position of the thumb. This part of the seam was notched at the base, allowing for the thumb movement when the bank was activated.

The monkey's face, ears and whiskers were molded in one part; the lower section of the jaw made separately. The left forearm and hand holding the upper part of the coconut were formed in one piece and joined at the elbow. The right thumb protrudes from the monkey's chest and the action lever from the base of his tail. The rest of the tail was molded around the lower side of the bank.

The thumb of the right hand, the lower jaw and the eyes are activated by a spring mechanism inside the bank; this action is spontaneous. A coin is placed between the thumb and fingers of the right hand; when the action lever is depressed, the left hand raises the upper half of the coconut, the lower jaw falls down, the eyelids raise up, and the right thumb draws back releasing the coin which falls into the open coconut; from here the coin drops down into the coin box in the base of the bank.

The paint work on this bank is exceptionally well done. An overall blending of tans and browns covers the monkey's body. His face is pinkish-tan with a dash of orange-red on the lower lip and inside each ear. A fine line is drawn over the moving part of each eye.

The monkey kneels on a carpet of various shades of green. Green foliage covers the lower half of the coconut and climbs up under the tail and beneath the jointed action of the monkey's arm. The carpet rests on the dark brown base which measures three by five inches.

The molding is extremely fine on this bank. The hairy body, nostrils, fingers and toes, ear lobes and curled underlip are realistically executed in every detail.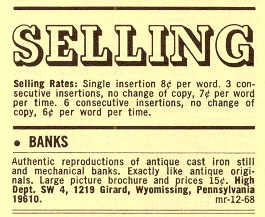 ---