TOY & TRAIN QUARTERLY, Volume 1, Premier Edition, Summer 1968, page 25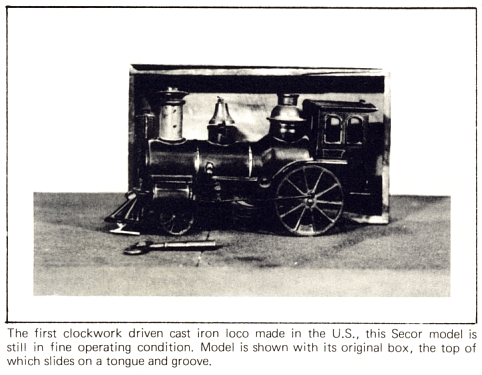 THE SECOR STORY
by Jack Wm. Windt

Although American Flyer, Ives and Haffner dominated the cast iron mechanical train field, particularly in "O" Gauge, from the early 1900's until the 1930's, it was really a gentleman named Secor who developed the first cast iron loco.
The Secor story is an interesting one. Founded by one Jerome Secor, the Secor Company of Bridgeport, Connecticut, originally manufactured sewing machines.
Mr. Secor later developed cast iron toys, and on June 8, 1880, the patent for the model in the photo was applied for. The cast iron engine shown is almost identical to that shown in the patent drawing, except for minor variations.
Secor locomotives are very similar to the Ives' tin models of the same period. The model shown was, in fact, the first of the clockwork driven cast iron locos made in the United States. Prior to 1880, all of the toy trains were made of either wood or tin construction.
It is believed that a tender and coach were made by Secor in a corresponding size to go along with the locomotive, although these items have never been seen. It is not known whether Secor made any other trains or cast iron locomotives.
Secor's interest in the toy train line was influenced a great deal by a close friend of his, Mr. Harry Ives, the founder of toy trains. This influence accounts for the definite resemblance to the Ives tin models in wheel arrangement and overall appearance. The Ives engines, which were large, tin trackless clockwork locos, are fairly rare, but can still be found on some collectors' shelves today.

Text under photo:
The first clockwork driven cast iron loco made in the U.S., this Secor model is still in fine operating condition. Model is shown with its original box, the top of which slides on a tongue and groove.