MOBIL WORLD, April 1969
Annuitant Banks on Hobby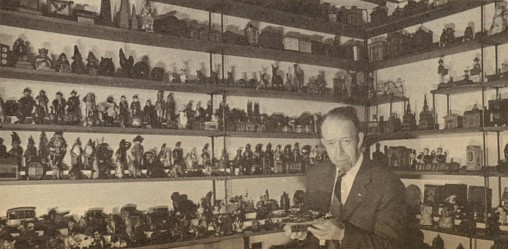 Bert Whiting shows his mechanical bank, "Jonah and the Whale on a Pedestal."
WAKEFIELD, Mass. — People looking for a bank in this small New England town aren't always in search of the Chase Manhattan variety. They may be collectors of toy banks looking for 40 Friend Street, the home of annuitant Hubert B. Whiting, former New England Marketing Division operating Manager.
He's got banks — more than 700 of them. Collecting the cast iron penny banks has been Mr. Whiting's hobby since 1950.
"I was passing by an antique shop when I saw a bank just like one I had as a child," he explains. "That starrtled me. I was intrigued by the fine detail and excellent workmanship that went into its manufacture. So, although they were originally designed as toys that tought thrift, I don't collect the banks as toys. Rather, to me they are 'Americana', and first-class examples of craftsmanship.
"They can't properly be classified as antiques, either," he adds, "since most of them were made during the period 1865-1910."
Portions of Mr. Whiting's collection have been exhibited at various collectors' conventions, and many members of the Toy Collectors of America, have come to his Wakefield home to see his extensive display.
Mr. Whiting recently made it easier for most of them. He published a book, Old Iron Still Banks, describing and evaluating most of his collection. He has had requests for the book from people in every state in the Union and even from as far away as Scotland. The 44-page manual contains full-color pictures of more than 450 banks, from the plain old piggy bank of everyone's childhood, to Mr. Whiting's favorite, a finely detailed bank called "Bear Stealing Pig."
"The evaluations are my own," Mr. Whiting says. "I rated each of the banks in the book according to desirability, rarity and attractiveness. I didn't try to classify them to value, because values change too rapidly to have meaning to a collector for very long."
The most valuable bank Mr. Whiting has is not even in the book. It's a mechanical bank, "Jonah and the Whale on a Pedestal."
"I obtained it from a retired Salvation Army major," he says, "whose children played with it for many years. It still works, though."
Mr. Whiting gives much of the credit for the size of his collection, and for his book, to his wife, Gwladys.
She's been very patient and tolerant of my whims," he says, "and she was the one who encouraged me to put the leisure time I have had since retiring to good use. Believe me," he adds, "it keeps me busy, and being busy sure beats sitting in front of the TV set doing nothing."
Mr. Whiting has been keeping busy since joining the company in 1932 as a service station attendant in Springfield, Mass. Subsequent positions included draftsman in Albany, N.Y., field engineer in New Haven, Conn., division engineer for the New York Division, and field operating supervisor in Baltimore. He became operating manager in the New England Division in 1958, retiring on Jan. 1, 1968.
---