March 17, 1963 — The Sunday Bulletin — Philadelphia

$10,000 'Toy Chest' in Merion Shelters
Historic Collection of Mechanical Banks

By Henry R. Darling
Of The Bulletin Staff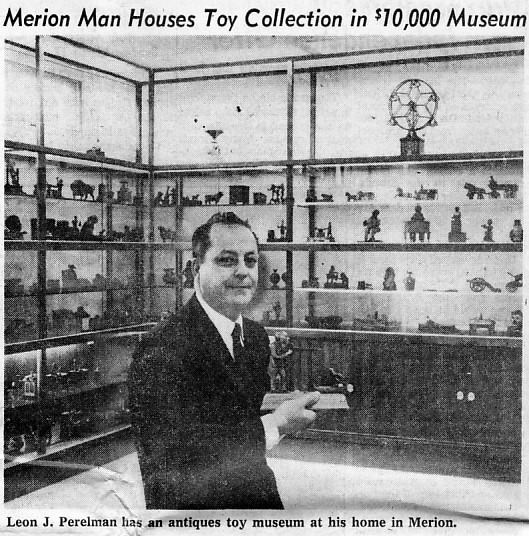 For years, Leon J. Perelman kept his toys in a clothes closet.
Now he has the fanciest toy chest in the neighborhood — a $10,000 addition to his house.
The addition was built last summer and occupies what was formerly a garden terrace in the rear of Perelman's home at 339 Winding Way, Merion.
It houses the Perelman Antique Toy Museum, a collection of more than 800 toys covering the period from about the end of the Civil War to the beginning of World War I.
Toys Were Sturdy
In that pre-plastics era, children's toys were made mostly out of cast iron, and those in the Merion museum have survived in excellent condition.
There's a horseless carriage made in 1900 that runs on a friction motor, and a toy pistol that fires a cap when a monkey slams a coconut on the barrel.
There are iron fire engines, circus wagons, a New York sight-seeing bus and an eight-oared shell whose oars and rowers swing back and forth as the wheeled boat is pulled across the floor.
Perelman's museum contains 225 different kinds of mechanical banks. And since there are only 243 known types of mechanical banks, it's safe to assume that his collection of these fascinating penny-savers is one of the largest in existence.
Started 6 Years Ago
A partner in the American Paper Products Co., Perelman started collecting toys about six years ago.
He kept them in the clothes closet until they started over-flowing the shelves. The addition was completed about six months ago. Now the toys are attractively displayed on illuminated shelves.
Perelman doesn't profess to be a mechanic, but he likes to see his exhibits in good working order.
The fashionably dressed lady in the tin rowboat (one of the few toys not made of iron) mans the oars vigorously with a few twists of a key. General Grant smokes a cigar and a little girl rides in a swing impelled by smoothly running clockwork.
Prefers Used Look
On the other hand, the mild-mannered curator doesn't want his museum pieces to look like shiny new items on a toy store shelf. He prefers them scratched and worn from use.
"These are toys," he said. "They provided hours of entertainment for young children, and that's the way I want them to look."
Although he began collecting seriously only about six years ago, his interest in old toys dates back to the days when he accompanied his mother on frequent trips to antique shops. While she hunted ceramic items, he studied cast iron toys.
Now he finds them by combing the antique sales advertisements and announcements of estate settlements. Whenever he has reason to believe old toys may be among the offerings, he happily drops whatever he is doing and heads for the auction.
Banks Are Specialty
Banks which sold for $1 in the old days and now bring as much as $2,500, became his specialty. Once he made a special trip to Denver, Colo., to pick up a model for which he paid much more than he spent in train fare.
He keeps a box of pennies in a drawer under one of the shelves. When visitors arrive, he grabs a handful and stuffs them into various coin slots, bringing to life an amazing assortment of cast iron characters.
"The whole idea," he said as he pushed a penny into a slot in a cow's back "was to teach children to save."
The cow's tail flipped up, her right hind leg kicked out, knocked a farmer off a milk stool and dumped a pail of milk in his face.
"Notice the slots are made to take just pennies. A penny," he added, "was a lot of money in those days."
Bear Pops Out
He placed a coin on the breech of a hunter's rifle, pushed a lever and the coin shot into a hole in a tree trunk. A bear's head and shoulders popped out of the top of the trunk and the hunter's head flipped up in surprise.
He dropped a penny in the roof of a fire house. Bells rang, the doors flew open and an old pumper drawn by four horses dashed out.
A chicken thief tiptoed out of a hen house, came face to face with a policeman, jumped back into the house and slammed the door behind him.
A frog jumped out of a lily pond, grabbed a penny from an Indian's hand and leaped back into the pond again.
Plenty of Action
Baseball players swung bats, football players tackled each other, acrobats walked a tight rope, Jonah fed the whale a penny, mules kicked, birds flew, magicians performed, cannons fired and a dentist pulled a tooth, falling over backwards and dropping a penny out of his pocket into a slot.
"With only one or two exceptions, all these banks were made in America; some at foundries right here in Pennsylvania," said Perelman.
"That's why so many depict events in American history."
He pointed out banks made in the form of the USS Olympia, carpetbaggers, Boss Tweed, the Tammany Tiger, Civil War mortars and San Juan Hill. There was a Chicago World's Fair Bank, an X-ray bank and a bank that waved an American flag over the North Pole at the drop of a penny.
Open to Public
Perelman said his museum is open to the public on weekends from 1 to 5 P. M. and by appointment at other times.
There is no charge. He hopes it will be well patronized by family groups and school children.
Not all the toys are in the museum, however.
Out in the garage, alongside a 1963 Cadillac, is a 1912 American Underslung roadster — pert, pretty and brass trimmed.
"I'll be playing around in this toy myself as soon as the weather gets warmer," he said.
---