Witch Fortune Teller Bank
by F.H. Griffith - HOBBIES Magazine - November, 1977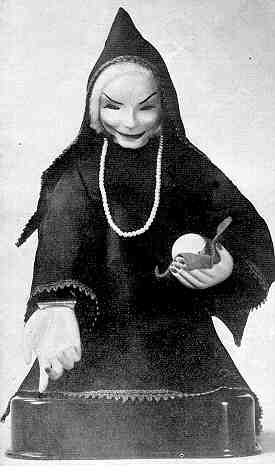 In a past article we mentioned the fact that battery operated mechanical banks are in the modern group of the mechanicals, most all being manufactured after 1935. There is at least one exception to this, however, the Wireless Bank made prior to 1935 and classed in the old or antique group of the mechanicals.
There are some 40 odd modern battery operated mechanicals and to the best of our knowledge so far they were all made after World War II, probably starting around 1948 or so. They are by far mainly a Japanese product and unfortunately very few have the date of manufacture on the bank, or the box for that matter if such be the case. We are still not sure as to which of the banks was the first to be made. We can, however, place certain ones in the 50's and in the 60's, and there are a few that are dated.
Since becoming a collector's item, interest in the battery operated mechanicals has grown by leaps and bounds, and this interest only started a few years ago. Naturally one of the main questions asked of the writer with respect to the battery banks is which one is the most important and desirable. There is no doubt in the writer's mind as to the answer to this question — the Witch Fortune Teller Bank just has to be the top bank, as is the Freedman's Bank in the antique category.
The Witch has a lot going for her, appearance (see picture) — great action — and she is a scarce bank to come by. Her entire outfit is black and all piping is red. The crystal ball in her left hand is white held in a red cloth. Her pearls are natural and her hair is white. Her face and hands are a yellowish, very light green color. She has bright red lips and fingernails. Her high arched eyebrows are black, as are her long eyelashes. Under her eyebrows there is tinting of purple and her high cheek bones are lightly tinted red. The metal base is an attractive maroon red.
To operate the bank, the front edge of her robe is lifted exposing a raised coin slot. When a coin is inserted in the slot, the following action takes place: She moves the crystal ball back and forth as she lifts and lowers her head as though looking into the ball. This action is repeated several times. She then lifts her right hand, as well as her head, looking straight ahead. She nods her head several times and her red eyes flash off and on twice. The right hand is then lowered and a fortune card slides from her hand. A really great action bank and most attractive from an appearance standpoint. There is a provided place for the fortune cards in the back of her right shoulder. This is covered by her hood and, like the coin slot, is well concealed and not obvious. A really wonderful, clever bank — well made, well designed, and excellent action. As a matter of fact, it is one of the greatest action banks ever made in either category, old (antique) or modern.