Scotchman Bank (Tin)
by F.H. Griffith - HOBBIES Magazine - November, 1979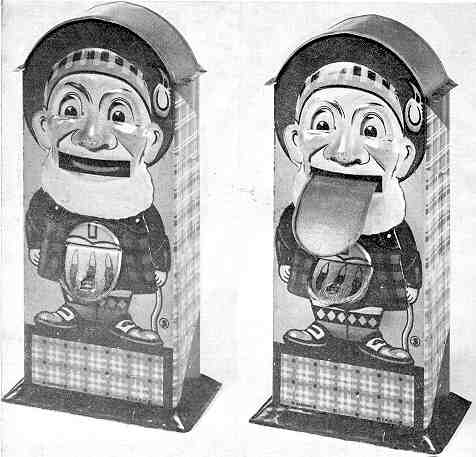 Well last month, October, we had the Minstrel, and this month it's the Scotchman, No. 283 in our numerical classification of the mechanical banks. As with the Minstrel, this is another very attractive well lithographed item and in a way a companion piece to the Minstrel. That is to say, the configuration of each bank is the same — rectangular upright box shape with the identical curved top and tapered or beveled edge base. Dimensions of each bank are also the same and the actions are basically alike. Appearance-wise, of course, they are quite different due to the fact that the Minstrel is just the face and the Scotchman is a full figure with an oversize head.
Once again, the Scotchman is a product of Germany and in the same time period as the Minstrel, circa 1920's. On the front (bottom left) appears the word 'Germany'. Opposite this are the letters 'D.R.G.M.', which is the patent designation. By the left foot of the Scotchman there is a circle around a double S indicating the manufacturer.
The bank, from the fine collection of Wally Tudor, is in mint condition with colors of lithography as follows: The curved top is red and the tapered base is black. The bottom front, sides and part of the back is a plaid design in light blue, white, red, black, yellow and green. The front, around the figure of the Scotchman, is red. The hat is blue with a yellow, green and black tassel and a plaid section in red, white and blue. The face is flesh color with ruddy cheeks and nose and a yellow beard. He has a large red tongue and blue eyes. His jacket is blue and green plaid and the socks are blue, black and yellow. His pouch on the front, which is the operating lever, is white, red and black with yellow and green tassel. His shoes are black with yellow buckles. The back of the bank has a great design showing a sword, a plaid skirt, a plaid hat, and so on. Colors are yellow, green, red, blue, white and black. It's a very attractive colorful bank.
To operate the bank, the front lever is lifted and this causes the tongue to protrude as in Figure 2 and the eyes blink. The coin is placed on the tongue and the lever is pressed causing the eyes to blink again and the tongue to recede with the coin.
A locking coin trap is provided in the base for removal of coins. Figure 1 shows the bank before and after operation.