TRAVELING DRUMMER'S wagon outside Historic Stoner's Store in
Fredericksburg is stocked and ready for a trip to the countryside.
THE PAST RECREATED
By BARBARA CROOKSHANKS

SIXTY-THREE years ago Santa Claus carried the little mechanical bank named Bill E. Grinn over the Virginia Blue Ridge to the Rockbridge County Community of Natural Bridge.
To six-year-old Letcher Stoner, the merry iron man had all the charms of the fabled Nutcracker. But the boy never dreamed his new friend would be the start of a collection of items from days gone by which is now reported to be the largest of its kind under one roof in the United States.
Each year thousands of visitors come to Stoner's Store in Fredericksburg, Va., to view more than 13,000 pieces of authentic Americana ranging from delicate bisque dolls to ponderous blacksmith equipment. The exhibit is displayed in the atmosphere of a 19th century general store.
"The day of the country store when luxuries were few and people were natural savers," is the way Mr. Stoner describes his own boyhood in Rockbridge County.
His future wife, Violette, who came to share his love and reverence for the past, recalls how young Letcher was constantly aware of the contrast between the sameness of his beloved Natural Bridge and the changing of things round about. More and more people came to the big hotel on the hill in automobiles; the livery stable was not so busy; the door to the village blacksmith shop was sometimes closed.
Saddened, the boy felt that God's bridge would stand there, as an eternal inspiration, while man-made things which are an integral part of our American heritage would soon be forgotten unless someone made an effort to preserve them.
He began collecting every obsolete item he possibly could. Even his meeting with the future Mrs. Stoner came as the result of a collector's search for a wanted item. She remembers:
"I was using a nice new jumping rope on my grandfather's sidewalk when my future husband came to deliver to my grandmother some delicacy his sister had sent. He stopped when he saw my old jumping rope against the fence, explained the unusual way it was woven, and said it should be saved.
"I, thinking he was interested in me, gladly gave him the rope and made it a point to direct my walks around the block in which he lived. It was not until about five years later that I was able to convince him that I, too, was worth saving."
Their courtship was spent collecting small items such as buttons and stamps and exchanging coins with friends for old or unusual ones.
After five years of marriage, Mr. Stoner came in one evening and lovingly placed an armful of what appeared to be scrap metal on the dining room table. "It's a typewriter," he explained happily, "for our museum!"
Drives in the country around Fredericksburg became treasure hunts at wayside junk shops. When he suddenly put on the brakes, it was to rush in among the trash and pull out a huge dirty kettle or an equally massive pitchfork. They traveled on with the kettle, half in, half out of the trunk, and the long handled fork on the seat between them.
Mrs. Stoner had had enough — or so she thought — and told her husband there was no room in the attic, basement or garage for the new finds. But he just smiled and partitioned off a large portion of his Fredericksburg Hardware warehouse as a new home for the kettle and fork. (Mr. Stoner had become associated with a hardware business in 1918.)
As his hardware business expanded, he bought out a total of 10 old local stores, always finding treasurers among their stocks.
"In the old days," he explains, "if an item didn't sell, they just put it back in the corner instead of getting rid of it. We found such things as churns, buttons, typewriters, and add-
(Web note: this is all we have. If you have the remainder of the article, please pass it along to MBCA webmaster)
MR. STONER and some of the old mechanical and still banks in the collection
in his country store (top), and the re-created country postoffice (below).
THE ANTIQUES JOURNAL — MARCH 1971 — page 15 and 16...... additional page/pages missing
---
From www.SimplyFredricksburg.com, page dated 2001.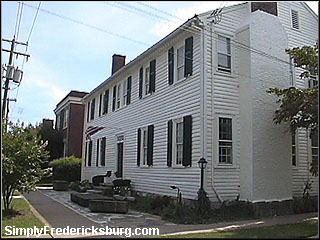 Stoner Store Museum
1200 Prince Edward St.
Fredericksburg
At one time a sign over the door read "Stoner's Store General Merchandise". The building was originally part of the old Fredericksburg College in the 1700's. In more Modern times, Mr. D. Letcher Stoner planned a museum to show a typical nineteenth century village general store. The museum contained merchandise which today is obsolete. Today the building is a private residence. Large concrete fixtures can still be seen outside the front of the building.