DOLL CASTLE NEWS, Pages 22 through 25, July/August 1973

The Toy Man — Leon Perelman
BY ROBERT BACH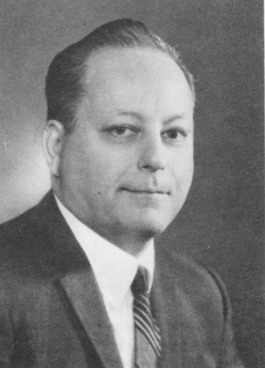 He and I went silently toward his car in the quiet, warm, spring night. He had a large box in his hand, and inside the box was one of the most beautiful closed mouth Bru's I had seen in a long time. It was dark out and I couldn't see whether the car was a Mark IV or a Cadillac, but I know it must have been one or the other. We shook hands. He thanked me and I thanked him and he was gone, a gentle, kind, and interesting person.
Thoughts ran rampant through my mind as I went back to our apartment above the museum. Here was a man, a wealthy industrialist, a man who told me himself that he had raised $100,000 in one week for the United Jewish Appeal and was the dinner guest of Golda Maier, prime minister of Israel, and this important and busy man made the time to visit and dine with my wife Jean and myself. Thoughts, thoughts, thoughts.
I wondered for a moment how it all came about and then I began to remember. Jean and I visited the Perelman Antique Toy Museum in Philadelphia, and we both were impressed with what we saw. I have never seen a collection as complete, as comprehensive, and as exquisite as the one owned by Leon Perelman. My wife had called ahead to say that we were coming, and after we registered and started to look at the toys, a well built youngish man, impeccably dressed, with gray-brown hair, green eyes, and a nice masculine voice introduced himself to us and said that he was Leon Perelman the owner of the museum. With the greatest amount of anticipation, we took the elevator to the third floor where we started to view the collection. Mr. Perelman enthusiastically started to tell us about his animated antique banks. He stayed with us as long as he could and when he left he gave my wife, Jean, his autographed toy book which I immediately confiscated for my collection. When we returned home that evening, we were so fascinated with the beauty of the collection and the excitement of meeting its owner and finally Jean said, "Wouldn't you like to do a story on him, he would be so interesting?" I knew I wanted to do a story very much, but I didn't know enough about the man to do him justice. Jean decided to invite Mr. Perelman to dinner over my objection, for I realized how busy a man he was. She allayed my fears by saying he could only say yes or no, and when I complained that I didn't think our home or our dining quarters were elegant enough, Jean laughed and said that sometime in Mr. Perelmans' life, perhaps when he was a little boy, his mother took him into the kitchen and gave him chicken soup and maybe he would enjoy that kind of meal again. Nothing stopped her. She sent her letter off to Mr. Perelman and to our great delight he telephoned and accepted our invitation.
Now it was allover. He had come, and we had a delightful time conversing about Antique Toys and Doll and Toy Museums. He left such a nice impression, he was a mans man. I would say he was modest and as great men so often are, he was very unaware of himself or his position. He seemed to want to bring joy to people and basically I believe that was why the Perelman Museum was built.
About 15 years ago Leon Perelman had a irruption in his life that caused a great deal of unhappiness to him. He was dissatisfied, restless and depressed. A doctor friend of his suggested he find a hobby. The doctor mentioned antique toys and sometime after that Perelman visited a hobby show and became fascinated with old banks. He was curious, as we all are when we begin to collect, where to find these treasures and he began to visit antique shows and displays, and started to accumulate some of the more ordinary banks.
About this time Walter Chrysler, the auto magnate, died. Mr. Chrysler had a very advance, sophisticated collection of mechanical banks. His son was not interested in the collection, and the banks were put into the hands of a well known New York dealer to sell for the estate. By a quirk of fate Leon Perelman had the opportunity to purchase eleven of the very rare banks from this collection and this was the nucleus of what has become the largest and most rare collection of mechanical banks in the world. From this the collection he progressed to cast iron and tin toys, clockwork toys and dolls. Every lead was followed up and no stone left unturned to locate and purchase the rarest of the rare.
The collection continued to grow and Mr. Perelman found his home bursting with the collection.
Fate stepped in again as Philadelphia was in the mist of urban renewal. One of the old historic houses located in the society hills section of Philadelphia was the Abercrombi house built in the 1700's and once owned by a wealthy sea fairing captain. The house over the years had gotten progressively run down and at the time Perelman purchased it, it had become a storage house for a paint store. The Abercrombi house is located at 270 South 2nd Street in Philadelphia, just a few blocks from where the Declaration of Independence was signed. Although the house was a complete mess when acquired by Perelman, he saw that it could be attractively restored and that it would be an interesting location and landmark to both natives and visitors alike. A historical landmark in its own right, Perelman oversaw the entire restoration of the house and it is now a full-fledged three story museum open to the public. No where else in the United States is there such a cross section of Early American toys. I think that Perelman takes special pride in the third floor of the museum which houses his first love, a group of mechanical banks. Of 243 known mechanical banks that began appearing from 1867, the museum now houses 225 of these banks. Each was specifically patented and all were made in American foundries before World War,. Most of the banks are made of cast iron and each performs some mechanical action or stunt. For example, place a penny in a muzzle of a rifle and press a lever. Bang, the penny shoots into a tree stump and a bear pops out or put a penny in the slot in the Harlequin bank and watch three figures turn on a rotating platform while one of them also turns around independently. The most valuable bank in the Perelman collection goes through simple movements, and one of the rarest specimens in this group is the Freedman bank, of which only six are known to exist.
One reason few Freedman banks have been found is that small numbers were made or sold because of the high original price of $4.00. Most banks of that period cost between 25 cents and $1.00. Mechanical banks and other antique toys are now so rare that Perelman no longer look for them personally. He has top notch dealers who get in touch with him when they find something of value.
On the second floor of the museum are animated toys mostly made of cast iron. The animated toys date back to 1860 and some cost as much as $5,000 each. They include steam engines, bell ringing fire engines, police wagons, toy trains, and animated cap pistols. After talking to Leon Perelman, I would think that perhaps the cap pistol is his second love, following his animated banks and he has all kinds of cap pistols. There are more then 100 types on display.
On the first floor you find the early tin toys and some of the rarest soldered by hand, most of them were painted by girls in toy factories between 1840 and 1880. I am not going to go into too much detail about the toys and banks in the museum for that would take a book in itself, and the book has already been written by Mr. Perelman himself, a fine book telling about the museum and showing many pictures of the rare toys. The book is a most worth while gift for the collector or for someone who is interested in the heritage of our country's toys.
I have biographical information on Leon J. Perelman that is staggering. it is almost unbelievable that one man accomplished and does that many things. He is the President, the Past President or Vice-President of 10 different organizations such as Antique Toy Club of America, Mechanical Bank Collectors of America, American Paper Products Inc., Penn Galvanizing Co. and so forth. He is Vice-President of West Park Hospital, First National Fund and among other things, he is a member of the Executive Company for Boy Scouts. He is something very important in 26 different organizations. He has won 7 very important awards, one of which is the Humanatory award, another the State of Israel, Year of Redemtion. Award, The Torch of Liberty Award. I could go on and on about the awards this man has won and yet he is the most modest man I have met in many years, as a matter of fact, he does not like to talk about some of the fine things that, he has done and is doing. One of the things that he seems to be most proud of is called the Jenny Perelman foundation in memory of his late mother and is used to help people in need.
One of the highlights in Leon Perelman's life are his two handsome children. He has a grown daughter "Cindy" and a grown son, "David". David, who is a graduate of Farleigh Dickinson University is following in his fathers footsteps in business and has the same love of the museum as his father has. This is one of the great joys of Leon Perelman's life, that his son is following in his footsteps, although he made it quite clear that he did not expect either of his children to follow his ideas, but wanted them to do exactly what made them the happiest.
Leon Perelman is a man who takes great pride in his physical well being, a fine looking man with a very youthful appearance and a fine physic. It is difficult for one man to describe another, however, my wife told me that she thought he had charisma and Jean said anyone reading this story would know exactly what she means.
My visit with' Leon J. Perelman is one I will long remember for here was a man with the same interest that I have, who generously shared his knowledge of antique toys with me. Leon Perelman has collected this vast amount of toys in a relatively short period of time and it is his wish that the museum will go on long after he is gone. In bringing the toys together he has tried to capture a part of our American heritage. Many toys collected by him have definite political and historical significance.
Leon J. Perelman has created a museum for the public for which we all can be truly proud for as we walk through the halls and rooms of the museum, we are walking through the halls of our American past. I for-one, thank, Mr. Perelman for what he has created and I know that everyone who visits this magnificent museum will have the same feeling of pride and appreciation for what one man has accomplished.
For those interested, we have the Perelman Antique Toy Museum book $5.95 plus $1.00 p.p. and Ins. A must.
---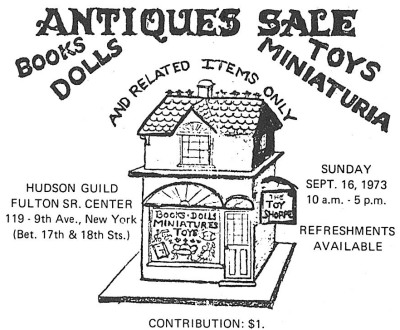 for collectors interested in toys and
the unusual. Write to: The Raggedy
Ann Doll and Toy Museum, 171 Main
St., Flemington, N. J. 08822. Tele.
No.201.782.1243.
---