THE NEW YORK TIMES, LEISURE Section, Sunday, January 25, 1976

Those old Mechanical Banks: Pop Goes the Penny

By CAROLE G. ROGERS
(Carole Rogers is a freelance writer who is completing a book on the history of old penny banks.)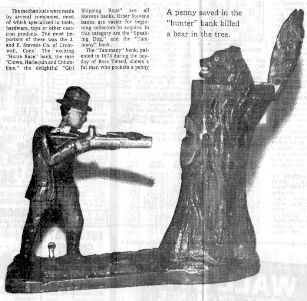 Once upon a time it was fun to save money. A dog would jump through a hoop. Horses would race around a track. A football player would kick a ball. An eagle would feed her babies. And the minimum deposit was only a penny.

Once again these days, children's penny banks are bringing smiles to the faces of antique buffs - and not just because they need a place for their loose change. They respond to the charm, mechanical wizardry and skyrocketing value of these old banks.

Most of the mechanicals are made of cast iron and were manufactured between 1870 and the 1930's. Almost 300 different kinds of mechanical banks have been identified. Many more than that were patented but seem never to have been produced.

Because the mechanicals were primarily designed to coax a penny from children, the subjects were most often drawn from the worlds children knew - sports, the circus, the farm, the Bible, nursery tales. A batter swings and misses. Punch hits Judy, Jonah emerges from the mouth of the whale. A magician makes the coin disappear under his hat.

The mechanicals were made by several companies, most of which specialized in tools, hardware, toys or other cast-iron products. The most important of these was the J. and E. Stevens Co. of Cromwell, Conn. The exciting "Horse Race" bank, the rare "Clown, Harlequin and Columbine," the delightful "Girl Skipping Rope are all Stevens banks. Other Stevens banks are easier for beginning collectors to acquire. In this category are the "Speaking Dog," and the "Tammany" bank.

The "Tammany" bank, patented in 1873 during the heyday of Boss Tweed, shows a fat man who pockets a penny and smiles his thanks. "The Reclining Chinaman" who held a fistful of cards was considered a very funny bank - unless you were Chinese. Dozens of banks used the stereotype of the hapless black man; he was dumped out of a chair, butted by a goat, kicked by a mule.

Aside from subject matter, three factors directly affect the desirability of a bank; its mechanical action, its rarity and its condition.

As a general rule, the more intricate the mechanical action, the more popular the bank. Some of them, such as the Stevens banks mentioned earlier, were manufactured year after year for a period of 30 or 40 years, and are still relatively available today. Others not so successful in their day, were produced for only a few years and so are more difficult to come by now.

Collectors do not have to evaluate a bank's mechanical action or its rarity for themselves. The man with the answers is F. H. Griffith, the recognized expert on mechanical banks. Griffith has cataloged all the known mechanicals and rated them in a booklet, available to collectors for $8.95 (plus 25c for first-class mail) from F. H. Griffith, P.O. Box 323, Sea Girt, N. J. 08750. Griffith has been writing a column on mechanical banks for Hobbies magazine (Lightner Publishing Corp., 1006 S. Michigan Avenue., Chicago, Ill. 60605) for 20 years; these columns are a mine of information.

When it comes to judging the condition of a particular bank the collector is more or less on his own, but there are certain useful criteria. Is the mechanism in good working order? Is the original paint intact? Although a bank with original parts all in working order is preferred, specialists can and do repair banks. A repainted bank, however loses value.

For the collector who wants to learn more about mechanical banks and meet other collectors, there is the Mechanical Bank Collectors Club of America. Prospective members must present proof of ownership of five old mechanical banks and be recommended by a fellow collector. Once accepted, the collector has access to various club publications, including a membership list, and may attend the annual convention where members gather to trade information and, of course, banks. Interested collectors should write to the club's secretary, Mr. H. E. Mihlheim, P. O Box 128, Allegan, Michigan 49010, for information.

Where can one find these mechanical banks? The more common banks occasionally turn up at auctions and at antique shows and flea markets. Others are available from dealers. But the beat source for the rarer banks is probably other collectors who want to trade or sell duplicates. They often publish ads in Hobbies magazine and also in the antique pages of newspapers.
---