COLLECTOR'S WEEKLY, Vol. 1, No. 47, Kermit, Texas, Aug. 11, 1970
Mechanical Banks Featured
With Dolls, Toys, In Museum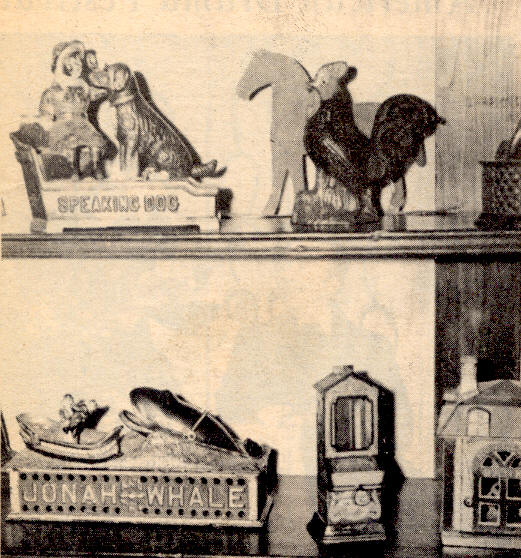 MECHANICAL banks, shown at a Philadelphia antiques show by
Ralph M. Meyer of Delaware Water Gap, Pennsylvania.
Speaking Dog bank, upper left, was priced at $215.
Rare Jonah and the Whale bank, below, was
valued at $475. Other banks included
a Chief Big Moon, priced at $365.
— Judy Bretzger —

THERE are 245 known types of mechanical banks, and all but nine of them are represented in the collection of the Perelman Antique Toy Museum in Philadelphia. These banks, produced between 1865 and 1902, are highly sought by collectors today and many of them when sold command extremely high prices.
Alongside the banks are dolls, trains, cap pistols and an amazing array of other toys brought together by Leon J. Perelman, president of American Paper Products Inc.
Perelman bought his first toy, a Jonah and the Whale bank, at a hobby show in Iowa in 1958. This initial acquisition started a collection that grew to 1,500 items in 10 years.
To establish the Perelman Antique Toy Museum in 1968 he purchased the Abercrombie House in Philadelphia, a historic structure that was then rapidly falling apart. The house was built by James Abercrombie, a sea captain, in 1758.
The first floor of the museum is devoted to tin toys. Rose Sill, curator, described them as "very early, hand painted, and hand soldered." Above are the mechanical toys, dolls and other playthings from a variety of periods.
The mechanical bank collection is probably one of the most extensive in existence. They were produced in great variety, and were often topical. The hunting exploits of Teddy Roosevelt inspired the Teddy and the Bear bank which has the hunter, Teddy himself, shooting a coin into a tree trunk, causing a bear to pop out of the top of the tree. Peary's discovery of the pole in 1909 produced the North Pole bank complete with dog sleds, Eskimos and a pop-out flag.
One of the better-known mechanical banks still being sought by Perelman to complete the bank collection is the Old Woman in the Shoe, who jiggles her crowded collection of children on receipt of a coin. There are several examples of the Old Woman and her squirming brood in the museum's toy collections but she is still missing from the bank collection.
Dolls are not emphasized at the museum but there is an interesting collection, including a rubber doll made by Goodyear in 1851. There is also a rare black doll of papier mache, circa 1880, that sticks out her tongue when her middle is pressed. In the doll collection also are a group of Rose O'Neill Kewpies, 1912-1925, a walking doll pushing a carriage, circa 1868, a Bye Lo Baby with Grace Putnam signature, and a Dream Baby, circa 1925, which was modeled after the Bye Lo.
Unusual are a number of 19th century mechanical dolls, or automata - Billiard Player, Mrs. Mop, Mr. Barber, Miss Maid, were the names given to some of them.
Mechanical toys were popular in the 19th century, but expensive. To meet the demand for moving toys at lower cost the makers developed the sand motor toys. These ingenious devices had cut-out paper figures mounted in boxes. Sand trickling down from the top of the box and dropping through the bottom set the figures in motion. Several such devices are included in the Perelman collection.
Another large display at the Perelman museum is that of early transportation toys. Here the entire history of American transportation is depicted in toy form. Trains include everything from Civil War trains to electrically powered trains of today. One of the rarest in the train collections is an Ives O scale elevated clockwork train on pillars, circa 1890. O scale is the largest size of the five sizes of model trains, considerably larger than the common HO scale.
The museum is open daily from 9:30 a.m. to 5 p.m., and a nominal entrance fee is charged.
- Judy Bretzger