A New Find: A New Mickey Mouse
by F.H. Griffith - HOBBIES Magazine - January, 1981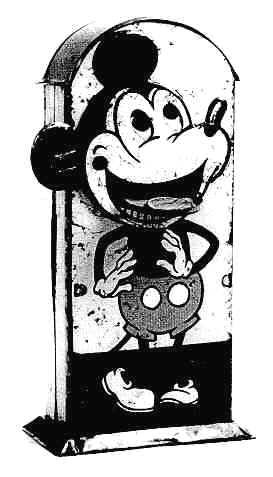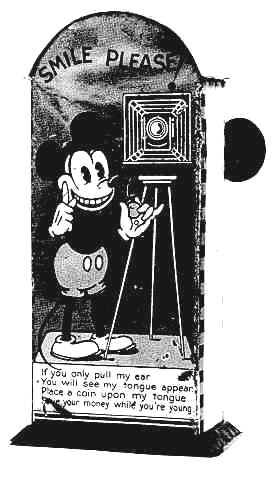 It's been quite a while since we have had the opportunity of announcing a new find in an old mechanical bank. Well, this is what happened recently to our good friend, Lee Perelman, and in acquiring the bank he has made a very interesting addition to his extensive collection of the mechanicals.
The bank is Mickey Mouse and it is different than the other known Mickey Mouse. That is to say, both are the same configuration and have the same operation, however, the new find has the body of Mickey in a different position and there is no accordion, or, more properly, concertina. So now we have a Mickey Mouse, Type I and Type II as shown.
Figure 1 shows the bank in operation with his tongue sticking out and a coin thereon. On lifting or pushing his right ear up, the tongue with coin snaps back inside and his eyes lower. From the head down, the different positions of the body on Type II are as follows: his hands and arms are not as far apart as those of Type I. He is standing with his legs knock-kneed, while on Type I he is dancing with his knees bent outward. His tail has a different curve on Type I, not coming down as near to the base. And finally, there is no musical note on Type II; this appears on Type I by Mickey's right arm.
The back of the bank as shown, Figure 2, is the same as Type I. Both banks have identical coloring of the different parts in yellow, white, black, red, green and orange.
On the bottom left side of both banks appears the following: "By Exclusive Arrangement With The Ideal Films Ltd. All Rights Reserved. Registered 508041."
As it stands, we now have two types of the Mickey Mouse bank, and this has created an interesting but puzzling situation, the answer to which we will probably never know. The question? Why did the manufacturer ever change the front of the bank from one to the other? There is no logical reason that the writer can come up with that would answer this perplexing question properly.