Football Bank
by F.H. Griffith - HOBBIES Magazine - August, 1981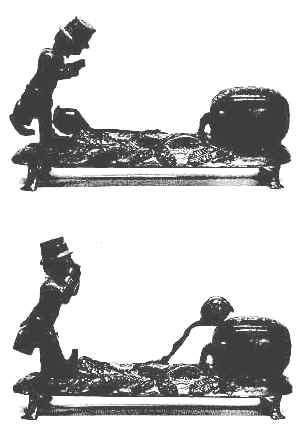 One of the very top mechanical banks from all angles — action, desirability, charisma, rarity, you name it — is the Football Bank (Darky and Watermelon). It is a good-sized impressive piece with great appearance and clever appealing subject matter.
The bank was designed and patented by Charles A. Bailey, June 26, 1888. Bailey without question was the foremost designer of all the designers of mechanical banks. He not only made some wonderful mechanicals of his own workshop (such as the Springing Cat, Chinaman In Boat, Baby Elephant, and others), but he also designed for the J. & E. Stevens Company of Cromwell, Connecticut. His banks manufactured by Stevens were made in cast iron. Banks designed and made by Bailey prior to his arrangement with Stevens were made in a lead-like metal.
All of Charles Bailey's great mechanical bank designing talents are revealed in his No. 1 mechanical bank shown here, the Football Bank (Darky and Watermelon). It would certainly be interesting to know how he ever dreamed up or whatever the subject matter of this unusual bank.
Figure 1 shows the bank set and in position for the action. Figure 2 shows the bank after the action. To operate, the right leg of the figure is pulled back into position. A coin is then placed in the football. A lever in the coattails is pressed and the football with coin is kicked over onto the large watermelon and the coin drops from the football into the watermelon, which also serves as the coin container. As the described action takes place, the figure raises its head and arms into position as shown in Figure 2. These parts automatically assume the position as shown in Figure 1 when the right leg is set for kicking. Levers on the underside of the bank are so arranged that the football is lifted before the foot makes contact. This compensates for the initial shock of the foot kicking the ball — great design work on the part of Bailey.
The theme or scene of the bank represents a watermelon patch with the large melon in shades of green done quite realistically. The gray base has the green leaves of a watermelon plant with typical yellow flowers — another great Bailey touch. The football and attached lever arm are a tan khaki color. The figure wears a long blue coat with a white shirt and red vest. His hat and shoes are the same color as the football. The hat has a wide black band. His trousers are yellow. His hands and face are black. He has white eyes with black pupils and red lips with white teeth. The four supporting legs of the base and the operating lever between the coattails are gold. That completes the coloring of this most attractive bank.
Only two of these mechanical banks are known to exist. The one shown is the latest addition to the writer's collection.