AMERICANA Magazine, 1989
IN THE MARKETPLACE

BANKS THAT MOVE

Built to hold pennies, they now cost thousands
By Frank Donegan
Mechanical banks are the aristocrats of the antique-toy world. Created to amuse thrifty children, they are now the playthings of big-spending collectors. While common examples sell for a few hundred dollars, prices quickly escalate into the thousands, and the most desirable banks currently trade at the $250,000 level.
Banks that move when coins are deposited in them have been made since ancient times. Those most sought by collectors, however, are the whimsical cast-iron examples produced between the Civil War and the Great Depression, the golden age of bank making when some two thousand to three thousand different models were manufactured. Because American collectors are the largest and freest-spending contingent of bank buyers, banks made by American companies usually bring more than foreign models.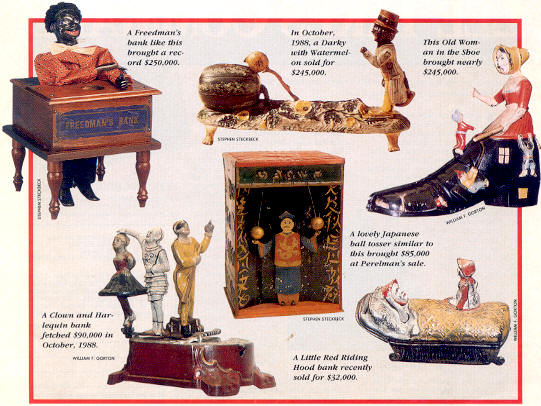 Major bank collections were first assembled in the 1920's, when some of the banks were still in production. Although prices have risen strongly through the 1980's, the recent sale of two major collections showed that fine banks in pristine condition can bring prices up to twenty times higher than those of a year or two ago. As Indiana collector Steve Steckbeck says, "You can't buy any bank for what you paid two years ago."
The more unusual of the two sales was the dispersal of the Perelman Toy Museum collection at a series of invitation-only tag sales last autumn in Philadelphia. Leon J. Perelman closed his private museum — more than five thousand toys and banks in an eighteenth century town house — in August after thieves tied up his curator and made off with a collection of marbles. He sold the collection and the house to Alex Acevedo, a leading New York dealer in American paintings who has always been interested in toys, and two toy and bank dealers, Don Markey of Lititz, Pennsylvania, and Bill Bertoia of Vineland, New Jersey. They left the collection in its glass showcases, priced each piece, and held the first tag sale in October. Buyers-given three hours to examine, but not touch, the collection — had to promise to spend $50,000.
"Within the first ten minutes there wasn't a bank costing more than $30,000 left," one participant says; by the end of the day, all but five to ten percent of the hundreds of banks had been sold. It was a rare patron who bought only one or two pieces. Michigan collector Stan Sax, for instance, spent some $600,000 to acquire forty-three banks, including the prized example called Darky with Watermelon for $245,000. Patented in 1888 and made by the J. and E. Stevens Company of Cromwell, Connecticut, the leading American bank maker, it is one of only two known examples. It depicts a black man kicking a football; when a coin is placed in the football, the man kicks ball and coin into a watermelon. (Racist stereotypes in most collectible fields are particularly prized — often by black collectors.) Sax notes that not only is the Darky with Watermelon bank rare, it has what collectors call charisma, generally defined as especially interesting mechanical action.
The highest-priced bank of the day went to Oregon collector Frank Kidd, who paid $250,000 for a Freedman's bank. The metal and wood bank's detail, paint colors, and action make it particularly valuable — and only half a dozen examples are known. Depicting a black man in a striped suit sitting at a desk, into which he slides a coin, the bank was produced about 1880 by the Bridgeport, Connecticut, firm of Jerome B. Secor .
Among the banks that sold for less than $100,000 — hardly chea — were examples showing Little Red Riding Hood, $32,000; a frog hopping along an arched track, $35,000; a turtle, $30,000; a clown and harlequin, $90,000; a Japanese ball tosser, $85,000; a dog chasing a cat — called Seek Him, Frisk - $70,000; three foot-ball players, $32,000; and a rare King Aqua, $95,000.
Comparing the King Aqua bank (in which a European soldier shoots at an African in a striped guardhouse) with either the Darky with Watermelon or Freedman's banks shows the subtleties of this market. The only known example of King Aqua, this bank is theoretically the rarest in the sale. Steve Steckbeck explains: "We don't know how many other King Aquas may be out there, but people have spent lifetimes looking for a Freedman or a Darky with Watermelon. We know they're rare." Steckbeck also notes that as a "shooter" bank, the King Aqua falls into a relatively common category. Finally, it is a European bank by an unknown maker.
Within weeks of its Perelman coup, the Acevedo-Markey-Bertoia trio bought — and sold — another famous bank collection. Containing more than three hundred banks assembled between 1925 and 1965 by Gertrude Hegarty and her late husband, Covert, the collection was legendary. "Some of those banks had been upgraded twenty times," says Steven Weiss, a partner in the New York antique-toy firm of Hillman-Gemini. "When an example in better condition came along, they bought it and sold the example they owned."
Alex Acevedo, the primary financial backer in both sales, says that the partners had planned to hold another tag sale but ended up selling

everything to Al Davidson — owner of a Long Island aluminum company and author of Penny Lane: A History of Antique Mechanical Toy Banks - for about $3.2 million.
Davidson reportedly kept some twenty-five banks for himself and quickly sold off many more for $1.5 - $2 million. Most of those were reportedly worth less than $50,000 each. Only about half a dozen collectors buy banks above that level, and some of them seemed to be waiting Davidson out in hopes of buying at lower prices. Acevedo says, "Some big collectors say that taking banks out the way Davidson did is taboo. They're sitting back and biding their time."
Acevedo encountered the same resistance when he proposed to keep one bank from the Hegarty collection. Called the Moonface, it is a working prototype of a bank that was never produced because it would have had to sell for a relatively high price. Not only is the Moonface beautiful, with careful painting and bronze-like detail in the casting, but it is the ultimate rarity — a manufactured item that was never manufactured. "When I said I was going to keep it," Acevedo notes," there was lots of boohooing. So I quietly put it back." The bank is still for sale, its asking price in the $300,000 - to - $500,000 range.
Stan Sax is one collector who has not been biding his time. He bought four banks from the Hegarty collection, including the coveted Old Woman in the Shoe bank, which, he says, "was almost the same price that I paid for the Darky bank I bought from Leon Perelman."
The prices realized on Perelman and Hegarty banks emphasize the importance of condition. Bill Bertoia says, "Condition is everything in this field. It's like location in real estate." Repairs can cut values in half, and serious collectors are rarely interested in any bank retaining less than ninety percent of its original paint. In the area above ninety percent, subtle differences in condition create huge differences in value. Steven Weiss explains, "If a bank with ninety percent of its paint is worth $1,000, then one with ninety-five percent will sell for $2,000, and one that's ninety-nine percent plus may be worth $5,000." Weiss, who has been working with Davidson to sell the Hegarty banks, says, "We sold a cabin bank from Hegarty for $1,500. It's a common bank usually selling for no more than $500, but this was virtually perfect."
The importance of paint condition has tempted some unscrupulous dealers and restorers to touch up borderline examples. Although today many serious collectors own black lights to check for original paint, expert fakers now reportedly use masking pigments that keep new paint from fluorescing under black light.
Fakes and reproductions are also a problem. Because cast-iron is relatively easy to work with, a mold can be made from almost any real bank to produce copies only a fraction of an inch smaller than the original. Reproductions have been made since the 1930's, so older ones can be difficult to distinguish from the real thing (cheaper sand is usually used in reproductions, whose surfaces have a pebbly look, while early castings have smooth, precise details). To confuse matters further, period bank parts are "occasionally discovered, assembled, and painted. A substantial group of such pieces was reassembled in the 1940's. As their paint ages, only experts can tell the period bank from the one assembled from period parts. Legitimate dealers, however, guarantee their banks in writing and offer buyers return privileges.
The best advice for new collectors is to go slowly. "I'd advise people to spend a year reading and attending toy shows before they buy their first bank," says one collector. Successful collectors must learn the peculiarities and history of each bank: how common it is; how its details differ from those on reproductions of the same bank; when a paint color is rare. One common bank, for instance, features a dark painted mule; but the firm also made a small number with white mules. While the standard version of that bank sells for $350, the rare variant can bring $3,500.
It may be too early to tell what effect all the activity will ultimately have on prices. At one recent auction, mediocre banks brought mediocre prices, while good banks brought high prices. For the moment, prices of the most expensive banks seem to have leveled off. Three Freedman's banks, for instance, have sold in the past year, all of them in the $200,000 to $250,000 range.
High prices at the top (and attendant publicity) seem to be raising prices at lower levels. Don Markey says, "Banks worth $3,500 are now bringing $9,500. And just the other day, I got $1,000 for an owl bank that turns its head. Not long ago I was getting $100 to $150 for it." Markey says that new collectors are attracted to colorful banks featuring lots of action, which are often found in the lower reaches of the market because they were popular in their day and are now common. As Steckbeck says, "If you needed twenty-five Tammany banks [which depict a fat politician consuming money], I could get them in a week. And if I pointed to my ten rarest banks, you'd say, 'Those are really dumb.' That's why they're rare; they weren't popular in their own time."
Just now, though, every mechanical bank seems to be popular. In today's market, the rarest of all banks would be the one that nobody wanted.