Maine Antique Digest, November, 1991




(web note — additional images with descriptions after text)
Bill Bertoia
Collectors Cash in on Mechanical Banks
by Lita Solis-Cohen
Bidders at the auction of mechanical banks at Philadelphia's Airport Hilton on Saturday, September 14 seemed anxious to put their money, and lots of it, into cast-iron toy money boxes. A collection of 365 mechanical banks in pristine condition and another 34 trade cards, advertisements, and documents sold for $2.2 million and change.
Nearly 300 collectors from all parts of the country and one fellow from London examined the banks on Friday, and on Saturday they bid five banks to $50,000 or more. Another 21 banks went over $20,000 each. A trade card for a Watchdog Safe Bank, circa 1890, sold for $5775 (including the buyer's premium), which was more than the bank itself, which sold for $1045.
None of the banks topped the $250,000 paid for the Freedman's bank at the tag sale that dispersed the Perelman Toy Museum in Philadelphia in September 1988, and none came close to the $245,000 paid for the Darkey and the Watermelon bank at the same sale. The Perelman banks were one of a kind.
But the 10% buyer's premium pushed two banks past the previous auction record of $55,000, paid for a Circus bank and its original box, which sold at Mike Clum's May 19th auction of the Clark and Mary Garrett collection in Eaton, Ohio. Clum does not charge a buyer's premium.
Vineland, New Jersey, toy dealer and collector Bill Bertoia and Lancaster, Pennsylvania, collector and sometime dealer Bob Brady, who jointly owned the collection up for sale, made sure new auction records were set. Bertoia topped the previous record by paying $60,500 for the Red Riding Hood bank and $57,200 for the Fowler bank. Three other banks made $55,000 each: a Girl Skipping rope, a Jonah and the Whale on Pedestal, and a Mikado. The later went to Bob Brady, who said he bought it for an investor.
There was no question the sale pushed banks to a new price level. Leon Weiss of Hillman Gemini, the New York dealers who spent more than $100,000 bidding for clients and for inventory, pronounced it "a benchmark sale of banks in superb condition." Banks this fine rarely come up for auction; in the past they have been sold privately
"There is no recession here," proclaimed Steve Steckbeck, a major bank collector from Fort Wayne, Indiana, now president of the Mechanical Bank Collectors of America. "I don't think prices are high in terms of other folk art. Just look at that Fowler bank. Put a coin in the slot, cock the trap, place the pheasant on the wire, pull the trigger, and the hunter's body turns, the pheasant flies up, and the penny drops. It's like you can't believe it."
Only four months before the sale, Bertoia and Brady bought the extraordinary collection of banks and paper memorabilia from Burbank, California, collector Bill Norman. Before the sale they told anyone who asked that instead of "cherry picking" (keeping the banks they wanted for their own collections), they were offering the entire collection at unreserved auction and would compete with everyone else for the banks they wanted. "It was a chance of a lifetime," said Bertoia.
Bill Norman had spent the last 12 years immersed in banks. He had traded up until he had banks in the finest condition and in every variation of color and casting. More than a dozen were in their original boxes, and he collected any documentation he could find. He also had records, agreements, and notebooks from the original factories. Norman used these documents when he published The Bank Book: The Encyclopedia of Mechanical Bank Collecting in 1984. Norman's collection was very well known; he had also served as President of the Mechanical Bank Collectors of America.
Norman , who is president of Norman Enterprises, manufacturers of flash equipment used by professional photographers, recently turned 50. He said it was that milestone that made him decide it was time to leave bank collecting and go on to other pursuits.
"I was right in the middle of putting together a price list of all the mechanical banks for our club, when I got a call from Bob Brady asking if I knew anyone who had a collection of toys and banks for sale, and I said 'Me'," recalled Norman on the phone two days before the sale. "I didn't know at the time that Brady was a front man for Bertoia, but I set the price, and they came out to see me, and they paid it."
Norman confessed that when he realized that to add anything to his collection would cost $20,000 to $50,000, some of the fun of collecting was gone. "I could add a room to my house for the price of a bank," he said. "Now my wife and I are playing golf, and we are very involved with our church." And he admitted that "if there is a deep depression like 1929, I wouldn't like to have a lot of iron on my shelves."
He claims, however, that his banks were a very good investment, and he predicted Brady and Bertoia would make money on their auction too. None of the principals would reveal the price paid. The scuttlebutt ranged from $1.4 million to $1.8 million. Bertoia said before the sale they had $2 million riding on it.
Bertoia and Brady apparently did just fine and spent a good part of their winnings on major banks for their own personal collections. In addition to the Fowler ($57,200) and Red Riding Hood ($60,500) banks, Bertoia sitting behind a bank of phones at the front of the hotel ballroom and using paddle #1, paid $24,200 for a bronze pattern for J. & E. Stevens Shoot the Chute bank and $4620 for a Trick Dog bank in pristine condition.
Brady, sitting next to him and using paddle #2, paid $49,500 for the Picture Gallery bank, an educational toy made by Shepard Hardware Co., Buffalo, New York. It shows all the letters of the alphabet and numbers from 1 to 26 as well as 26 different animals or objects with a short word for each letter. He said it was his favorite, and he used a picture of it on the back of the yellow bidding paddles.
The Mikado bank was considered the bargain of the sale at $55,000. A lot of people, including Bertoia, had predicted it would go for at least $65,000 because Brady had paid $85,000 for the one in his collection. It is a magic bank: place a coin in the recess in the top of the blue cabinet under the hat in the Mikado's right hand, turn the lever, and the coin disappears and reappears under the hat in his left hand, where it remains until another coin is deposited, then it drops into the bank. It was made by Philadelphia hardware manufacturers Kyser and Rex and designed by Alfred C. Rex himself in 1886.
It was knocked down to a women seated in the third row who bought a number of other lots. Bertoia said she was acting as agent for Brady.
The Jonah and the Whale on a Pedestal bank, the other great rarity, went to London dealer John Haley for $55,000, underbid by Bertoia. Haley had the advantage of buying with cheap dollars converted from his strong British pounds. The rare variation of the Jonah bank was patented in 1890 by prolific designer Charles L. Bailey and was made by J. & E. Stevens in Cromwell, Connecticut. Put a penny in the whale, pull his tail back, and Jonah appears. Eight of these banks known; this is one of three with original paint.
There were a few new players at the sale. A young man from Massachusetts who would not give his name but said he was 33 years old paid $55,000 for the Girl Skipping Rope bank. "In 1958 this bank sold for $8000, and everyone was shocked. I guess some day down the road $50,000 will sound like a bargain too," he remarked as he left the salesroom with his fiancée. He said, "Bill Bertoia is my coach. He got me interested three years ago."
During the preview, Stan Sax, a seasoned collector from Michigan, made a list of 83 banks he said he would like to add to his collection. He took home 32 of them. The other big buyer was a doctor from the Midwest who got more than two dozen banks.
Banks have been collected since the 1930's. They are well researched, and there are plenty of books about them. Moreover, collectors have long looked on them as good investments.
The crowd applauded when the rare banks went for more than $50,000, and they applauded when common banks brought astonishing prices. Darktown Battery, the well-known baseball bank, sold for $18,700. None had ever sold for more than $5200, but two collectors had to have this one, which had won first place as the best example in the competition at last year's annual meeting of the Mechanical Bank Collectors of America. It went to Graham Rennie, a collector from Shelby, Michigan.
There were three Tammany Banks — put a coin in the fat man's hand and see how fast the politician pockets it. One in mint condition sold for $6050; and only "pristine" made $1650; and another merely "very fine" went for $770. You can probably find one at the next toy show for $600.
Illustrated catalogs and price lists for the Bill Norman mechanical bank collection auction are available for $25 (postpaid) from Bill Bertoia, 1217 Glenwood Drive, New Jersey 08360.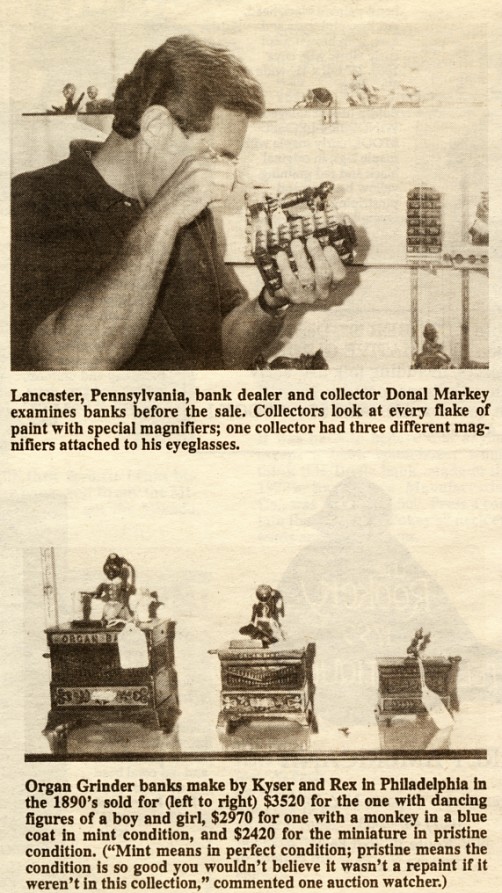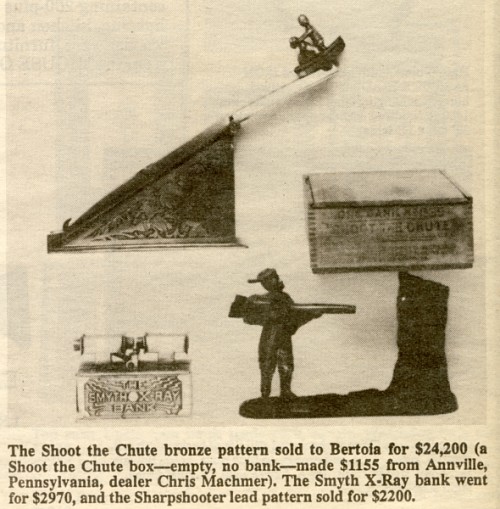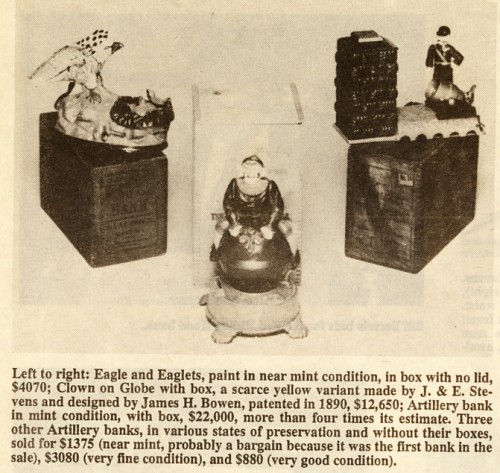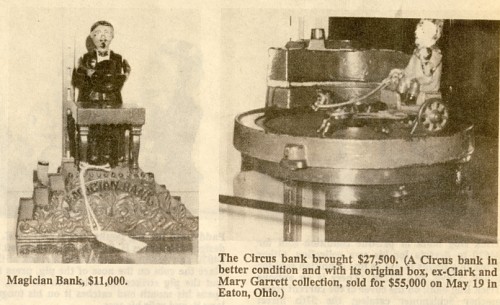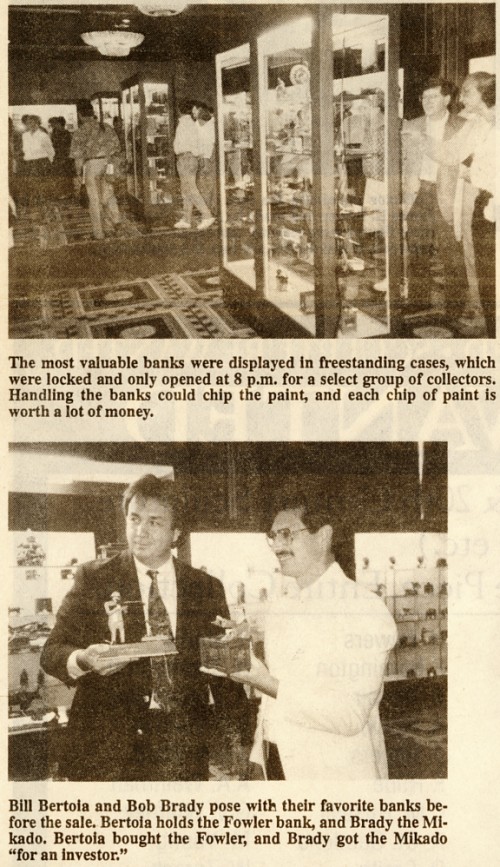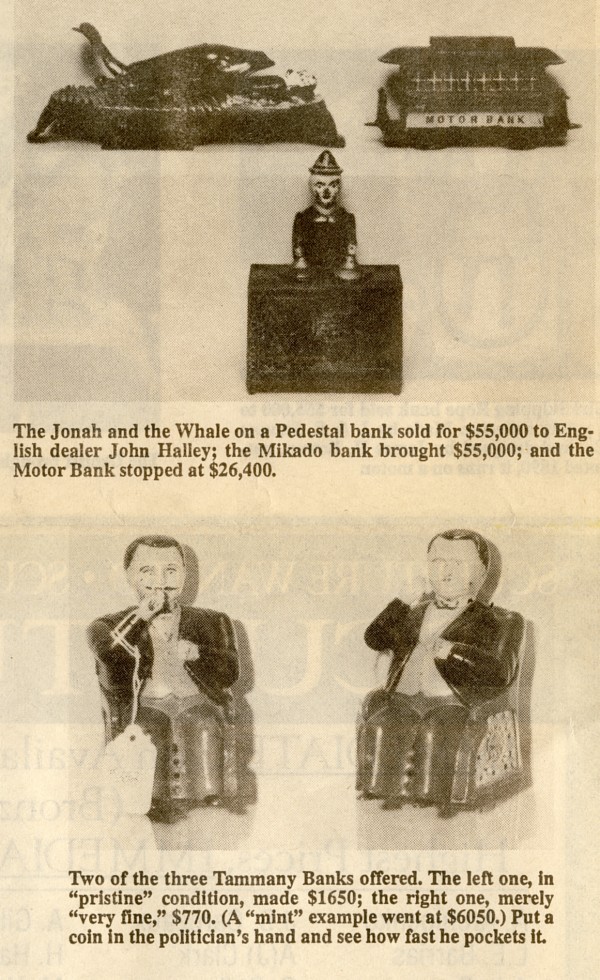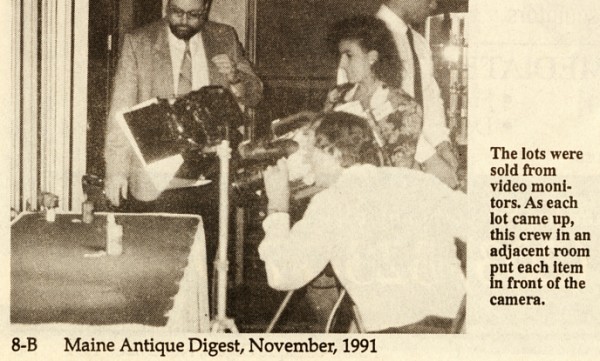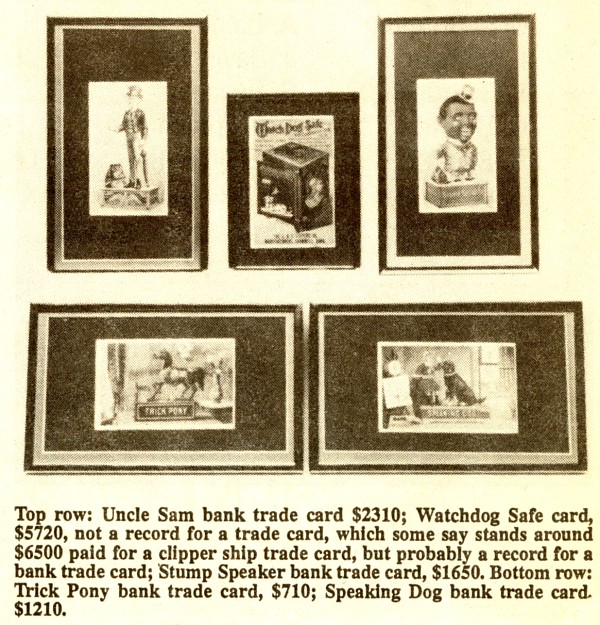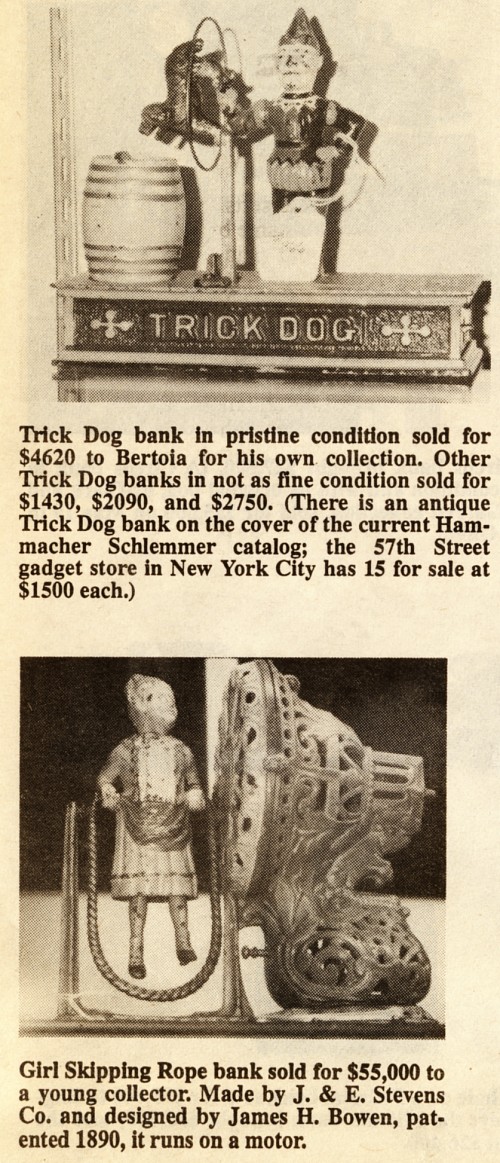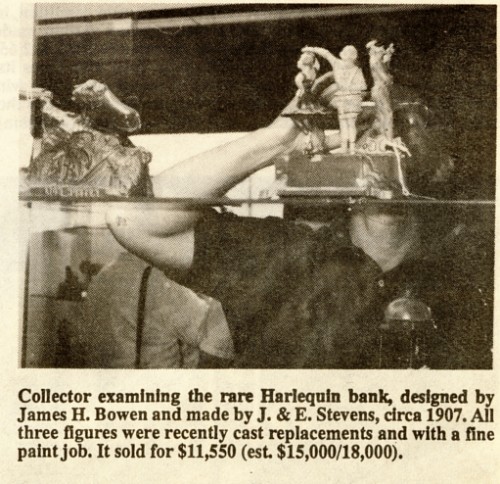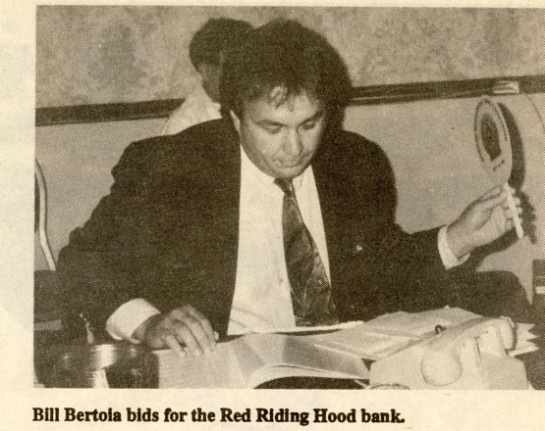 ---