ANTIQUE TOY WORLD
Magazine — November, 1991, Volume 21 Number 11

(

web

note

,

transcribed text for key word searching is under the page images)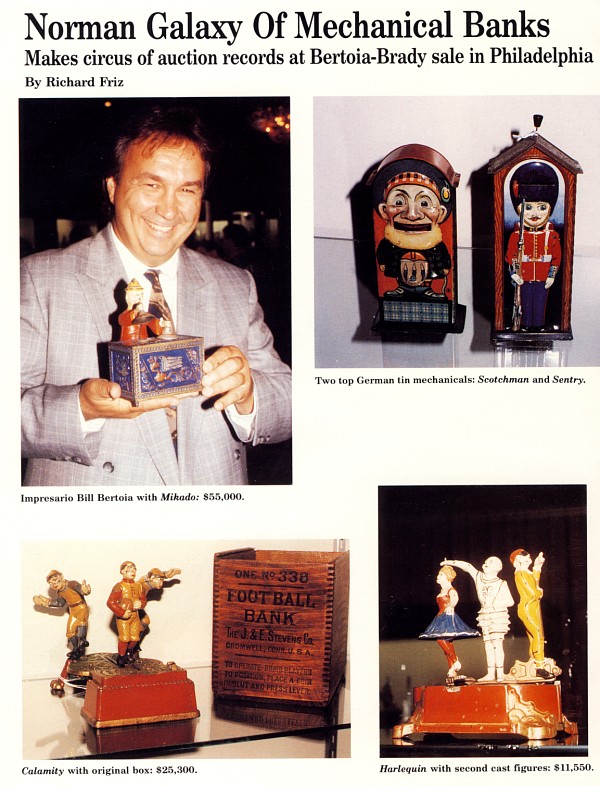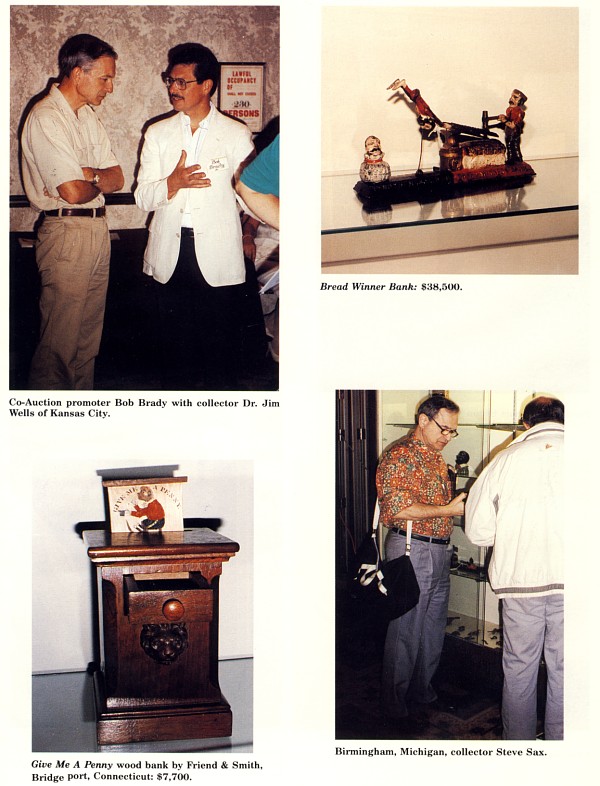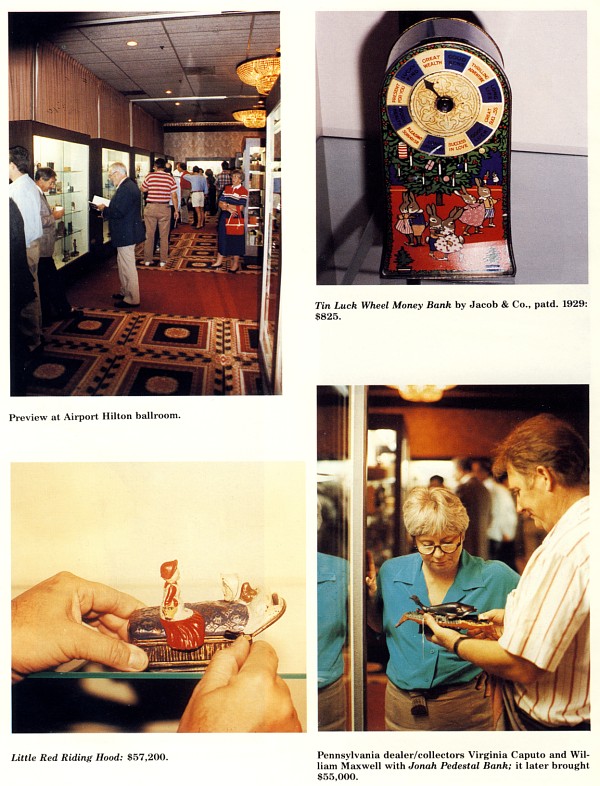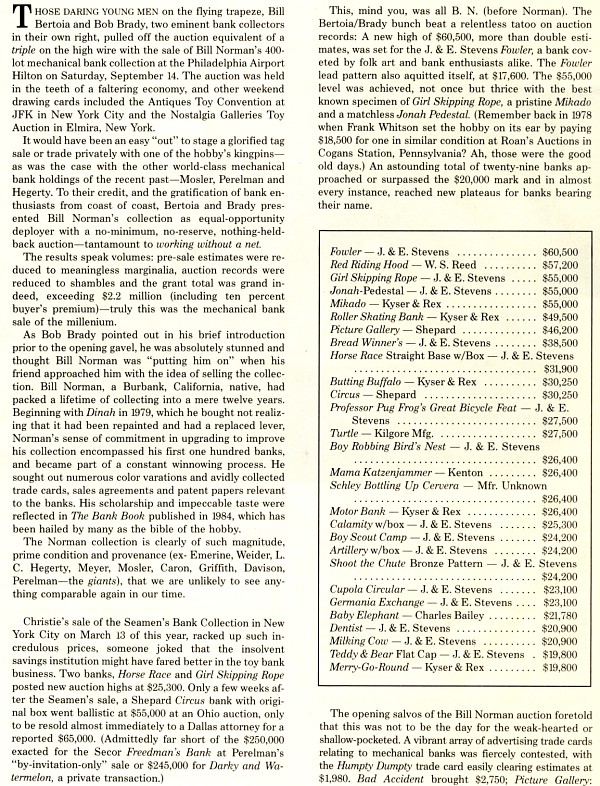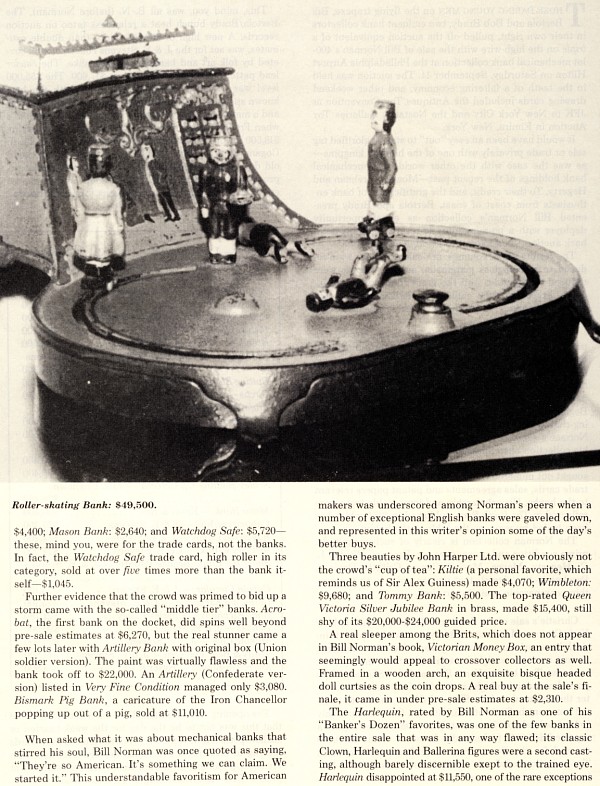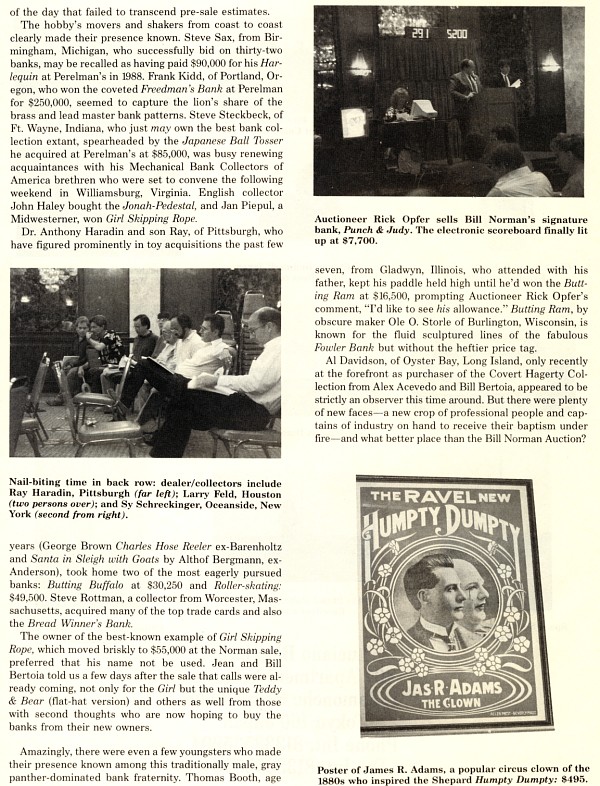 ANTIQUE TOY WORLD Magazine — November, 1991, Volume 21 Number 11

Norman Galaxy Of Mechanical Banks
Makes circus of auction records at Bertoia-Brady sale in Philadelphia

by Richard Friz

THOSE DARING YOUNG MEN on the flying trapeze, Bill Bertoia and Bob Brady, two eminent collectors in their own right, pulled off the auction equivalent of a triple on the high wire with the sale of Bill Norman's 400-lot mechanical bank collection at the Philadelphia Airport Hilton on Saturday, September 14. The auction was held in the teeth of a faltering economy, and other weekend drawing cards included the Antiques Toy Convention at JFK in New York City and the Nostalgia Galleries Toy Auction in Elmira, New York.
It would have been an easy "out" to stage a glorified tag sale or trade privately with one of the hobby's kingpins — as was the case with the other world-class mechanical bank holdings of recent past — Mosler, Perelman and Hegerty. To their credit, and the gratification of bank enthusiasts from coast to coast, Bertoia and Brady presented Bill Norman's collection as equal-opportunity deployer with a no-minimum, no-reserve, nothing-held-back auction — tantamount to working without a net.
The results speak volumes: pre-sale estimates were reduced to meaningless marginalia, auction records were reduced to shambles and the grand total was grand indeed, exceeding $2.2 million (including ten percent buyer's premium) — truly this was the mechanical bank sale of the millennium.
As Bob Brady pointed out in his brief introduction prior to the opening gavel, he was absolutely stunned and thought Bill Norman was "putting him on" when his friend approached him with the idea of selling the collection. Bill Norman, a Burbank, California, native, had packed a lifetime of collecting into a mere twelve years. Beginning with Dinah in 1979, which he bought not realizing that it had been repainted and had a replaced lever, Norman's sense of commitment in upgrading to improve his collection encompassed his first one hundred banks, and became part of a constant winnowing process. He sought out numerous color variations and actively collected trade cards, sales agreements and patent papers relevant to the banks. His scholarship and impeccable taste were reflected in The Bank Book published in 1984, which has been hailed by many as the bible of the hobby.
The Norman Collection is clearly of such magnitude, prime condition and provenance (ex-Emetine, Weirder, I. C. Hegerty, Meyer, Mosler, Caron, Griffith, Davidson, Perelman — the giants), that we are unlikely to see anything comparable again in our time.
Christie's sale of the Seamen's Bank Collection in New York City on March 13 of this year, racked up such incredulous prices, someone joked that the insolvent savings might have fared better in the toy bank business. Two banks, Horse Race and Girl Skipping Rope posted new auction highs at $25,300. Only a few weeks after the Seamen's sale, a Shepard Circus bank with original box went ballistic at $55,000 at an Ohio auction, only to be resold almost immediately to a Dallas attorney for a reported $65,000. (Admittedly far short of the $250,000 exacted for the Secor Freedman's Bank at Perelman's "by-invitation-only" sale or $245,000 for Darky and Watermelon, a private transaction.)
This, mind you, was all B. N. (Before Norman). The Bertoia/Brady bunch beat a relentless tatoo on auction records: A new high of $60,500, more than double estimate, was set for the J. & E. Stevens Fowler, a bank coveted by folk art and bank enthusiasts alike. The Fowler lead pattern also acquitted itself, at $17,000. The $55,000 level was achieved, not once but thrice with the best known specimen of Girl Skipping Rope, a pristine Mikado and a matchless Jonah Pedestal (Remember back in 1978 when Frank Whitson set the hobby on its ear by paying $18,500 for one in similar condition at Roan's Auctions in Cogans Station, Pennsylvania? Ah, those were the good old days.) An astounding total of twenty-nine banks approached or surpassed the $20,000 mark and in almost every instance, reached new plateaus for banks bearing their name.

Fowler — J. & E. Stevens . . . $60,500
Red Riding Hood — W. S. Reed . . . $57,200
Girl Skipping Rope — J. & E. Stevens . . . $55,000
Jonah-Pedestal — J. & E. Stevens . . . $55,000
Mikado — Kyser & Rex . . . $55,000
Roller Skating Bank — . . . $49,500
Picture Gallery — Shepard . . . $46,200
Bread Winner's — J. & E. Stevens . . . $38,500
Horse Race Straight Base w/Box — J. & E. Stevens . . . $31,900
Butting Buffalo — Kyser & Rex . . . $30,250
Circus — Shepard . . . $30,250
Professor Pug Frog's Great Bicycle Feat — J. & E. Stevens . . . $27,500
Turtle — Kilgore Mfg. . . . $27,500
Boy Robbing Bird's Nest — J. & E. Stevens . . . $26,400
Mama Katzenjammer — Kenton . . . $26,400
Schley Bottling Up Cervera — Mfr. Unknown . . . $26,400
Motor Bank — Kyser & Rex . . . $26,400
Calamity w/box — J. & E. Stevens . . . $25,300
Boy Scout Camp — J. & E. Stevens . . . $24,200
Artillery w/box — J. & E. Stevens . . . $24,200
Shoot the Chute Bronze Pattern — J. & E. Stevens . . . $24,200
Cupola Circular — J. & E. Stevens . . . $23,100
Germania Exchange — J. & E. Stevens . . . $23,100
Baby Elephant — Charles Bailey . . . $21,780
Dentist — J. & E. Stevens . . . $20,900
Milking Cow — J. & E. Stevens . . . $20,900
Teddy & Bear Flat Cap — J. & E. Stevens . . . $19,800
Merry-Go-Round — Kyser & Rex . . . $19,800

The opening salvos of the Bill Norman auction foretold that this was not to be the day for the weak-hearted or shallow-pocketed. A vibrant array of advertising trade cards relating to mechanical banks was fiercely contested, with the Humpty Dumpty trade card easily clearing estimates at $1,980. Bad Accident brought $2,750; Picture Gallery: $4,400; Mason Bank: $2,640; and Watchdog Safe: $5,720 — these, mind you, were for trade cards, not the banks. In fact, the Watchdog Safe trade card, a high roller in its category, sold at over five times more than the bank itself — $1,045.
Further evidence that the crowd was primed to bid up a storm came with the so-called "middle tier" banks. Acrobat, the first bank on the docket, did spins well beyond pre-sale estimates at $6,270, but the real stunner came a few lots later with Artillery Bank with original box (Union soldier version). The paint virtually flawless and the bank took off to $22,000. An Artillery (Confederate version) listed in Very Fine Condition managed only $3,080. Bismark Pig Bank, a caricature of the Iron Chancellor popping up out of a pig, sold at $11,010.
When asked what it was about mechanical banks that stirred his soul, Bill Norman was once quoted as saying, "They're so American. It's something we can claim. We started it." This understandable favoritism for American makers was underscored among Norman's peers when a number of exceptional English banks were gaveled down, and represented in this writer's opinion some of the day's better buys.
The beauties by John Harper Ltd. were obviously not the crowd's "cup of tea": Kiltie (a personal favorite, which reminds us of Sir Alex Guiness) made $4,070; Wimbleton: $9,680; and Tommy Bank: $5,500. The top-rated Queen Victoria Silver Jubilee Bank in brass made $15,400, still shy of its $20,000-$24,000 guided price.
A real sleeper among the Brits, which does not appear in Bill Norman's book, Victorian Money Box, an entry that seemingly would appeal to crossover collectors as well. Framed in a wooden arch, an exquisite bisque headed doll curtsies as the coin drops. A real buy at the sale's finale, it came in under pre-sale estimates at $2,310.
The Harlequin, rated by Bill Norman as one of his "Banker's Dozen" favorites, was one of the few banks in the entire sale that was in any way flawed; its classic Clown, Harlequin and Ballerina figures were a second casting, although barely discernible except to the trained eye. Harlequin disappointed at $11,550, one of the rare exceptions of the day that failed to transcend pre-sale estimates.
The hobby's movers and shakers from coast to coast clearly made their presence known. Stan Sax, from Birmingham, Michigan, who successfully bid on thirty-two banks, may be recalled as having paid $90,000 for his Harlequin at Perelman's in 1988. Frank Kidd, of Portland, Oregon, who won the coveted Freedman's Bank at Perelman for $250,000, seemed to capture the lion's share of the brass and lead master bank patterns. Steve Steckbeck, of Ft. Wayne, Indiana, who just may own the best bank collection extant, spearheaded by the Japanese Ball Tosser he acquired at Perelman's at $85,000, was busy renewing acquaintances with his Mechanical Bank Collectors of America brethren who were set to convene the following weekend in Williamsburg, Virginia. English collector John Haley bought the Jonah-Pedestal, and Jan Piepul, a Midwesterner, won Girl Skipping Rope.
Dr. Anthony Haradin and son Ray, of Pittsburgh, who have figured prominently in toy acquisitions the past few years (George Brown Charles Hose Reeler ex-Barenholtz and Santa in Sleigh with Goats by Althof Bergmann, ex-Anderson), took home two of the most eagerly pursued banks: Butting Buffalo at $30,250 and Roller-skating; $49,500. Steve Rottman, a collector from Worcester, Massachusetts, acquired many of the top trade cards and also the Bread Winner's Bank.
The owner of the best-known example of Girl Skipping Rope, which moved briskly to $55,000 at the Norman sale, preferred that his name not be used. Jean and Bill Bertoia told us a few days after the sale that calls were already coming, not only for the Girl but the unique Teddy & Bear (flat-hat version) and others as well from those with second thoughts who were now hoping to buy the banks from their new owners.
Amazingly, there were even a few youngsters who made their presence known among this traditionally male, gray panther-dominated bank fraternity. Thomas Booth, age seven, from Gladwyne, Illinois, who attended with his father kept his paddle held high until he'd won Butting Ram at $16,500, prompting Auctioneer Rick Opfer's comment, "I'd like to see his allowance." Butting Ram, by obscure maker Ole O. Storle of Burlington, Wisconsin, is known for the fluid sculptured lines of the fabulous Fowler Bank but without the heftier price tag.
Al Davidson, of Oyster Bay, Long Island, only recently at the forefront as purchaser of the Covert Hagerty Collection from Alex Acevedo and Bill Bertoia, appeared to be strictly an observer this time around. But there were plenty of new faces — a new crop of professional people and captains of industry on hand to receive their baptism under fire — and what better place than the Bill Norman Auction?
---