CAST IRON STORES
— 1849 (directly below) followed by Cast Iron Palace from 1862 —
NEWARK DAILY ADVERTISER


VOL. XVIII.—No. 106.
Newark, N.J. Friday Evening, May 4, 1849
Six Dollars Per Annum.




NEWARK DAILY ADVERTISER
VOL. XVIII.—No. 106.
Newark, N.J. Friday Evening, May 4, 1849
Six Dollars Per Annum.

The Iron Store. — Something New. —
We had the pleasure yesterday of examining the new stores lately put up by Mr. Edgar H. Lang, on the corner of Washington and Murray streets. These stores are built of cast iron, and are constructed in a manner to secure the greatest strength with the least material. The mode of constructing buildings of iron is the subject of a patent granted to Mr. James Bogardus, who superintended the construction of these stores. They are five stories high, and each twenty by fifty-six feet, and were commenced on the 25th of February last, and constructed in the brief period of two months. They are the only buildings of the kind in the world, excepting that in Centre street, which now stands unfinished.
Mr. Bogardus has spent many years in travelling through Europe for the purpose of studying and perfecting his plans; and they certainly combine more excellencies than any other in the city. These buildings will sustain a greater weight, and are put up with less inconvenience than brick buildings, being cast and fitted so that each piece may be put up as fast as it is brought on the ground. They may be taken down, removed and put up again in a short time, like any other casting. In their mode of constructing nearly three feet of iron is gained over buildings put up with brick. They admit more light, for the iron columns will sustain the weight that would require a wide brick wall in ordinary buildings. They combine beauty with strength, for the panels can be filled with figures to any extent.
In the construction each story is supported by rows of fluted pilasters, the cornices between which are compactly bolted. The walls are, in fact, one compact mass, and capable of sustaining inconceivable weight. The iron used weighs about 150 tons. The columns on the first story were cast at the West Point Foundry; those on the second and fourth at Burdon's, in Brooklyn, and third and fifth at the Novelty Works. The cornice, facias and ornaments are the work of William L. Miller, No. 40 Eldridge street. The mason work was done by A. & J. White, and the carpenter work by Samuel Martin. The entire cost of the five story house is about $20,000. — N. Y. Eve. Post.


US Letters patent # 7337, Issued May 7, 18650 to James Bogardus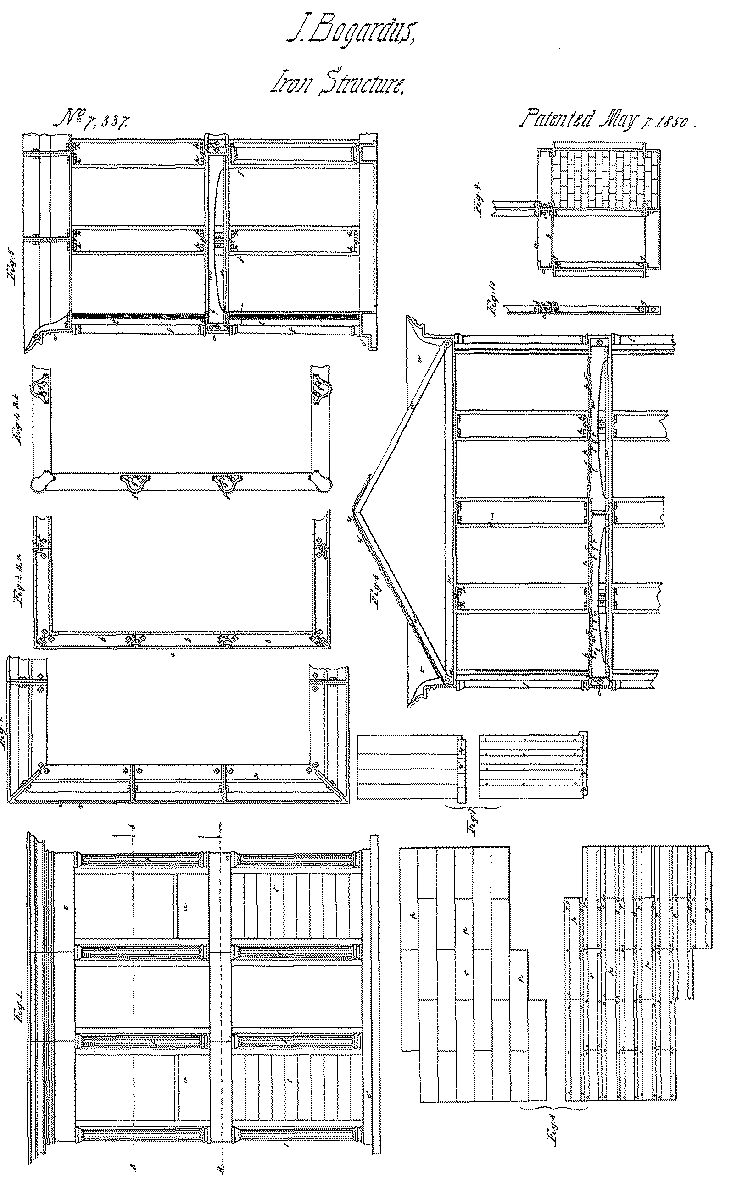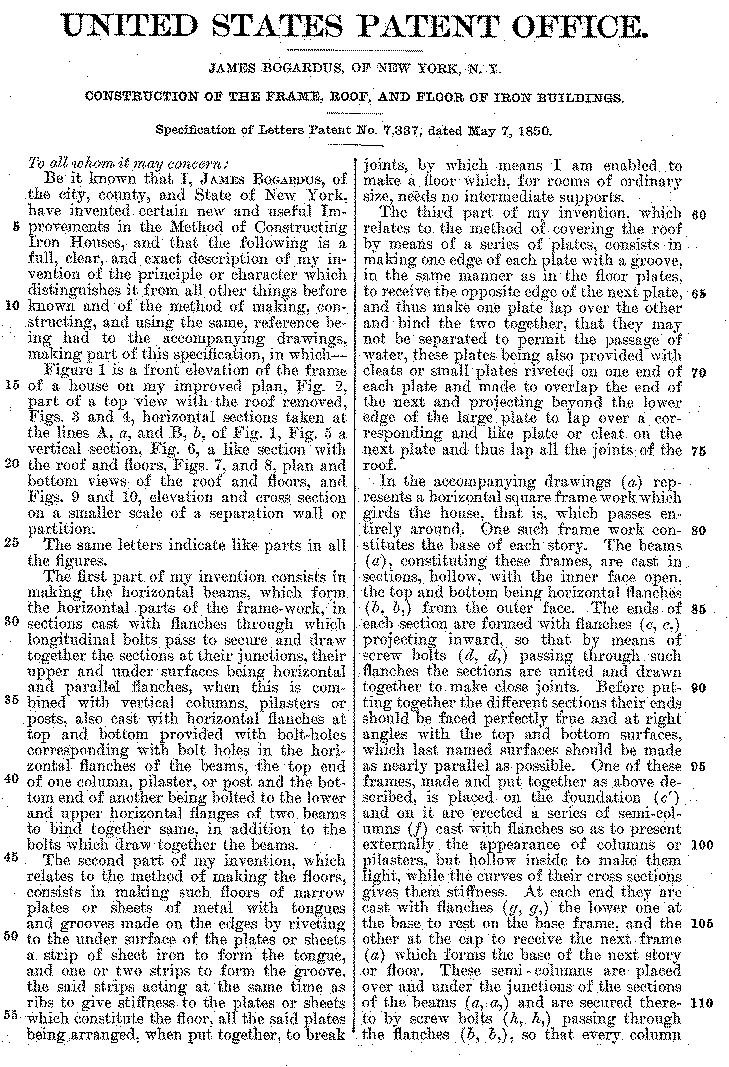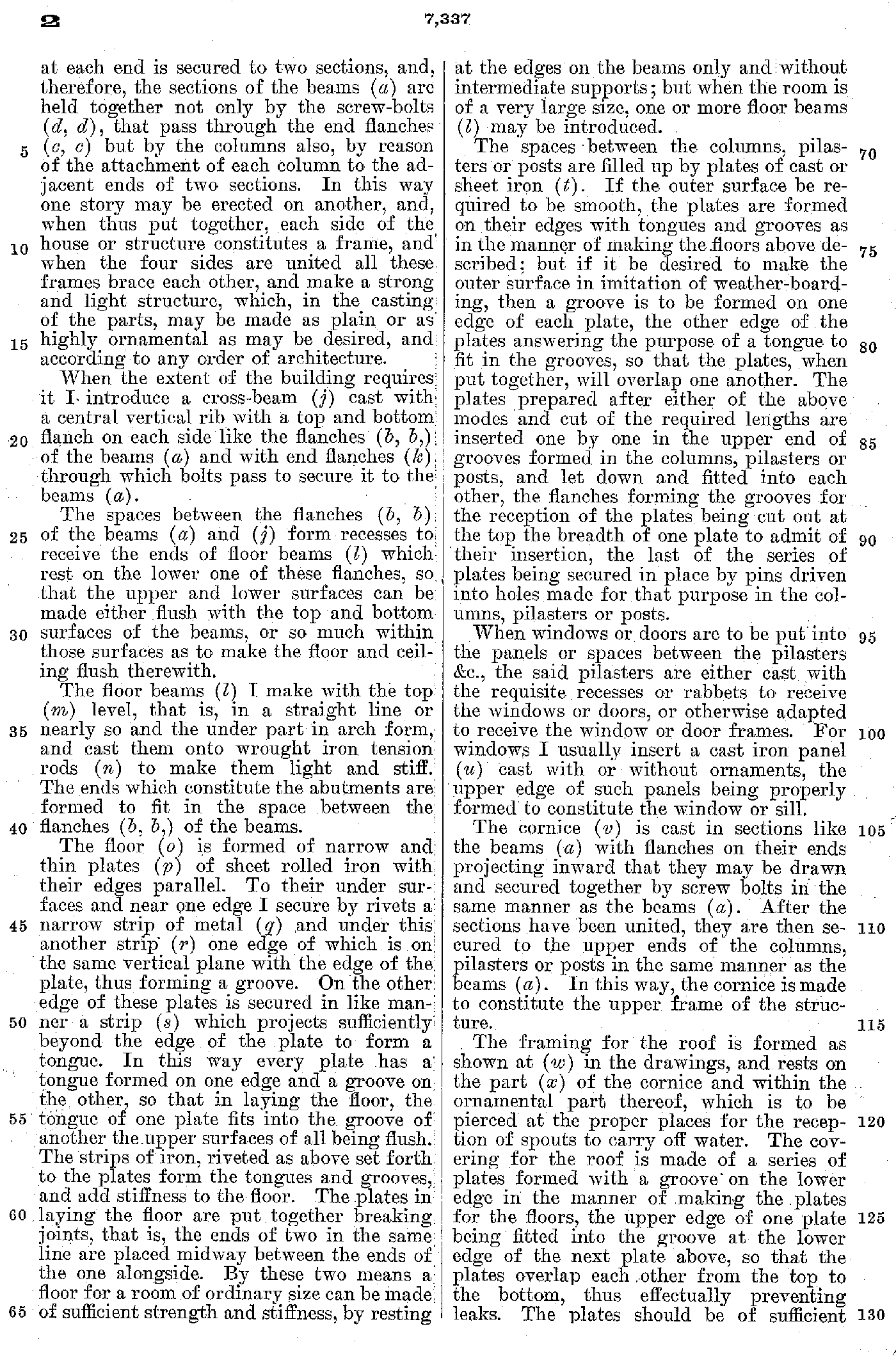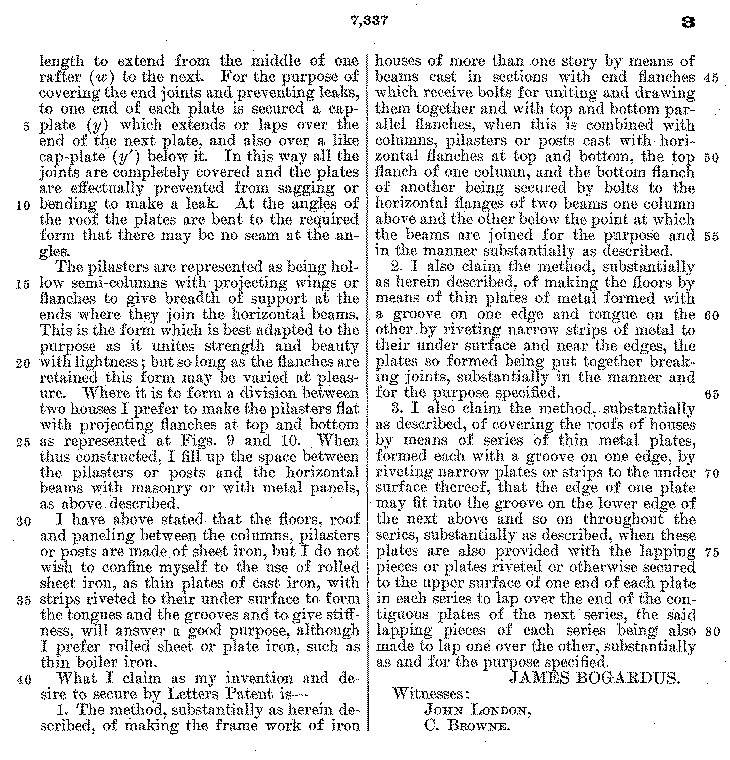 *********************************************************************************
A. T. Stewart's "Cast-Iron Palace" built 1862 on Broadway & 10th New York City.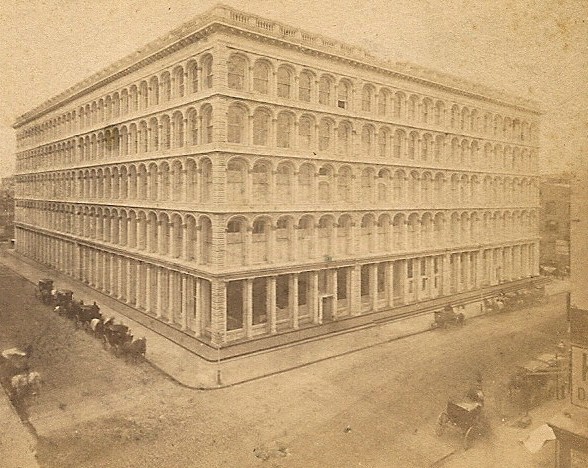 This view is captioned on the front on E. & H. T. Anthony's " A. T. Stewart's Retail Store, Broadway and 10th Street.
Neat view, look at the horses and carriages lined up on the street beneath the store.

Alexander Turney Stewart was a successful Irish American entrepreneur who made his multi-million fortune in what
was at the time the most extensive and lucrative dry goods business in the world.

In 1862, Stewart's "true" department store, referred to as the "Iron Palace", was built. This six-story building with its
cast-iron front, glass dome skylight and grand emporium, employed up to 2,000 people. The immense structure occupies
a major portion of a city block near Grace Church, from Broadway and Ninth Street to Tenth Street and Astor Place.
The establishment's nineteen departments included silks, dress goods, carpets and even toys.

By 1877, it had expanded to thirty separate departments, carrying a wide variety of items. As noted by The New
York Times, "a man may fit up his house there down to the bedding, carpets and upholstery."

In 1896, the Iron Palace was bought by John Wanamaker and reopened as "Wanamaker's." The Philadelphian
Wanamaker, had long been an admirer of Stewart and stated that one of his best qualities was his "personal attention
to the details of the business... He could have had others to look after the details--they have to be looked after,
but few attend to sweeping up, and that's what Stewart did." In 1917, the New York Sun newspaper bought
out Stewart's first store for its main offices. In 1966, the building, though known as the "Sun Building",
was labeled a landmark structure by the City of New York.

This is a neat view of the history of successful retail, maybe a forerunner of Sam Walton?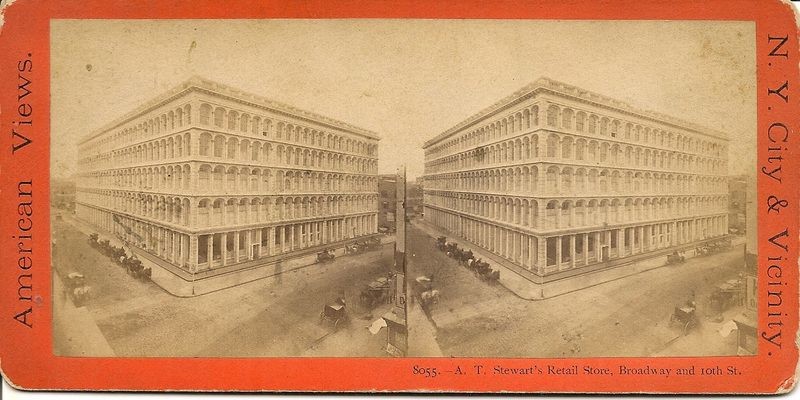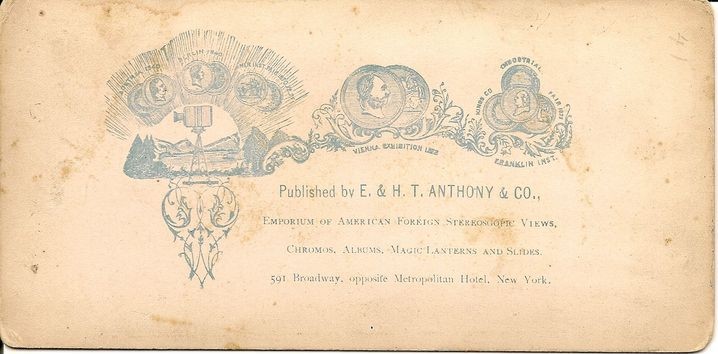 ---