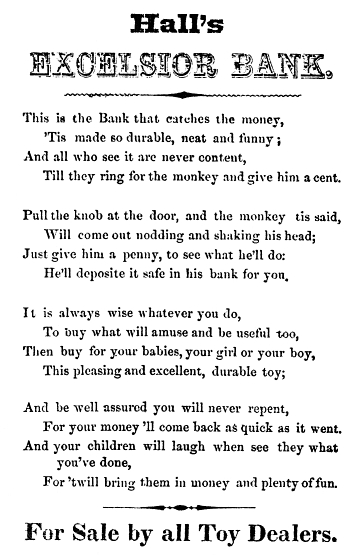 ---
Hall's
EXCELSIOR BANK

This is the Bank that catches the money,
'Tis made so durable, neat and funny;
And all who see it are never content,
Till they ring for the monkey and give him a cent

Pull knob at the door, and the monkey tis said,
Will come out nodding and shaking his head;
Just give him a penny, to see what he'll do:
He'll deposite it safe in his bank for you.

It is always wise whatever you do,
To buy what will amuse and be useful too,
Then buy for your babies, your girl or your boy,
This pleasing and excellent, durable toy;

And be well assured you will never repent,
For your money'll come back as quick as it went.
And your children will laugh when see they what
you've done,
For 'twill bring them in money and plenty of fun.

For Sale by all Toy Dealers.
---