HEIRLOOMS - October, 1940 - Pages 7 through 12

Mechanical Banks

AN ENCYCLOPEDIA OF MECHANICAL BANKS
by David Hollander

The accompanying text and illustrations are the first of a series of bank articles.
When completely finished will show, and describe every variety with major and minor varieties in existence.
The collectors from whose collections specimens are shown will be mentioned with each article.
For this issue the illustrated specimens are from the collections of the late Walter P. Chrysler, Arthur E. Corby. In the connection with Mr. Chrvsler's collection, I wish to thank Clifford P. Morrison.
I have endeavored to group the different bank types together such as shooters, busts, houses, etc.
For the first installment we have the shooting figures for Group I. All the banks listed here are believed to have been made by the J. & E. Stevens Co., Cromwell, Conn.
Numbers 1A to 6 Have the typical Steven's type coin trap as illustrated.
GROUP 1

Creedmoor Bank
To operate-
Lever is set back to position, and shooter's head bows as if taking aim. Coin is then placed on top of gun. The shooter's toe acts as a trigger and when pressed, releases mechanism. Coin is then shot into target on tree trunk, and the shooter raises his head to normal position. There is a bell inside and at the top of the tree, that rings when coin strikes it.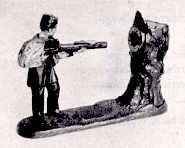 Marks on rock- CREEDMOOR BANK, PAT. MAY 1877
On other rock- BOWENS SERIES
Notes-
There are many variations of this bank. The differences are in the shooters, and the markings on the rock.
The base and tree trunk appear to be from the same molds on all variations.

Creedmoor Banks (Variations)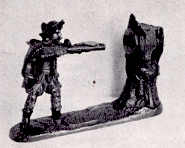 All the CREEDMOOR BANK variations are the same size and have the STEVEN'S type trap.
1b TYROLESE BANK - Sometimes called NEW CREEDMOOR BANK.
Marks-on rock- NEW CREEDMOOR BANK PAT. MAY 1877
Notes-
Figure of shooter is William Tell. Same casting as WILLIAM TELL BANK.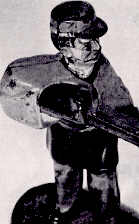 1C GRENADIER BANK - Sometimes called MAN WITH PEAKED CAP. Marks-on rock- GRENADIER BANK
Notes-
There are two variations of THE GRENADIER BANK.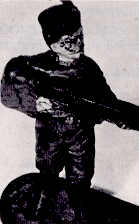 Type 1 - Figure of shooter has a peaked cap. Insignia on front of cap. Peak smaller than Type 2.
Type 2 - Figure of shooter has a larger peaked cap than Type 1. No insignia on front of cap.

1d TYROLEER WITH FEATHER
Marks-on rock- CREEDMOOR BANK PATD. NOV. 6,1877
Notes- Shooter has a feather in cap. Also wears boots.

1e VOLUNTEER BANK
Marks-on rock- VOLUNTEER BANK
Notes- Shooter is the same figure as regular CREEDMOOR BANK.

William Tell Bank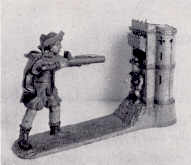 2a
To operate-
Same as CREEDMOOR except apple on boy's head is knocked off when penny strikes it.
Marks-under base- PATENTED JUNE 23, 1896

2b VARIATION
Marked-under base- PAT. APLD FOR
2C VARIATION Same as 2a but with cross bow.

Indian and Bear Bank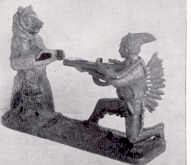 3a To operate-
Similar to CREEDMOOR except trigger is underneath the Indian, and the Bear's mouth moves when coin is shot.
Marks-under base- PAT. PEND'G

3b VARIATION Same as 3a but marked on bottom. PAT.D JAN. 17, 1888

Teddy and the Bear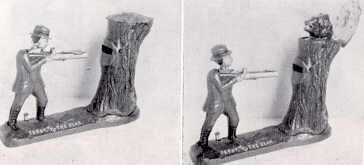 .4a
To operate-
Similar to CREEDMOOR except trigger underneath shooter and the Bear springs out of trunk when coin is fired.
Marks-top of base- TEDDY AND THE BEAR
under base- PAT APLD FOR
4b VARIATION
Similar to 4a except that patent legend is placed differently and reads- PAT.D APLD FOR
4c VARIATION
Similar to 4a but without patent marking.

Lion Hunter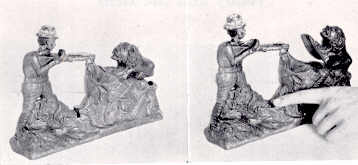 5
To operate
Similar to CREEDMOOR except trigger is in center of bank and Lion rears when coin is fired, allowing coin to go under him and be deposited.
Marks-on side of base- LION HUNTER
under base- PAT APLD FOR

Fowler Bank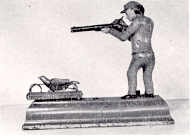 6
To operate-
Coin is placed in center of base. When lever is released, Bird and Shooter turn to the left, and the bird is thrown into the air by spring underneath.
Hammer of gun falls as Shooter nods his head.
Marks-
None.
Notes-
The bird is attached to the spring below by a small length of string so that it will not be lost.
---