MECHANICAL BANKS - Manuscripts

- Circa 1940s
By RICHARD M. LEDERER, JR.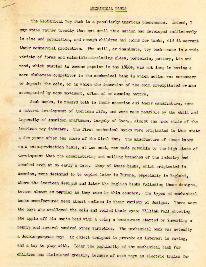 The Mechanical Toy Bank is a peculiarly American phenomenon. Indeed, I may state rather broadly that not until this nation had developed sufficiently in size and population, and enough children had coins for banks, did it warrant their commercial production. The still, or inanimate, toy bank - - made in a wide variety of forms and materials – including glass, porcelain, pottery, tin and wood, which started to become popular in the 1840s, was not long in having a more elaborate competitor in the mechanical bank in which action was necessary to deposit the coin, or in which the insertion of the coin precipitated or was accompanied by some movement, often of an amusing nature.
Such banks, in regard both to their creation and their manufacture, were a natural development of American life, and were made possible by the skill and ingenuity of American craftsmen, largely of Conn., almost the home state of the American toy industry. The first mechanical banks were originated in this state a few years after the close of the Civil War. The manufacture of these banks on a mass-production basis, at low cost, was made possible by the high state of development that the manufacturing and selling branches of the industry had reached even at so early a date. Many of these banks, which originated in America, were destined to be copied later in Europe, especially in England, where the American designs and later the English banks following these designs, became almost as popular as they were in this country. The types of mechanical banks manufactured seem almost endless in their variety of designs. There were the boys who swallowed the coin and rolled their eyes; William Tell shooting the apple off his son's head with a coin; a horse-race started by inserting a penny; and several hundred other varieties. The mechanical bank was actually a double-purpose toy: an object designed to provoke an interest in saving, and a toy to play with. Today the popularity of the mechanical bank for children has diminished greatly, because of such toys as electric trains for play, and public school savings banks to encourage thrift. Although some mechanical banks, made of plastics or white metal, are still manufactured and sold, most of the toy banks produced today are of the still type. Many are distributed by financial institutions to encourage thrift.
The mechanical banks are, of course, simply toys, and it is only when they are considered as toys that a proper valuation of their place in the general scene can be had. They were not a special class of merchandise; neither were they produced or sold as objects of art; a position to which some have tried to elevate them, by way of compensating for the fact that they are actually of much later origin than had originally been thought. However, the actual production of the banks - - the molding, finishing, assembling, painting, and other operations - - was manifestly a craft, and the original creation of the bank design or mechanism was quite definitely a form of art; of all the more importance and interest because it was the active, creative kind of real American minor commercial art which transmitted into manufactured products for the use or amusement of the millions.

THE J. & E. STEVENS FOUNDRY
Unquestionably, the J. & E. Stevens Co., Cromwell, Conn., is the oldest toy manufacturer in the United States; both the original and the most prolific designer and manufacturer of mechanical banks. This, then, is the home of the mechanical bank - - its birthplace and the place where for sixty years more types and larger quantities of such banks were produced than at any other plant. In fact, I may state with reasonable surety that the total production of banks by Stevens, for their own line and on contract for others, exceeded the combined output of other manufacturers.
It is not so long since the last mechanical banks of Stevens make were turned out; 1928 marked the end of a long and prosperous era when the charm of the mechanical bank finally gave way to the manufacture of cap pistols, that today make up the normal production of the plant. The company was originally established in 1843 by two brothers, John and Elisha Stevens. It is not true that they founded the company as a toy business. Hardware products, coat and hat hooks, surplice pins, door buttons, shutter screws, axes, tack and shoe hammers, and similar goods were their main products for many years. Nevertheless, some toys and toy parts were made there at very early date. Within ten years of the founding of the plant, miniature sad iron stands and some half a ton of iron wheels for children's toy wagons were made per week. At this period Stevens employed about forty hands, and did an annual business of $35,000 to $40,000. Early brief accounts of Stevens history which have been published in various articles on banks contain little of value. For the most part, they may all be dismissed as built up on pure conjecture, as there is no one remaining at the plant today who was there before 1890, nor any surviving catalogs or printed material much before that date. No members of the Stevens family have been connected with the company for many years. Starting as a Stevens family affair, it developed into a Frisbie family affair, for, in turn, three generations of the Frisbie family have played an important part in the operation of the company. The Stevens brothers were still living when elder Frisbie entered the company in 1866 as general superintendent, designer, and inventor. Two years later, in 1868, Edward S. Coe, a nephew of the Stevens brothers, also became associated with the firm in the capacity of bookkeeper. He became treasurer in 1872, and finally president in 1898, retaining both positions until 1907. Control of the company was gradually acquired by the Frisbies, and Russell's son, Charles B. Frisbie, followed Coe as president of Stevens Co.. Coe, who died August 10, 1926, was subsequently connected with local banks and with the Kirby Mfg. Co., toy manufacturers of Middletown.
The coming of Russell Frisbie resulted in a marked increase in the firm's toy manufacturing activities and in their entry into the field as manufacturers in the modern sense. The Stevens Company did not go into the manufacturing of banks on their own until 1872 or 1873, and at the same time were making banks on contract for John Hall, an early bank designer and pattern maker, who designed the earliest bank, known as Hall's Excelsior Bank. It was not very long before they discontinued making banks on contract for others, as they found it conflicted with the production of their own designs, and competition with their own customers.
From a standpoint of the number of designs, and a connection with Stevens during an even more active period of bank production, Charles A. Bailey is without question the most prominent. Bailey was a typical Yankee craftsman. Not only was he an inventor of banks, but also a very skilled pattern and model maker. In fact, he was one of the outstanding figures in the early American toy industry, for he not only designed banks for Stevens (after having manufactured some mechanical banks on his own), but designed and made patterns for countless other toys for both Stevens and other manufacturers, notably bell toys for the Gong Bell Mfg. Co. of East Hampton.
Chas A. Bailey was born Sept. 16, 1848 at Cobalt, Conn., where he was raised. Cobalt is one of the towns of Conn. where the American toy industry may really be said to have been born. Bailey had a small shop in the back of his home in Cobalt. Where he learned his trade is not known. The shop in Cobalt was his source of income, and in it he pursued his trade from around 1875 to 1882, including a great deal of pattern making and designing of toys. Though he was free lancing and was a bank manufacturer on his own, he soon was making patterns for casting banks in iron for Stevens. Russell Frisbie considered Bailey an ideal man for banks, and from his shop came many unique and interesting designs. Bailey married in 1880, and several years later moved to Middletown, where he opened a pattern shop on Main Street. This shop he maintained until 1889 or 1890. Then he yielded to the offers of Frisbie and went to work at Stevens, where he designed many banks and continued until 1916 as their ace pattern maker and bank designer.

MECHANICAL TOY BANKS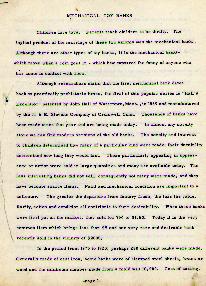 Children love toys. Parents teach children to be thrifty. The logical product of the marriage of these two axioms was the mechanical bank. Although there are other types of toy banks, it is the mechanical banks – which move when a coin goes in – which have captured the fancy of anyone who has come in contact with them.
"Gimmie penny, Uncle Joe, see the horsy jump" and even Uncle Joe would fish out his hard earned coin to feed nephews omnivorous "Trick Pony" bank. Mechanical banks hold a fascination for young and old, and although originally designed to promote thrift for the youngsters, they have today become important collectors' items. They were childrens toys 80 to 25 years ago and rarely cost more than a dollar.
Uncle Joe's penny not only amused the child and taught him thrift, but today carries on to motivate a great hobby.
Although researchers claim that the first mechanical bank dates back to practically prehistoric times, the first of this popular series is "Hall's Excelsior" patented by John Hall of Watertown, Mass., in 1869 and manufactured by the J. & E. Stevens Company of Cromwell, Conn. Thousands of banks have been made since that year and are being made today. In almost any novelty store we can find modern versions of the old banks. The novelty and interest to children determined how many of a particular kind were made; their durability determined how long they would last. These particularly appealing in appearance or action were sold in large quantities and many are available today. The less interesting banks did not sell, consequently not many were made, and they have become scarce items. Paint and mechanical condition are important to a collector. The greater the departure from factory fresh, the less the value. Rarity, action and condition all contribute to their desirability. When these banks were first put on the market, they sold for 75
¢
to $1.50. Today it is the very common item which brings less than $5 and one very rare and desirable bank recently sold in the vicinity of $2000.
In the period from 1870 to 1920, perhaps 280 different banks were made. Generally made of cast iron, some banks were of stamped steel sheets, brass or wood and the minimum number made from a mold was 10,000. Cost of casting, finishing, assembling and hand-painting have made the old mechanical bank a thing of the past. One could not produce such an item today at a price which would be marketable. Those currently being manufactured are made of "tin" or plastic, and although they are clever, they really do not compare with the old design or workmanship.
Principal producers of banks were the iron founders; Manufacturers of stoves, irons, toys, etc. In this field, the outstanding names were Stevens, Shepard Hardware of Buffalo, Kyser & Rex of Philadelphia, Judd Co. of Wallingford, Connecticut and Hubley of Lancaster, Pa. The latter company is still making banks and toys. Prominent jobbers engaged in the distribution of banks were Selchow and Righter, L. H. Mace & Co. and Conway Bros.
I feel that the most mechanically ingenious and complex of all the banks is the Girl Skipping Rope. To permit the coin to be inserted, a lever is depressed and the figure of a girl goes through the motions of jumping rope, moving her head from side to side and her feet back and forth. It took James H. Bowen about 2000 words and two pictures to describe it to the U.S. Patent Office, but I need not be that explicit!
The bank is "set" by a crank, and pushing a lever permits a strong spring to spin a fly-wheel. The bow-shaped rope is attached to a wheel which gets its motion by friction from the fly-wheel. As the point where the hands are fastened is different from that where the rope is attached, the girl moves up and down as the rope spins. The legs are fastened by a crank-shaft arrangement and the head by a kicking device to the shaft through the hands. When set in motion, this bank gives a most realistic representation of the subject.
Perhaps the simplest yet cleverest in design is the Boy on Trapeze. This bank shows a boy, his foot attached to a ball, straddling a horizontal bar. When a coin is placed in a slot in his cap, the weight of the coin causes the boy to rotate on the bar. A penny turns him once, a nickel makes him spin twice, and a quarter three times. (Some day I want to try it with a $20 gold piece!) Perfect balance! The result of considerable experimentation and careful workmanship.
Around March fifteenth, Uncle Sam dropping coins into his carpet bag is always good for a laugh.
A sure collector of coins of the curious is a rifleman who shoots money into a slotted tree stump. Then, there's a dentist pulling a reluctant patient's tooth. Place a coin in the dentist's pocket. Then press a button. Out comes the tooth while the dentist falls one way, the patient topples over backward in his chair and the coin drops into a slot.
Not all banks are mechanical, there are four general types - - mechanical, semi-mechanical, registering and "stills". Registering banks show the amount of money deposited; "stills" simply hold money.
"Professor Pug Frog's Great Bicycle Feat" is a typical bank. Guided by an involved series of springs and release levers, Proferssor Pug Frog pivots and drops a coin into a slot.
So simple it never caught the fancy of the general public and now a rarity is the "Barrel with Arms". You push the arms down to let a coin drop into the barrel.
A bank passed through many steps before it was finally sold to some doting parent for the education and pleasure of his child. The designer first made a solid model in specially prepared wax. From this a plaster of paris mold in two halves was taken. Then wax hollow models are made. The next step is to separate from the complete model the parts which are to be movable and fashion a fresh model in wax of each part with an end or joint attached. From the completed wax working model a brass working model is founded. This model is smoothed, perfected and then sent to the iron foundry where the finished banks are produced. The manufacturers then painted and boxed the banks and sold them to jobbers for distribution to retailers, where they might be purchased by the public.
My collection has been loaned many times to institutions for displays, to charities for fund raising and to clubs for hobby shows. This pleasure that the banks give to others added to those inherent in any collecting; enjoyment of ownership, accumulation of knowledge and the friendships with other collectors, make collecting old mechanical banks a hobby which cannot be surpassed.
---
---
TRANSCRIPT OF MR. LEDERER AS GUEST SPEAKER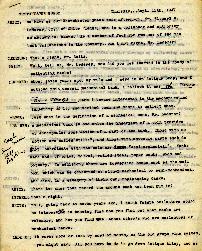 WESTCHESTER GUEST Thursday… Sept. 11th, 1947

SEITZ: We have as our Westchester Guest this afternoon, Mr. Richard M. Lederer, Jr., of White Plains, who is a collector and authority on mechanical banks. As a matter of fact you own one of the ten best collections in the country… am I not right, Mr. Lederer?
LEDERER: That's right, Mr. Seitz.
SEITZ: Well, tell us, Mr. Lederer, how did you get started in the hobby of collecting banks?
LEDERER: About seven years ago, my wife and I were in an Antique Shop, and I noticed this unusual mechanical bank, I believe it was the Two Bull Frogs, and I became interested in the mechanism and ingenuity of it, and decided then and there to collect them.
SEITZ: Just what is the definition of a mechanical bank, Mr. Lederer?
LEDERER: A mechanical bank is one which the insertion of a coin provides or accompanies some motion of a part of the bank. Those with no motion are called "stills", and those with moveable parts that do not coordinate with the coin are "semi-mechanical". Banks were made of brass, nickel, rolled steel, paper mache, wood and pottery. In addition, there are borderline banks such as the mail box, which can be construed as either mechanical or semi-mechanical. And also, in a category of their own, registering banks.
SEITZ: They are the ones that record the amount that has been put in?
LEDERER: That's right.
SEITZ: Well, going back to seven years ago, I think future collectors would be interested in knowing just how you find out what banks are valuable, and how you find out about others who are collectors of mechanical banks.
LEDERER: It works more or less by word of mouth, or the old grape vine system, you might say. All you have to do is go down Antique Alley, and as your chatting with the dealer about banks and such, he'll probably say to you. "Say do you know so and so?". "Now he has a wonderful collection of mechanical banks, and I'm sure you'll enjoy seeing his collection"? You get his address and look him up. I've met a lot of wonderful people through my collecting banks and have struck up quite a correspondence with different bank collectors throughout the country. I've obtained my banks by advertising, poking through junk and antique shops, and peering into dark cobwebbed corners of my friends attics. (You can obtain a great deal of valuable information from the patents of banks, and all you have to do to acquire these is to write to the Patent Office in Washington.)
SEITZ: What about the history of the mechanical banks, how far back do they date?
LEDERER: Well, relatively little has been written on the subject of mechanical banks. The Metropolitan Museum of Art, records the first one as being made in China during the Han Dynasty around the beginning of the Christian Era. Then writers on Archimedes claim that he made some but jumping back to more modern times, the first of this popular series, according to my records, is "Hall's Excelsior" patented by John Hall of Watertown, Massachusetts in 1899.
SEITZ: I know that you have some 240 varied coin banks in your collection, and that it would be impossible to describe even half of them in the time allotted, but could you give us a description of some of the outstanding ones that you have?
LEDERER: I'd be glad to Mr. Seitz. My favorite mechanical bank is the Girl Skipping rope, and I feel that this is the most mechanically ingenious and complex of all banks. To permit the coin to be inserted a lever is depressed and the figure of a girl goes through the motions of jumping rope, moving her head from side to side and her feet back and forth. How James H. Bowen of Philadelphia was able to design such an intricate mechanism will always be a mystery to me. It took 2,000 words and two pictures to describe it to the United States Patent Office.
SEITZ:

That is a lot of words. What about some of the others Mr. Lederer?
LEDERER: Well, then, There's the Dentist pulling a patient's tooth. You place a coin in the dentist's pocket, then press a button. Out comes the tooth while the dentist falls one way, the patient topples over backward in his chair and the coin drops in the slot. Then there's a bank, Creedmore, where a rifleman shoots money into a slotted tree stump. The "Boy on Trapeze" bank is quite clever. After a coin is put in a slot in his cap, the boy rotates on a bar. A penny turns him once, a nickel twice, a quarter three times and a 50-cent piece six times.
SEITZ: Say, strictly between us, what is your average haul when you show how these banks work to curious friends?
LEDERER: That idea occurred to me, but I unfortunately use my own coins. (Edit in pen "I was able to send $5- to the 100 Neediest cases last year and I think I'll be able to send more this year.")
SEITZ: Well, at least it's a hobby that may become useful some day. (Edit in pen "Well, I see you've turned your hobby into a worthy cause too.). Getting back to collecting, how does one determine the value of these banks?
LEDERER: The value of the bank is affected by its paint and mechanical condition as well as its rarity. The greater the departure from factory fresh, the less the value.
SEITZ: Well, tell me Mr. Lederer, does your wife go with you when you are hunting for a rare mechanical bank?
LEDERER: In the beginning we used to have great times looking through various shops for banks, but lately she has sort of lost interest. You see we have a five year old daughter that keeps her rather busy, and now since I've been collecting banks for seven years they are brought to my attention, and I don't have to go looking for them. It was quite a bit more fun in the beginning. I'm now starting on a new hobby of making miniature reproductions of furniture.
SEITZ: That should prove an interesting hobby too. Well, thank you for being here this afternoon, Mr. Lederer and telling us about your mechanical banks, it certainly has been most interesting.
---
LEDERER CORRESPONDENCE (transcribed)
---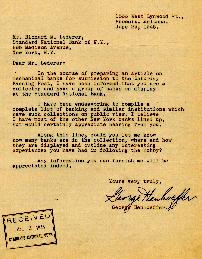 1533 West Lynwood St.,
Phoenix, Arizona,
June 29, 1945

Mr. Richard M. Lederer,
Standard National Bank of N.Y.
285 Madison Avenue,
New York, N.Y.

Dear Mr. Lederer:
In the course of preparing an article on mechanical banks for submission to the Saturday Evening Post, I have been informed that you are a collector and have a group of banks on display at the Standard National Bank.
I have been endeavoring to compile a complete list of banking and similar instutions which have collections on public view. I believe I have most of the other New York banks lined up, but would certainly appreciate hearing from you.
Along this line, could you let me know how many banks are in the collection, where and how they are displayed and outline any interesting experiences you have had in following the hobby?
Any information you can furnish me will be appreciated indeed.

Yours very truly,
George Henoeffer (signed)
---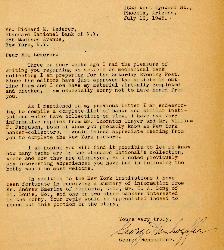 1533 West Lynwood St.,
Phoenix, Arizona
July 16, 1945

Mr. Richard M. Lederer,
Standard National Bank of N.Y.
285 Madison Avenue,
New York, N.Y.

Dear Mr. Lederer:
Three or four weeks ago I had the pleasure of writing you regarding an article on mechanical bank collecting I am preparing for the Saturday Evening Post. Since the editors have just approved the article in outline form and I now have my material virtually completed and checked, I am especially sorry not to have heard from you.
As I mentioned in my previous letter I am endeavoring to compile a complete list of banks and similar institutions which have collections on view. I have had very informative replies from Mr. Thornton Thayer and Mr. William F. Ferguson, both of whom you probably know as New York banker-collectors. I would indeed appreciate hearing from you to complete the New York picture.
I am hoping you will find it possible to let me know how many banks are in the Standard National's collection, where and how they are displayed. As I noted previously any interesting experiences you have had in following the hobby would be most welcome.
In addition to the New York institutions I have been fortunate in receiving a summary of information from Mr. Andrew Emerine of Fostoria, Ohio, Mr. I. A. Long of St. Louis, Mo., and one or two other bankers interested in the hobby. Your reply would be appreciated indeed to round out this portion of the story.

Yours very truly,
George Henoeffer (signed)
---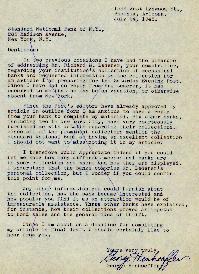 1533 West Lynwood St.,
Phoenix, Arizona.
July 24, 1945

Standard National Bank of N.Y.,
285 Madison Avenue,
New York, N.Y.

Gentlemen:
On two previous occasions I have had the pleasure of addressing Mr. Richard M. Lederer, your comptroller, regarding your institution's collection of mechanical banks and requested information on the collection for an article I am preparing for the Saturday Evening Post. Since I have had no reply from Mr. Lederer, it has occurred to me that He may be on vacation, or otherwise absent from New York.
Since the Post's editors have already approved my article in outline form I am anxious to have a reply from your bank to complete my material. Six other banks, including two in New York City, have very courteously furnished me with details regarding their collections. Since all of the prominent collectors mention the Standard National Bank as having an excellent collection I should not want to miss noting it in my article.
I therefore would appreciate indeed if you could let me know how many different mechanical banks are in your collection and where and how they are displayed. I understand that the banks comprise Mr. Lederer's personal collection, but I wonder if you could confirm this point for me.
Any other information you could furnish about the collection, how the bank became interested and how popular you find it as an attraction would be of immeasurable assistance. Three other banks have explained, for instance, how their collections proved an impetus to bond sales and the general idea of thrift.
Since I am about on a deadline for completing my article in final draft I should certainly like to hear from you.
Yours very truly,
George Henhoeffer
---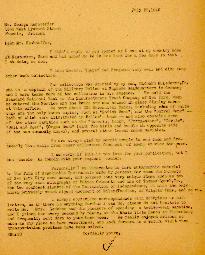 July 20, 1945

Mr. George Henhoeffer
1533 West Lynwood Street
Phoenix, Arizona

Dear Mr. Henhoeffer,
I didn't reply to you sooner as I was at my country home at Nantucket, Mass and had hoped to be in New York for a few days so that I am doing so now.
I know Messrs. Thayer and Ferguson very well and also many other bank collectors.
Our collection was started by my son, Richard M. Lederer, Jr. who is a captain of the Military Police at Supreme Headquarters in Germany and I have taken care of the collection in his absence. We sold the Standard National Bank to the Manufacturers Trust Company of New York, when he entered the Service and the banks are now housed in glass display cases at their office. We have about 225 Mechanical Banks, including some of which ours are the only known copies, such as "Kodiak Bank", and the "Barrel Bank" – both of which were illustrated in Bellow's book – and also contains some of the other rarities such as the "Guessing Bank", "Forty-niner", "Turtle", "Bull and Bear", "Organ Bank" (with Two Girls and handle on opposite side of the one commonly known), and several other lesser known verities.
We are always glad to permit people to see them and frequently have calls from other collectors from out of town, to view the same.
I am sorry if this is too late for your publication, but I was unable to comply with your request sooner.
Personally I am interested in rare autographic material in the form of Negotiable Instruments made by persons for whom the Streets of New York City were named, and posses some very unique items such as two of the very rare autographs of Button Gwinnet and one of Thomas Lynch, Jr., the two scarcest signers of the Declaration of Independence, -- also the only known privately owned signed document of Miles Standish, of Pilgrim fame, and so on.
I always appreciate correspondence with hobbyists or collectors, so if there is anything further I can do, please do not hesitate to write me. Mrs. Lederer had the pleasure of spending a twelve-week vacation, and I joined her every weekend by plane, at the Monte Vista Ranch at Wickenberg and frequently went down to your home town. We really enjoyed Arizona as much as any place we have vacationed, and look forward to a return visit when transportation problems have been resolved.
Cordially yours,
RML:EC (initialed)
---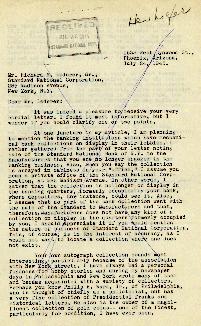 1533 West Lynwood St.,
Phoenix, Arizona.
July 24, 1945

Mr. Richard M. Lederer, Sr.,
Standard National Bank of N.Y.,
285 Madison Avenue,
New York, N.Y.

Dear Mr. Lederer:
It was indeed a pleasure to receive your very cordial letter. I found it most informative, but I wonder if you could clarify one or two points.
At one juncture in my article, I am planning to mention the banking institutions which have mechanical bank collections on display in their lobbies. I rather gathered from the part of your letter noting sale of the Standard National Bank of N.Y. to the Manufacturers that you are no longer engaged in the banking business. Also, when you say the collection is arrayed in cabinets in your "office," I assume you mean a private office of the Standard National Corporation, at 285 Madison Avenue. In other words, I gather that the collection is no longer on display in the banking quarters, formerly occupied by your bank, where depositors, for instance, could see it. Also, I assume that no part of the bank collection went with the sale of the Standard to Manufacturers and that, therefore, Manufacturers does not have any kind of a collection on display in the quarters formerly occupied by you. I should appreciate it if you would mention the nature of business of Standard National Corporation. This, of course, is in the interest of accuracy, as I would not want to locate a collection where one does not exist.
Your own autograph collection sounds most interesting, particularly because of the association with New York streets. I have always had a personal fondness for hobby stories and during my newspaper days in Philadelphia and New York wrote many of them had been acquainted with a variety of collectors. Perhaps you know Philip H. Ward, Jr., of Philadelphia, who is thought of chiefly as a philatelist, but has a very fine collection of Presidential franks and historical letters. He also is the owner of a magnificent collection of gold coins – one of the finest, particularly for condition, I have ever seen.
Some ten years or so ago I covered the sale of the stamp collection assembled by Arthur Hind, Utica (N.Y.) plus manufacturer, one of the finest in the world. Hind, incidentally, was the owner of the famous 1-cent British Guiana, the rarest of all stamps, which he bought from the collection of Count Philipp la Renotiere von Ferrary, when the count's stamps were seized and sold as alien property in Paris at the end of World War I.
Oddly, I am now writing a story on Count Ferrary based on material partially obtained from an old fellow who claimed to be a crony of his and whose acquaintance I made in Paris. But the bank article, which the Saturday Evening Post already has accepted in outline form, has tended to hold up my piece on Ferrary. He was quite a fabulous character. Knowing your interest in hobbyists, when I place the article I will give you the name of the magazine in case you should like to read it.
Actually, I am Phoenician only by adoption, as Philadelphia and New York were my old stamping grounds, but if you should again get to this part of the world on vacation please let me know and we will arrange to have a chat together on hobbies.

Thank you again for your friendly letter.
Cordially,
George Henhoeffer. (signed)
---
---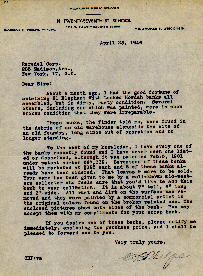 MILWAUKEE PUBLIC SCHOOLS
N. TWENTY-SEVENTH ST. SCHOOL
1312 N. TWENTY-SEVENTH STREET
MILWAUKEE 5, WISCONSIN
CLARENCE H. PHELPS, PRINCIPAL

April 23, 1946

Reredel Corp.
285 Madison Ave.,
New York, 17, N.Y.

Dear Sirs:
About a month ago, I had the good fortune of obtaining 21 Elephant With Locked Howdah banks all assembled, but in dirty, rusty condition. Several others, including one which was painted, were in such broken condition that they were irreparable.
These banks, the finder told me, were found in the debris of an old warehouse alongside the site of an old foundry, long since out of operation and no longer standing.
To the best of my knowledge, I have every one of the banks recently found and I have never seen one listed or described, although it was patented Feb. 5, 1901 under patent number 667,332. Seventeen of these banks will be marketed at $125 each and 8 of these banks already have been ordered. That leaves 9 more to be sold. Your name has been given to me by a well-known mid-western collector who feels sure that you'd like to add this bank to your collection. It is about 7
"
tall, 6
"
long and 3
"
wide. All rust and dirt on the surface was removed and they were painted by a commercial artist in the original colors found on the broken painted one. The enclosed pictures show both sides of the bank. You may accept them with my compliments for your scrap book.
If you desire one of these banks, please notify me immediately, enclosing the purchase price, and I shall be pleased to forward to you.

Very truly yours,
CHP:va Clarence H. Phelps (signed)
---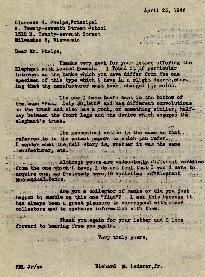 April 25, 1946

Clarence H. Phelps, Principal
North Twenty-seventh Street School
1312 N. 27th Street
Milwaukee 5, Wisconsin

Dear Mr. Phelps,
Thanks very much for your letter offering the Elephant with Locked Howdah. I found it of particular interest as the banks which you have differ from the one specimen of this type which I have in a slight degree showing that the manufacturer must have changed his molds.
The one I have bears cast in the bottom of the base "Pat. July 30, 1900" and has different convolutions on the trunk and also has a rock, or something similar, halfway between the front legs and the device which engages the elephant's trunk.
The mechanical action is the same as that referred to in the patent papers to which you refer. I wonder what the full story is, whether it was the same manufacturer, etc.
Although yours are undoubtedly different verities from the one which I have, I do not feel that I would care to acquire one, as I already have 16 varieties of Elephant Mechanical Banks.
Are you a collector of banks or did you just happen to stumble on this one "find"? I ask this because it has always been a great pleasure to correspond with other collectors and to exchange information with them.
Thank you again for your letter and I look forward to hearing from you again.
Very Truly yours,
RML Jr/ec Richard M. Lederer, Jr.
---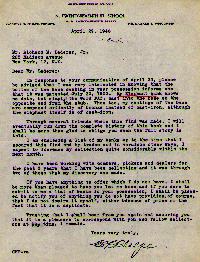 MILWAUKEE PUBLIC SCHOOLS
N. TWENTY-SEVENTH ST. SCHOOL
1312 N. TWENTY-SEVENTH STREET
MILWAUKEE 5, WISCONSIN
CLARENCE H. PHELPS, PRINCIPAL

April 29, 1946

Mr. Richard M. Lederer, Jr.
285 Madison Ave.,
New York, 17, N.Y.

Dear Mr. Lederer:
In response to your communication of April 25, please be advised that I was very interested in knowing that the bottom of the base casting in your possession informs one that it was patented July 30, 1900. My Elephant bank shows no date, but simply the word PAT. Cast into the base on the opposite end from the stub. Then too, my castings of the base are composed evidently of bronze instead of cast-iron, although the elephant itself is of cast-iron.
Through several friends where this find was made, I will eventually run down the complete history of this bank and I shall be more than glad to oblige you when the full story is told.
I am enclosing a list of my banks up to this time that I secured this find and by trades and in various other ways, I expect to increase my collection quite considerably within the next month.
I have been working with combers, pickers and dealers for the past 5 years that I have been collecting and it was through two of these that my discovery was made.
If you have anything to offer which I do not have, I shall be more than pleased to have you let me know and if you care to submit to me a list of banks in your possession, I shall be pleased to notify you of anything you do not have providing, of course, that I do not desire it myself, either because of price or the fact that it is a duplicate.
Trusting that I shall hear from you again and assuring you that it is a pleasure to correspond with you and fellow collectors at any time, I remain.

Yours very truly,
CHP:va C.H. Phelps (signed)
---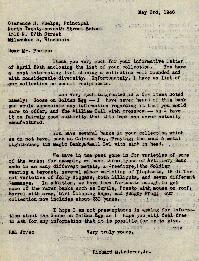 May 3rd, 1946

Clarence H. Phelps, Principal
North Twenty-seventh Street School
1312 N. 27th Street
Milwaukee 5, Wisconsin

Dear Mr. Phelps:
Thank you very much for your informative letter of April 29th enclosing the list of your collection. You have a most interesting list showing a collection well rounded and with considerable diversity. Unfortunately, I have no list of our collection so cannot reciprocate.
I was much interested in a few items noted namely: Goose on Golden Egg - - I have never heard of this bank and would appreciate any information regarding it that you would care to offer, and The William Tell with crossbow - - as I have it on fairely good authority that this bank was never actually manufactured.
You have several banks in your collection which we do not have, such as Colored Boy, Praying, the wood & metal Lighthouse; tin Magic Bank, & Small Owl with slot in head.
We have in the past gone in for varieties of some of the banks, for example, we have three types of Artillery bank made in as many different metals, a Creedmore, (the Soldier wearing a bayonet, several minor varieties of Elephants, 18 different varieties of Jolly Niggers, both Lilliputs, and seven different Tammanys. In addition, we have been fortunate enough to get some of the rarer banks such as Turtle, Presto with mouse on roof, Barrel with arms, Girl Skipping Rope, and Hungry Frog, our collection now includes about 230 banks.
I hope I am not presumptuous in asking for information about the Goose on Golden Egg as I hope you will feel free to ask for any information that it is possible for me to give.

RML Jr/ec Very truly yours,
Richard M. Lederer, Jr.
---
---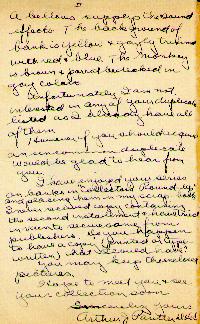 207 Beverly Bldg.
Lockport , N.Y.
Dec. 28, 1946

Dear Mr. Lederer,
Appreciated your very cordial letter and intended to write sooner but thought two pictures of the Monkey & Parrot bank would be interesting. The developing & printing did postpone my letter somewhat.
This bank is quite colorful, its action being quick & ingenious. It is #229 on Sherwood's list and is German made of tin. It measures 1-1/2
"
x 6
"
x 1-1/2
"
. The lever on the left is depressed after coin placed on the monkey's tail, which causes coin to roll onto monkey's paws as the lever is released the coin shoots upward into the parrot's mouth. A bellows supplies the sound effects. The background of bank is yellow & gaily trimmed with red & blue. The monkey is brown & parrot bedecked in gay colors.
Unfortunately I am not interested in any of your duplicates listed as I already have all of them.
However if you should acquire an uncommon duplicate would be glad to hear from you.
I have enjoyed your series on banks in "Collector's Round-Up" and placing them in my scrap-book. I never received copy containing the second installment & have tried in vain to secure same from publishers. Do you happen to have a copy (printed or type-written) that I could have?
You may keep the enclosed pictures.
I hope to meet you & see your collection soon.
Sincerely yours,
Arthur J. Paulter, DDS
---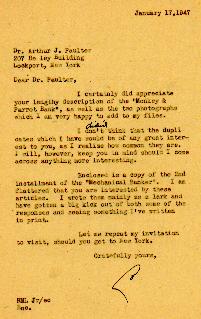 January 17, 1947

Dr. Arthur J. Paulter
207 Be ley Building
Lockport, New York

Dear Dr, Paulter,
I certainly did appreciate your lengthy description of the "Monkey & Parrot Bank", as well as the two photographs which I am very happy to add to my files.
I didn't think that the duplicates which I have would be of any great interest to you, as I realize how common they are. I will, however, keep you in mind should I come across anything more interesting.
Enclosed is a copy of the 2nd installment of the "Mechanical Banker". I am flattered that you are interested by these articles. I wrote them mainly as a lark and have gotten a big kick out of both some of the responses and seeing something I've written in print.
Let me repeat my invitation to visit, should you get to New York.

Gratefully yours,
RML Jr/ec L (initialed)
Enc.
---
Also see:
1946 Richard M. Lederer, Jr. - September Article, Part I
1946 Richard M. Lederer, Jr. - Collectors Roundup, Part III
1946 Richard M. Lederer, Jr. - December Article, Part IV
1947 Richard M. Lederer, Jr. - March Article, Part V
1947 Richard M. Lederer, Jr. - April Article, Part VI
1950 IBM Magazine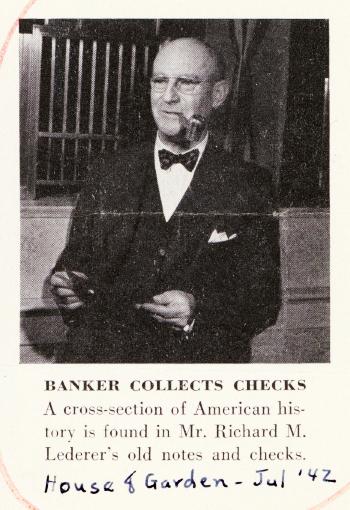 ---