Freedman's Bank
by F.H. Griffith - HOBBIES Magazine - October, 1951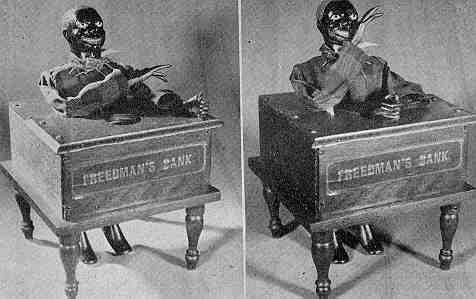 The Freedman's Bank is the most desirable and rarest of all mechanical banks because of its vivid intriguing action, interesting background and scarcity. It is different from the usual cast iron type being made of wood, cloth, white metal, with metal frame, clock works and one brass hand and fingers.
The bank was made by Jerome B. Secor in Bridgeport, Conn., from about 1878 to 1883. It originally sold for approximately $7.50 retail, around 1880 which was quite a price for a toy in those days.
The bank pictured was obtained from Mark Haber of Wethersfield, Conn., who in turn obtained it from the original owner, D.L. Wale of Windsor, Conn., in 1944. Mr. Wale was given the bank by an uncle in 1879. It is the only perfect original specimen so far found. There are three others known to exist in collections. One with a replaced head and new clothes - one with no legs on the figure or table - and the last consisting only of the clock works.
The bank operates as follows: First, a coin is placed on the table by his left hand, then a lever is pressed, the figure then turns his head from side to side and scoops the coin with his left hand into a hole in the table top, he then raises his right hand to his face holding his head still and thumbs his nose, moving each finger independently in a realistic way, he then lowers his hand and shakes his head in derision. Two positions of the operation are shown.
It is interesting to note that the bank pictured has the original label on the back with instructions to operate and the original label on the bottom of the table from the store where it was purchased.