F-F SAVER, FIRST FEDERAL OF CHICAGO, WINTER 1964
DENTIST BANK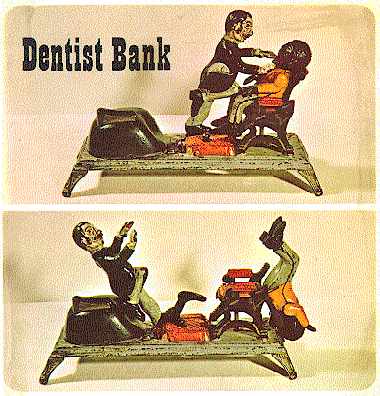 Perhaps one of the most action-filled of the mechanical coin banks was the famous Dentist Bank. It was produced in great numbers around the turn of the century, and while it certainly didn't do much to encourage children to visit the dentist, it proved to be a popular toy.
As the pictures indicate, it was an intricate operating coin bank. At the start of the cycle, the patient is seated in the dentist's chair; the dentist is poised with his forceps on the tooth to be extracted.
The coin is placed in the pocket of the dentist's coat. Behind the dentist is the coin receptacle, a clever replica of the gas bag which used to be part of every old-fashioned dentist's office. This bag was actually a storage container for the so-called "laughing gas" used by dentists as general anaesthetic for major extractions.
After the coin is placed in the dentist's pocket, the trip lever under the dentist's left foot is depressed. At this time tooth comes out; the dentist falls backward (depositing the coin in the gas bag; and the patient falls backward head over heals.
This is one of the most popular banks in the First Federal collection and isd an object of complete fascination to the youngsters who visit here. Our bank is valued at $400 and is in perfect condition.
An interesting note to this story is that at the time they were first manufactured, you could have bought a dozen of these banks for $8.00. Too bad our grandfathers didn't know about this.
Next issue: Punch and Judy bank.