F-F SAVER, FIRST FEDERAL OF CHICAGO, FALL 1964
HALL'S EXCELSIOR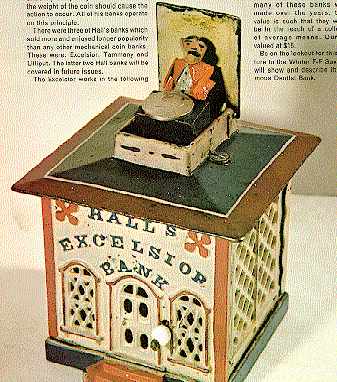 So many of our customers and friends have evidenced interest in the First Federal collection of antique mechanical coin banks that we decided to feature one of the banks in the forthcoming issues of the F-F Saver.
To start this new series we have chosen one of the choice items in the collection — Hall's Excelsior. This bank, designed by John Hall of Watertown, Mass., is the earliest dated cast iron mechanical bank. It was patented on December 21, 1869.
All of Hall's banks were manufactured by the J. & E. Stevens Co., Cromwell, Conn. One noteworthy feature of Hall's banks was that he was evidently completely enthralled with the idea that the weight of the coin should cause the action to occur. All of his banks operate on this principle.
There were three of Hall's banks which sold more and enjoyed longer popularity than any other mechanical coin banks. These were: Excelsior, Tammany and Lilliput. The later two Hall banks will be covered in future issues.
The excelsior works in the following manner: When the doorbell is pulled the roof of the cupola lifts up (as shown in the photo) and reveals a little monkey seated at a desk. As the monkey appears his head moves from side to side. The coin is then placed in the desk, and its weight causes monkey, desk, money and all to disappear from view.
Our specimen of this bank, although almost a century old, still works perfectly and is in mint condition.
As you can see from the picture, the color scheme is quite attractive. It is dove gray, royal blue and deep red, except for the monkey's jacket which is scarlet.
Some later varieties of this bank feature various kinds of little men instead of a monkey. Since so many of these banks were made over the years, their value is such that they would be in the reach of a collector of average means. Ours is valued at $15.
Be on the lookout for this feature in the Winter F-F Saver. It will show and describe the famous Dentist Bank.