UTICA DAILY PRESS, Monday March 14, 1966
By William R. Meyer
Little Cast Iron Banks – His Business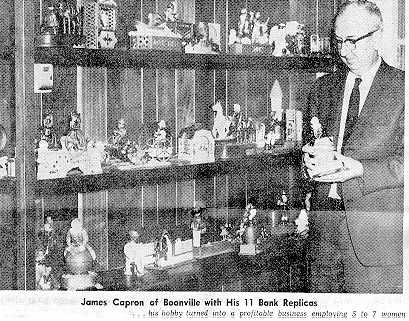 BOONVILLE — In six years James D. Capron, an inveterate salesman, has parlayed his hobby into a thriving business.
HE COLLECTED MECHANICAL CAST IRON BANKS, that filled American shops in the late 19th Century. Now he manufactures and sells reproductions of these antique coin banks.
Capron's "fan mail" comes from all over the world. He markets the banks in 48 states and 20 foreign countries through leading stores and mail order catalogs.
"I've sold just about everything under the sun. But these banks are the most fascinating because they catch people's imagination all over the world," he said.
Capron, who is 59, for 30 years ran the First Flame Gas Corp., Boonville, selling bottled gas in 22 counties. He calls himself "semi-retired" now, but you'd never know it.
He was selling campers and trailers last week at the Upstate Outdoor Show in Utica Memorial Auditorium. Prominently displayed inside the trailers were the colorful antique bank reproductions.
ABOUT 250 MODELS OF THESE NOVEL, animated ways to save money were manufactured by American craftsmen from 1869 to 1920. Capron has 100 original mechanical banks in his private collection.
"Manufacturing the intricate castings is almost a lost art. I have to have my foundry work done by the Pennsylvania Dutch Mennonites," he said.
The banks are assembled and painted, all by hand, in a warehouse at the Boonville Airport where the company, Mechanical Replicas, Inc., employs five to seven women. Capron maintains a shipping department at his home at 139 Schuyler St.
The business has grown impressively. When it started in 1960, four models were marketed. Today he sells 12 bank models and a Santa Claus pull toy.
Most popular model is the trick dog, when fed a coin, jumps through a clown's hoop and deposits the money in a barrel. It weighs three pounds and is eight inches high and eight and a half inches long.
A MECHANICS NIGHTMARE is the performing clown bank. The machinery which sends the clown into acrobatics after receiving money includes 19 separate castings, three springs and eight tap and drill places.
Capron is rightly proud of these bank reproductions. "This is truly Americana. The banks are treasures of American ingenuity and craftsmanship," he said.
They are enjoying a renaissance around the world due, in part, to his own ingenuity and salesmanship.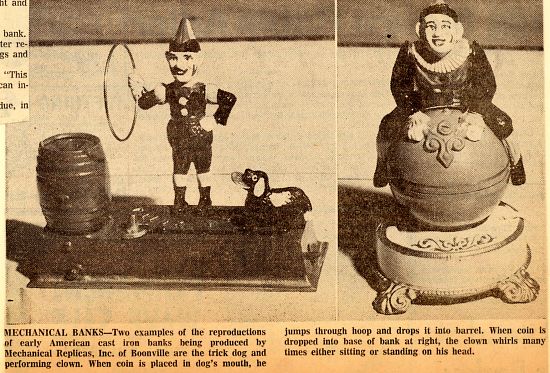 ---