HOSPITAL HANDBOOK, July 1965

Mechanical Replica Banks
Aid Good Public
Relations in Hospitals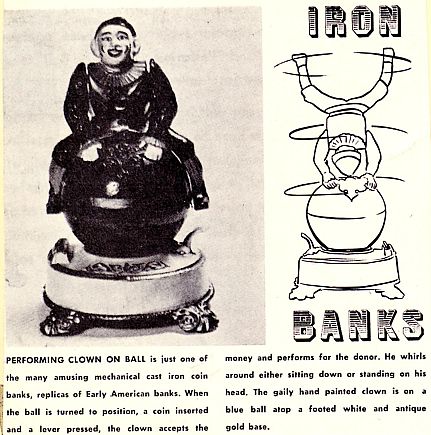 A unique public relations gesture which will win good friends for the hospital, delight young patients, amuse their elders, and at the same time teach children both the value of thrift and appreciation for a phase of Americana, is possible in the loan of mechanical replica cast iron coin banks to small patients for their use while in the hospital.
Each child who is loaned a replica of an Early American mechanical cast iron bank will soon find it brimming with coins from relatives and friends who would much rather give the youngster happiness in this constructive way and help him start his own savings plan, than to buy him useless get well gifts. These genuine copies, manufactured by Mechanical Replicas, Inc., Boonville, N. Y., help the child learn thrift. When he is ready to go home, the bank is opened and he is given the accumulated coins.
Mechanical cast iron coin banks were first designed and produced by American craftsmen starting about the year 1869. Old mechanical cast iron coin banks are treasures of Early American ingenuity and craftsmanship — genuine Americana. From the 1870's until the early 1900's over 250 various designs, many in the comic vein, were made and sold. A few of them still remain and are mostly in collectors' hands. Some are valued at several hundred dollars.
The Early American virtue of thrift was the main purpose behind the design of these mechanical wonders and the children of those days found them wondrous indeed. So enthralled with these banks were they, and their parents, that the saving of coins became an exciting hobby.
The spirit of humor and occasionally satire were used to depict various historical and popular, everyday events, sports and the circus were of course popular subjects with these ingenious inventors, and Performing Clown on Ball is one of the most fascinating replicas.
Mechanical Replicas has endeavored to faithfully reproduce some of the most interesting banks. The banks are cast in individual sand molds, hand painted, hand assembled and adjusted to work properly. Each is inspected and carefully packaged to ship safely. Sturdy in construction, they are designed to last for many years.
Children as well as adults will find it hard to resist these quaint, cast iron contraptions that swallow up coin after coin with mechanical delight. In the mechanical banks can be seen visions of the traits of our forefathers — their thrift coupled with ingenuity can be heard along with the clink of the coins.
In addition to Performing Clown on Ball, there is available Elephant, Two Frogs, Mule Entering Barn, Trick Dog, Bad Accident, Lion and Two Monkeys, Magic Bank, Prof. Pug Frog, and Monkey Bank.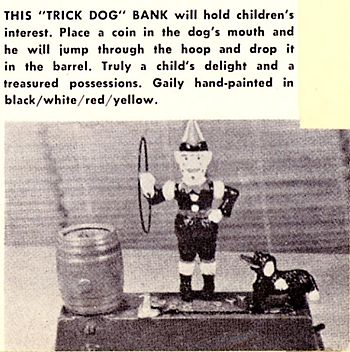 ---