THE NATIONAL OBSERVER, Week Ending December 16, 1972

Flip! Flop! And It's in the Bank
Acquisitive Urge Makes Toys More Valuable Than Contents

By Haskel Frankel, From Washington, D.C.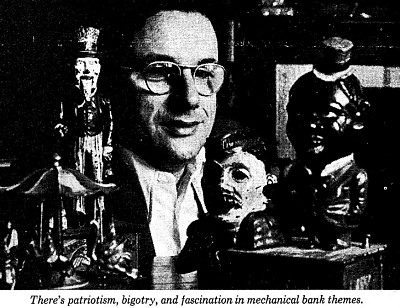 If an outsider could have eluded the security guard and entered the basement meeting room at the Key Bridge Marriott Motel on a recent Friday night here, he'd have seen what, at first glance, seemed a standard convention, properly dressed men and women, each with the usual name tag. But what they said wouldn't have made much sense. "Well, what's new since last year?" one man asked another. "Bad accident," was the happy answer. "That's good news," said the first. "I've been hoping for one."
Both men were of sound mind. They were members of the Mechanical Bank Collectors of America (MBCA) attending their 15th annual convention — and "Bad Accident" is a mechanical bank, the passion of the 100-plus men and women who came from all over the country (and even England) to meet others who share their mania. To quote F. H. Griffith, whose rating book Mechanical Banks is the collectors bible, a mechanical bank is "a bank that has been produced commercially and sold direct, or otherwise, to stores or other outlets and in turn sold to the general public for the use of children as a toy savings device."
That makes a mechanical bank sound like any other — except that they aren't. Mechanical banks move; they do something for the penny they receive. Take, for example, "Bad Accident." It is made of cast-iron, as were most of the antique mechanical banks most prized by collectors, and shows a black man seated in a two-wheel cart behind a mule. A penny is placed between his feet; when a lever is pushed, a small boy dashes out from behind a bush, frightening the mule. The mule rears up, tipping the cart and man over backwards, and the penny slips behind the man's feet and into the bank, the base of the cart.
Most antique mechanical banks were manufactured the last 30 years of the Nineteenth Century. They are richly detailed, elaborately made, far different from today's stamped-out toys. In their time, they were inexpensive. An advertisement of its day lists "Paddy and The Pig" bank for $1. At the auction that was the climax of the Friday-night session of the MBCA, an imperfect specimen of the bank was sold for $180.
Mechanical banks celebrate Biblical happenings (Jonah and the Whale), historic events (Teddy Roosevelt shooting a bear, Boss Tweed taking graft), attitudes of the times (Bigotry runs rampant, with cast-iron slurs at Negroes, Jews, Irish, Italians, and Chinese.)
What is the fascination of mechanical banks? The answers from those of the two-day convention were almost as numerous as their banks. "They're like antiques." "They're Americana." "Maybe it's a release from crap, a throwback to an era that was ingenuous, a time when people took a bit of care." And as one collector put it: "Let's face it. Whatever else they are one hell of a good investment."
The little one-buck toys sure are. In 1969 the MBCA sent out an estimated price evaluation of mechanical banks, with each bank evaluated by three different collectors. One-year later the club announced that its list was no longer valid and suggested its members add 75 per cent to a bank costing under $100, 40 per cent to a bank between $100 and $300. From $500 on, "any price which is acceptable to the purchaser is deemed fair."
"I just don't know," Mrs. Long said to a friend (collectors are most reluctant to have their names and addresses in print, fearing they are openly inviting robbery), "we were collecting 'way back before these things took on such great value. I tell you we enjoyed them a lot more then. Now I don't even dare dust them."
"Isn't it terrible?" Mrs. Arizona said, referring to the Kentucky's, who attended Derby Day and came home to find their whole collection stolen. "I have my banks under glass and everything bugged."
It's a plus when a bank works, but it is not strictly necessary, as many serious collectors don't like to operate their banks for fear of breakage or the loss of another fleck of original paint. Prices rise and fall on such things.
At the Friday-night auction, to which collectors brought banks, they were willing to sell on the block, few rare specimens showed up (though one, a football bank brought over by a British dealer-member, sold for approximately $1,600), but the club estimated the evening's sale amounted to $10,000.
The Mechanical Bank Collectors of America was born in 1958 when a group of eight Rhode Island collectors sent a letter to other collectors beginning "The members of the Antique Bank Collectors of Rhode Island have had such friendly and enthusiastic meetings in connection with our mutual hobby over the period of the past two years since our club was founded that we would like to share. . . ." Each year since then, in convention assembled, members listen raptly as a collector speaks of the banks he found on a trip to Germany, glean or disseminate information on insurance, exchange tips on the care of their treasures.
Friendly? Well, yes — but only on the surface. Everyone is outgoing, chatty at club gatherings. But eyes glint when the lady with a tan leather purse on her wrist finally opens the catch and takes out a small tissue-wrapped package. It is the rare "Red Riding Hood" bank. The little girl sits on Grandma's cast-iron quilted bed; a penny lifts granny's mask from her face to reveal the wolf behind it. "Can I touch it?" an elderly lady asks in a whisper. She gets permission and puts out one finger. No one else in the circle seems to breathe.
The new collectors, the small collectors, are decidedly friendly, as are those for whom mechanical banks are still a hobby. But everyone knows who the big collectors are, the millionaires in the crowd for whom mania has taken over. They move through the gatherings like benevolent sharks, smiling and a bit sleepy-eyed. They disappear for meetings in one another's rooms, and rumors drift back of swaps, and of who bested whom — or tried to — in which deal. But if any bank changed hands, no one really knows.
Summing it all up, an officer of the MBCA says: "Mechanical banks are Americana, and banks are money and that's Americana too. And the whole things brings out the worst in all of us."
Another member chimes in. "I don't know who said it, but the only difference between men and boys is the cost of their toys."
---