PHOENIX, January 1972, Volume 8, Number 1
FASCINATING SLICE OF
EARLY AMERICANA
By Katharine Robertson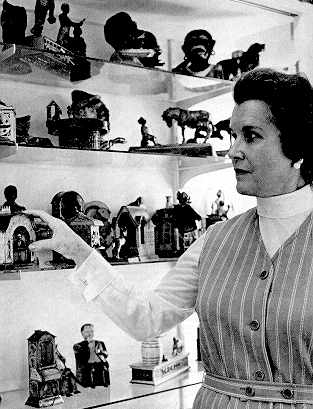 A SIMPLE and rather innocent hobby ended and an ardent collector was born when the excitement of research and discovery took over," explained Mrs. G. Robert Herberger, of Scottsdale.

Old Penny Banks of Early Americana in tin, lead and cast-iron first caught her eye in 1947, in an antique shop in Winnetka, Illinois. She became fascinated by the mechanical ingenuity, great sculpturing (being a sculptress herself) and the social and economic aspect of the toys. She made her first purchase ostensibly for her son, Gary. But, when she began to canvass antique shops and dealers throughout the country she knew she was no longer searching for a child's toy, but was on the way to becoming a determined collector. She now has an impressive collection of one hundred and two mechanical banks and well over three hundred 'stills,' which she displays in glass cases in her home.

The first, "Darktown Battery," has remained her favorite to this day. The most treasured is "The Springing Cat." which is very rare and unusual - probably only five or six known to be in existence. Made of lead, the cat sits on the Great Wall of China and springs at a mouse when the penny is inserted.

Penny Banks made their first appearance in America around 1793, along with the first large copper penny. Their popularity is credited by most authorities to Benjamin Franklin's famous maxims concerning thrift, which were widely circulated in Poor Richard's Almanac. The "savings bank" became a national habit and contributed in no small way to the financial independence of this nation. The ingenious mechanical banks, or action toys, lured children into the habit of saving, but appealed to adults as well, who bought them in large quantities.

Since there are only around three hundred mechanical Penny Banks in existence, they are difficult to find. Seven or eight years ago, Mrs. Herberger began adding stills to her collection. Her first love remains the mechanical ones through which, as toys, our forefathers taught their children the fun and challenge of thrift.

The banks are classified as common, good and rare. There is no definite literature on the origin of the children's savings banks, but many iron foundries competed to produce the most attractive and alluring toy banks. As shown by patents, they reached a peak of popularity about 1885 and reflect the political and social events of the times. It has been said that a comprehensive early American history could be written from them.

The mechanics of some of the toy banks are quite complicated. Mrs. Herberger's "Reclining Chinaman" waves both hands. It was produced during a period of resentment against this ethnic group. Following the discovery of gold in California in 1848, the Chinese were welcomed on the Pacific Coast because of the shortage of cooks, gardeners, laundrymen and servants - jobs Americans didn't particularly relish. Later, however, six companies under contract imported shiploads of indentured coolies and assigned them to mining and shipping concerns. The situation resulted in reduction of wages for all workers and precipitated the racial prejudice. The residents began referring to them as the "Chinese menace." The bank features a Chinaman indolently sprawled with a smirking, cunning smile on his face, holding a card containing all aces - reference to their being lazy, corrupt and inveterate gamblers.

"Paddy and His Pig" reflects either prejudice against the Irish, which was rampant following the tremendous influx of the immigrants in the 1830's to 1840's, or sentiments of the intemperate, shanty-dwellers who practically lived with their pigs. The Irishman smiles warmly at his pig and a flask protrudes from his pocket.

There are many thought-provoking Negro banks, "Cabin Bank" is a Darky in a cabin. Then there's "I Always Did 'Spise a Mule," "Uncle Tom," "Jolly Nigger" and "Darktown Battery," with three Negroes playing baseball.

Political events are reflected in many, like the "Tammany Bank." Put money into the hand of a fat politician and he drops it into his pocket and nods his head.

Among Mrs. Herberger's other prizes is the "Uncle Sam" bank. A penny is placed in his outstretched hand, the hand drops and the coin slips into a carpet bag at Uncle Sam's side.

Mrs. Herberger is the only private collector in the state of Arizona belonging to the Mechanical Bank Collectors of America, which was organized on September 27, 1958, at Wakefield, in the town of South Kingston, Rhode Island. The organization was sponsored by eight collectors who lived in the Rhode Island area, together with the well-known collector and dealer, Frank L. Ball of Cambridge, Massachusetts, and Andrew Emerine of Fostoria, Ohio, as honorary members. The membership in this exclusive group today is only two hundred and five. Their recent national convention in Washington, D.C. was attended by Mrs. Herberger.

After watching some of the animated banks work, it is easy to see what a thrill the children of yesteryear had in saving pennies and what excitement today's collector has in the discovery of them.